PAPA Annual Wildlife & Operators Planning Meetings in Pinedale April 25 (posted 4/23/19)
For the Pinedale Anticline Project Area
The Pinedale Anticline Project Area Annual Wildlife and Operators Planning Meetings will be held on Thursday, April 25 in the Rendezvous Conference Room of the BLM Pinedale Field Office (1625 W Pine Street). The Wildlife meeting will start at 8:30AM. The Operators meeting will start at 1:00PM. The public is welcome to attend. Public comment time is scheduled for both meetings. Below are the agendas.

AGENDA for the ANNUAL WILDLIFE PLANNING MEETING
for the Pinedale Anticline Project Area
Thursday April 25, 2019, 8:30 am
BLM Pinedale Field Office (1625 W. Pine) – Rendezvous Conference Room
Pinedale, Wyoming

Welcome and Introductions - Kellie Roadifer, BLM/PAPO Coordinator

White-tailed Prairie Dog Monitoring - Chad LeBeau (WEST, Inc.)

Pronghorn Monitoring - Chad LeBeau

Greater Sage-Grouse Monitoring - Mark Thonhoff, BLM

Greater Sage-Grouse Noise Monitoring - Skip Ambrose (Sandhill Co.)

Pygmy Rabbit Monitoring - Jennifer Hess (HWA)

Mule Deer Monitoring - Brandon Scurlock, WGFD

Mule Deer Mitigation Projects Update - Brandon Scurlock

Public questions on all topics presented - Kellie Roadifer

Adjourn - Kellie Roadifer


AGENDA for the ANNUAL OPERATORS PLANNING MEETING
for the Pinedale Anticline Project Area
Thursday April 25, 2019 1:00 pm
BLM Pinedale Field Office (1625 W. Pine) – Rendezvous Conference Room
Pinedale, Wyoming

Introduction - Caleb Hiner, BLM FM

OPERATOR REPORTS - Operators: Ultra, PEPO, Jonah Energy, Mustang
2018 Development Summary
Water Usage Report
Reclamation Summary & Status Report
Air Quality & Ozone Forecast
Proposed 2019 Plans
Ten Year Drilling Forecast Update

BLM Air Quality Update - Janet Bellis, BLM

WDEQ UGRB Air Quality Update - Staff Polk, WDEQ

Update on Surface Water Sampling - Brad Blackwell, SCCD

Anticline Groundwater Monitoring Plan - Janet Bellis, BLM

Lease Suspensions - Caleb Hiner

Public Comments

Adjourn - Caleb Hiner

Related Links:
JIO and PAPO Boards of Directors meetings in Pinedale May 9 For the Jonah Interagency Office (JIO) and Pinedale Anticline Project Office (PAPO) Boards of Directors

---
Future Scientists Party in Pinedale May 4th (posted 4/23/19)
A celebration of future scientists party will be held on Saturday, May 4th, at Rendezvous Pointe in Pinedale from 6-8 p.m. There will be food, crafts, and displays embracing scientific discovery.

The event is being held in conjunction with the annual "March For Science" event being held across the United States on that day. This event is for scientists of all ages and families are especially invited to explore and discover together.

Freewill donations will be used to support the local Girl Scouts troop with their Science, Technology, Engineering, Math (STEM) programs.

The Women's Advocacy Group (WAG) is sponsoring this activity. For any questions, contact Joni Mack at 307-690-0669.

---
JIO and PAPO Boards of Directors meetings in Pinedale May 9 (posted 4/23/19)
Bureau of Land Management
The Jonah Interagency Office (JIO) and Pinedale Anticline Project Office (PAPO) Boards of Directors will meet at the BLM Pinedale Field Office, May 9, 2019. The PAPO Board meeting is scheduled for 8:30-10 a.m. The JIO Board will meet immediately after the PAPO meeting and is expected to conclude by 11:30 a.m. Both meetings are open to the public.

Each board will review proposed budgets for 2019 and receive updates on active projects. The PAPO Board will make decisions on funding each of two new 2019 PAPO mitigation project proposals submitted in February. The JIO Board will consider JIO Team proposals for new projects.
Agendas for the JIO and PAPO Board meetings can be found at www.wy.blm.gov/jio-papo/whatsgoingon.htm.

The Pinedale Field Office is located at 1625 West Pine Street. For more information, please contact Kellie Roadifer at 307-367-5309 or kroadife@blm.gov.

---
Sublette BOCES Special Meeting April 23 (posted 4/22/19)
Sublette BOCES
Public Notice: Sublette BOCES will have a Special Meeting on Tuesday, April 23, 2019 at 6:30 pm in the Conference Room, 665 N Tyler Ave. in Pinedale, Wyoming. The purpose of the meeting is to elect a new treasurer.

---
Nominations sought for John F. Patterson Award (posted 4/21/19)
Deadline for nominations is April 30th
Town of Pinedale
The Pinedale Travel and Tourism Commission will be presenting the John F. Patterson Award to recognize a Pinedale area employee who is "committed to quality service and consistent and exceptional care for visitors to Pinedale". This is an annual award to an individual in honor of Pinedale's founding father, John F. Patterson. Pinedale Travel & Tourism will be accepting nominations until 5:00 pm, April 30th, 2019. Please email nomination letters to heidiboehm@townofpinedale.us

---
SAFV Task Force luncheon April 25th (posted 4/21/19)
Sublette County Sexual Assault and Family Violence (SAFV) Task Force will have their annual luncheon on Thursday, April 25th. Special guest speaker will be Tiffany Eskelson-Maestas from the Wyoming Coalition Against Domestic Violence Sexual Assault and Stalking. Her talk will be about the history of violence against women movement. The event is part of the Wyoming Women Then and Now events. RSVP to SAFV (307) 367-6305.

---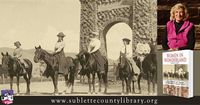 Talk about Yellowstone Women on April 25th at the Pinedale Library

Yellowstone Women talk April 25th (posted 4/21/19)
Author Elizabeth Watry will give a talk on "Yellowstone Women: Finding Inspiration and Identity in the West" at 6:00PM on Thursday, April 25th in the Lovatt Room of the Pinedale Library. The presentation is part of the Wyoming Women: Then & Now evens. She will talk about women as rangers, scientists, interpreters, and entrepreneurs, shaping the West's physical and cultural landscape. A light meal and beverages will be provided. Ms. Watry is the former Curator at the Museum of the Mountain Man in Pinedale and author of the book "Women in Wonderland: Lives, Legends and Legacies of Yellowstone National Park.

---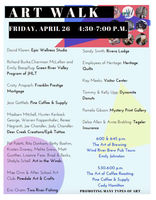 Pinedale Art Walk April 26

Pinedale Art Walk April 26 (posted 4/21/19)
Everyone is invited to stroll around Pinedale and view local artists' work, with a focus on multiple types of art; food, pottery, painting, coffee, jewelry, etc. The Art Walk will be from 4:30 to 7:00PM. There will also be several demonstrations during the Art Walk.

Epic Wellness Studio: David Klaren

Green River Valley Program of JHLT: Richard Burke, Carmian McLellan and Emily Boespflug:

Franklin Prestige Mortgage: Cristy Anspach

Pine Coffee & Supply: Jessi Gottlieb

Deer Creek Creations/Epik Tattoo: Madisen Mitchell, Hunter Kerback George, Warren Koppenhafer, Renee Negranti, Joe Chandler, Jody Chandler

Art in the Winds: Pat Poletti, Rita Donham, Betty Boehm, Kristen Draney, Melita Snow, Matt Gunther, Lisanne Fear, Brad & Becks, Shalyla Schell

Pinedale Art & Crafts: Mae Orm & After Scool Art Club

Two River Fishing: Eric Oram

Rivera Lodge: Sandy Smith

Heritage Quilts: Employees of Heritage

Sublette County Visitor Center: Kay Meeks

Dynomite Donuts: Tommy & Kelly Upp

Mystery Print Gallery: Pamela Gibson

Tegeler Insurance: Delsa Allen & Arnie Brokling

Demonstrations:
5:30-6:00PM: The Art of Coffee Roasting: Pine Coffee & Supply, Cody Hamilton
6:00 & 6:45PM: The Art of Brewing: Wind River Brew Pub Tours: Emily Johnston

---
Pinedale Community Food Basket Second Annual Auction April 27 (posted 4/21/19)
The Pinedale Community Food Basket Second Annual Auction will be held on Saturday, April 27th. Have fun helping the Pinedale Food Basket raise funds to update the stairs in the store. There will be a great variety of items. It will be from 4-6PM. Check out the Food Basket Facebook page for a sneak peek of auction items.

---
Passport Fair in Pinedale May 4th (posted 4/21/19)
There will be a Passport Fair on Saturday, May 4th from 11AM to 2PM in the Lovatt Room of the Pinedale Library. Apply for or renew your passport. You must bring an original or certified birth certificate with raised seal, and a photo ID. To apply for a youth passport (under 16), you must also have both parents present or a notarized DS-3053 form. Cash or checks only. For questions, call the Big Piney Post Office 307-276-3772.

---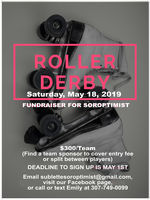 Fundraiser for Soroptomist

Roller Derby May 18th (posted 4/21/19)
Fundraiser for Soroptomist
Soroptomist in Sublette County will host Roller Derby on Saturday, May 18th. The event is a fundraiser for Soroptomist. Cost is $300/team. Find a sponsor to cover the entry fee or split it between players. Deadline to sign up is May 1st. For more information email sublettesoroptomist@gmail.com, or visit the Facebook page, or contact Emily at 307-749-0099.

---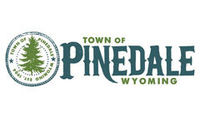 Town of Pinedale

Town of Pinedale Special Meeting May 7th (posted 4/16/19)
Town of Pinedale
There will be a Special Meeting of the Pinedale Town Council, Tuesday, May 7th, 2019 at 4 PM at the Lovatt Room of the Sublette County Library. Agenda items are the award of the contract to construct the dump and fill station and the interview of candidates to fill the town council vacancy. An appointment may be made to fill the vacant council seat.

The regular town council meeting will begin at 6 PM, April 22, 2019, in the Commissioners Room of the Sublette County Courthouse.

The interviews to fill the council vacancy previously scheduled for April 22, 2019 at 4 PM have been re-scheduled and will take place at the Special Meeting May 7th at 4 PM.

Related Links:
www.townofpinedale.us Town of Pinedale

---
Local Services:
Abortion Alternatives
Accounting & CPA
Apartments/Townhomes
Arts & Entertainment
Attorneys & Legal
Auction Services
Automotive
Aviation Services
Banks & Financial
Bars
Beauty Salons
Bed & Breakfasts
Boating
Bookkeeping
Builders & Contractors
Building Material
Business Services
Cabins
Cellular
Child Care
Churches
Cleaning Services
Clothing
Commercial Art
Computer Supplies
Condos
Consultants
Convenience Stores/Fuel
Convention/Meeting
Dentists
Dining
Dry Cleaning
Events
Fabric & Crafts
Fencing
Fishing
Flooring
Food & Drink
Funeral Homes
Furniture
Gifts/Western
Government
Graphic Design
Grocery & Market
Guest Ranches & Lodges
Handyman Services
Hardware & Feed
Heating
Health Care & Medical
Horseback Adventures
Insurance
Interior Design
Internet/Web/Advertising
Landscaping
Laundry
Liquor Stores
Lodging
Log Homes
Marketing
Massage Therapy
Modular Homes
Motels
Mountain Biking
Movie Theaters
Museums
Nails
Newspapers
Office Supplies
Oil Field Services
Optometrists
Organizations
Outdoor Equipment
Outfitters & Guides
Packaging & Shipping
Painters
Pet Stores
Pharmacies
Photography
Plumbing
Professional Services
Radio
Real Estate Agencies
Real Estate-FSBO
Remodeling
Retirement
Retreats
RV Camping
Schools
Scrapbooking
Septic Services
Skiing
Snowmobiling
Snow Plowing
Storage and Storage Units
Tanning
Tattoos & Body Art
Tax Preparation Services
Taxidermy
Transportation/Shuttle
Trash Services
Trucking
Veterinarians
Visitor Services