Funeral Services for Jim Malkowski in Daniel July 11 (posted 7/7/2020)
Jim Malkowski passed away on Saturday, July 4, 2020 after a short illness. Funeral services will be held on Saturday, July 11 at 10:00AM at the De Smet Prairie Mass site. Interment will follow in the Daniel Cemetery. Family and friends will gather for a reception following the service at the Daniel Schoolhouse. Rosary will take place Friday evening, July 10th, at 5:30PM at Our Lady of Peace Catholic Church in Pinedale.
---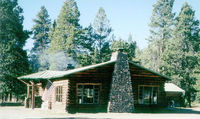 Big Sandy Loddge

Big Sandy Lodge offers a remote get-away (posted 7/6/2020)
Big Sandy Lodge is open for the summer season. They are remotely located in the Big Sandy Area of the southern Wind River Mountain Range, in the Bridger-Teton National Forest. They have ten individual log guest cabins and a main lodge. They are close to hiking trails into the Bridger Wilderness. They offer gear drops, spot packs, day trips, horseback rides, fishing excursions, photography trips, hunting and more.

Reservations are strongly advised, although drop-ins are welcome. They are so remote, that there is no cell service at the lodge (Yah! A place to escape the cell phone!) To reach them, you must email and give them some time to get back with you, bigsandylodgewyoming@gmail.com. Visit their website at www.big-sandy-lodge.com. Big Sandy Lodge operates under a special use permit with the Bridger-Teton National Forest.

Click here for their 2020 Big Sandy Lodge Walk-In Menu

---
SCSO seeks information on dog shootings (posted 7/6/2020)
Sublertte County Sheriff's Office
The Sublette County Sheriff's Office (SCSO) is seeking information from the public regarding a string of pets that have been shot in the town of Pinedale. The most recent which occurred on Monday, June 29th, involved a K9 that lived on South Fremont Avenue. This was a family dog named "Wilson" that was shot by a firearm and died as a result.

This case is being investigated by our office, along with the others. This incident is reported to be the fourth case of a similar shooting of a pet this year. Anyone with any information is encouraged to call the Sublette County Sheriff's Office at 307-367-4378.

---
Mosquito spraying in Pinedale July 8 & 9 (posted 7/3/2020)
Public Notice
PUBLIC NOTICE OF MOSQUITO SPRAYING IN PINEDALE
Pinedale Mosquito Abatement District #1 will be conducting the first aerial spraying for mosquitoes on Wednesday and Thursday, July 8 & 9, weather permitting. Bee keepers and people with allergies, and drone users be advised.

---
High Altitude Farmers Markets on Thursdays, July 9 (posted 7/3/2020)
Main Street Pinedale High Altitude Farmers Market on Thursdays through Sept. 3rd from 4-6:30PM on the Sublette County Courthouse lawn on US 191/Pine Street. On Thursday, July 9th, the Market will move over to the Sublette County Library lawn for Rendezvous. For more information see mainstreetpinedale.com.

---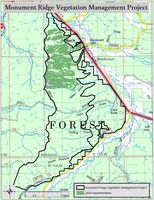 Monument Ridge Project Area

Monument Ridge Project underway (posted 7/3/2020)
On the Big Piney Ranger District
Bridger-Teton National Forest
Phase 1 of The Monument Ridge Vegetation and Recreation Management project is currently underway. The project area is located on the Big Piney Ranger District of the Bridger-Teton National Forest near the town of Bondurant. The habitat/fuels treatment area is within the Wildland Urban Interface (WUI) where Monument Ridge borders the western edge of the treatment area and the residential area along the Hoback River borders the eastern edge.

The Monument Ridge Vegetation and Recreation Management Project, proposed by the Sublette County Collaborative, is multifaceted. It addresses vegetation management within the wildland urban interface; wildlife habitat enhancement for mule deer, sage grouse, and other wildlife species, along with safety and access improvements for recreation.

Forest Service Contractors and Fire Crews are thinning and piling trees near the Hoback Guard Station and falling trees on 2000 acres along Monument Ridge (see map) to prepare for a planned prescribed fire in 2022. These treatments remove conifer encroachment in aspen stands and encourage aspen reproduction through the disturbance of prescribed fire. This treatment also removes conifer encroachment from the sage steppe increasing the health of the sage brush ecosystem. This part of the Monument Project is also designed to reduce hazardous fuel loading to mitigate the risk of high intensity/severity wildfire.

The slash produced from the tree felling along Monument Ridge will remain from spring 2020 to spring 2022. The 2-year period will allow the slash to cure and become an available fuel bed for a prescribe fire in Spring 2022. This process allows fire crews to implement the prescribed burn in the spring season. The cured fuel bed allows fire personnel to implement the prescribed burn before fire season while utilizing high fuel moistures in the surrounding vegetation to ensure the prescribed fire stays within established boundaries. USFS designated trails will remain open and clear of vegetation debris throughout this phase and the entirety of the project.

For more information, call Don Kranendonk (USFS Bridger-Teton NF, Big Piney District Ranger). 307-276-5810.

---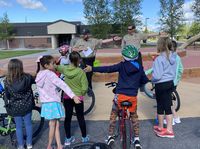 Bike safety. Photo courtesy PAC.

WCF helps support Little Wrangler Day Camp (posted 7/3/2020)
Pinedale Aquatic Center
The Pinedale Aquatic Center and Friends of PAC are grateful to the Wyoming Community Foundation for providing grant funding to support the Little Wrangler Day Camp this summer. Their dollars help keep the Camp affordable and staffed with well-trained counselors. The Wyoming Community Foundation is a nonprofit organization that works with donors to support the charitable causes they care most about. In 2019, the Wyoming Community Foundation granted over $11 million to charitable causes across the state. For information call 307-721-8300 or visit their website at www.wycf.org.

The Pinedale Aquatic Center's Little Wrangler Day Camp started on June 8, 2020 and already the 1st through 5th graders have enjoyed adventures including hiking in the mountains, learning about bike safety from the Sublette County Sheriff's Office, and hands-on time with Wyoming Game & Fish staff featuring bear skins and antlers. The kids and their counselors have a busy summer schedule ahead, filled with swimming, art, social emotional learning, dance, and plenty of plain old play time. Their curriculum has been carefully crafted to provide joy and learning simultaneously. While the participants think of all this as summer fun, the Camp also provides a critical role to our community, ensuring a safe, flexible, and enriching childcare environment that allows many parents to continue working while school is out.

The Friends of PAC nonprofit organization was created to secure supplemental funding for the PAC and its important programs as county revenues decline. The board is working hard to identify new partnerships and collaborations that will benefit the PAC. Learn more at www.welovepac.com.

---
Rendezvous Rodeo July 9, 10 & 11 (posted 7/1/2020)
Thursday, Friday and Saturday evenings
Green River Rendezvous is on for 2020, July 9-12, and that includes the Rendezvous Rodeo on three of those nights! The Sublette County Sporting Association hosts the Rendezvous Rodeo, which will be held Thursday, Friday and Saturday evenings, July 9, 10 & 11th at the Pinedale Rodeo Grounds. The rodeo grounds are located up on the hill just south of Pinedale on US 191. All rodeos begin at 7:00PM. The cost of general admission is $10/person. Children under 10 years old get in free. Because of COVID-19 health restrictions, there will be no audience parking allowed next to the rodeo arena to watch the rodeo. Additional bleachers are being brought in for seating around the rodeo arena. Social distancing measures will be taken. Concessions will be available. Rodeo participants should take note of the July 4 deadline for entries. Below are more details on this year's rodeo.

RENDEZVOUS RODEO INFORMATION-2020
Sublette County Sporting Association
Pinedale Rodeo Grounds: Thursday, Friday, Saturday, July 9th, 10th, 11th

EVENTS:
Barrel Racing:
Open Barrels: Friday (slack is run before the rodeo.)
Junior Barrels: Thursday (age 11-15)
Peewee Barrels: 10 and under; 1/2 Thursday, 1/2 Friday -
Contestants must complete the pattern by themselves.

Roping:
Tie Down Roping: Rope Thursday, Friday;
Breakaway Roping: Thursday, Friday;
Team Roping:
#8 and #12 Team Ropings and Open Team Roping:
Ropers may enter 2 times in each of the ropings, making a total of 6 runs.
#8 Roping: Friday night after the rodeo; Finals follow.
Enter only on Friday at the rodeo grounds; 7:00 p.m. – 9:00 p.m.
#12 Roping: Saturday 8:15 a.m.; Finals follow.
Enter on Friday 7:00 p.m. or Saturday 7:30 a.m. – 8:00 a.m.
Open Team Roping: 1/2 Thursday, 1/2 Friday.
Since the roping is in the rodeo, entries must be in the rodeo office by July 4th.

Rough Stock:
Bareback
Saddle Bronc
Ranch Bronc
Mini Broncs
Bulls

All Finals are on Saturday night during the rodeo except for the #8 and #12 ropings.

Other Events: Ring of Fear, Bull Poker

Entry Fees:
Rough Stock: $100 -Contestants will ride all 3 nights.
Rough Stock events limited to 12 riders; Bulls limited to 16 riders.
Roping Events: $110 - Breakaway, Tie Down, Team Roping (per man)
Open Barrels - $70
Junior Barrels - $30
Peewee Barrels - $15

Entries due in the rodeo office by July 4, 2020. Entries may be called in 307-367-2302.
Include:
1) Name
2) Address
3) Phone Number
4) Entries
5) Entry Fees

Pay by cash, check or money order.
Send entries to:
SCSA
PO Box 405
Pinedale, WY 82941

Barrel racers are responsible for calling the rodeo office (307-367-2302) between 4:00 p.m. and 8:00 p.m. on Wednesday, July 8th to find out if they are in slack on Friday.

Admission: $10. Children under 10 years old get in for free.

Veterans who have served in the Armed Forces will be honored at the Saturday night rodeo. They can pick up their tickets at the Pinedale VFW or from Spencer Nichols in Big Piney.

For more information, call 307-367-2302 or 307-367-4300.

---
Mental Health Support Group restarts (posted 6/30/2020)
Meeting July 2nd
Mental Health Support Group has received approval to resume. There will be a meeting on Thursday, July 2nd at 7:00PM in the Sublette County School District #1 Administration Building, 655 North Tyler Avenue, in Pinedale.

The meetings will occur the 1st & 3rd Thursdays of each month. They are peer based and facilitated by a private member of the community. These meetings are intended to support individuals struggling with mental health/affective mood disorders and the friends and family members that provide support. For more information, please call (307) 360-7926.

---
Free Quit Tobacco Group meets on Tuesdays (posted 6/30/2020)
There will be a free Quit Tobacco Group that will meet on Tuesdays during the summer. The group is open to all ages. It meets from 5:30 to 6:30PM at the Sublette County Public Health office in Pinedale. The provide a light meal during the meeting. They will have access to free patches, gum and lozenges. To register or for more information, call Trisha at 307-749-5004. The will have COVID-19 safe health practices in place.
---
Virtual Let's Talk July 8 (posted 6/29/2020)
Zoom Chat with Ultra Resources
Ultra Resources is hosting a virtual "Let's Talk" meeting on Wednesday, July 8 via Zoom. Join Ultra online for a socially distanced chat from 11:30 am to 12:30 pm. Please RSVP to Kelly Bott at kbott@ultrapetroleum.com for the Zoom information.

---
Town of Pinedale seeks citizens to serve on volunteer boards (posted 6/29/2020)
Town of Pinedale
The Town of Pinedale needs you! If serving your community and helping shape the future of Pinedale sounds interesting, consider serving on one of our volunteer boards. The Planning and Zoning Commission, the Travel and Tourism, the Airport Board, and the Park and Tree Board all have openings. If you wish to be considered, please submit a letter of interest to
maureenrudnick@townofpinedale.us. Your letter will be submitted to the mayor for consideration.

---
Pinedale All School Reunion update - BBQ July 11, 2020 (posted 6/29/2020)
Bill Johnson
I think most of you can imagine the frustration of attempting to put an All School Reunion together during this corona virus pandemic! It's not because we don't have a good team, because we do! I'm always afraid of forgetting someone but Melva Post, Marilyn Jensen, Sandy Brewer, Laura Lozier, and Dave Willoughby have been exceptional. Letters have been mailed and phone calls have been made. We have done our best since December.

There is possibly another way to think about the virus and our nation. I have no doubt that hard times are coming soon. Civil unrest, political chaos, and economic severity are already front and center. The future looks bleak. Wars and natural disasters have not yet come but they will. Pinedale and Sublette County have been a safe zone. Three persons with corona virus and no deaths. Last week-end we helped put on a rock and gem show at the fair grounds at Big Piney- Marbleton. 1200 people came through and there were 26 vendors from around the west. So far no problems. Those roaring through Pinedale to get to Jackson also seem busy as ever.

My point is we are pretty darn safe and especially with an outdoor event. But there is another and better reason to gather. That is to renew friendships and strengthen ties with as many as possible. We are facing hard times and no one will get through it by themself. It's going to take unity. Your friends will make your difference! We should all start now. Housing is firming up and new people are moving in.

So here is the new deal! The reunion as we imagined it in December is pretty much a bust. Not many out-of-staters are coming. Not too many graduates from around the state are coming either. Our numbers are quite low. We are now going to open the barbecue up to ANYONE that wants to come excepting small children. Our food supplier that does the pulled pork can handle about 175 people. We have been approved for 250 in attendance but that could possibly change downward. That means that some of us might get stuck grilling hamburgers. It doesn't matter to me what I eat. The company is what is important!

We will start promptly at 3pm with The Pledge of Allegiance followed by the singing of GOD Bless America. Then a prayer. Andy Nelson and Jared Rogerson will provide the entertainment! They are good! Dave Willoughby is hoping to have a horse shoe tournament. If interested, you need to prepay to PO Box 2354, Pinedale 82941 so it can be received no later than July 3rd. Then we will have our number for the vendors. $25 per person. If for some reason we can't pull it off and have to cancel, then we will send your money back. It will be held at the Johnson residence and it is best to come through the south gate at 64 Granite Lane. Bring your own beer and bring a lawn chair.

More info on Facebook: Pinedale All School Reunion

---
Kickin' Cancer in Sublette County fundraiser (posted 6/22/20)
Drawing on Facebook Live on September 26
This year marks the 18th year for fundraising for Kickin' Cancer in Sublette County. However, it will look a little different than from years past. It was a difficult decision for the organization to cancel their annual banquet, but due to the uncertainty of COVID-19 pandemic, it was necessary. There won't be a banquet with the delicious meal or the musical entertainment, or the live and silent auctions. But they will have the usual annual raffle ticket fundraiser.

Raffle tickets are $100 each with only 500 tickets being sold. There will be 50 chances to win $100, and 100 chances to win $50.

The Grand Raffle prize winner will choose one package from a choice of five offerings that were put together with the help of Rocky Mountain Power Sports Pinedale. See the poster for the five choices. Winner pays sales tax.

New this year is the opportunity to purchase your tickets online at www.kickincancer.org.

The drawing will be held via Facebook Live on Saturday, September 26, 2020.

Kickin' Cancer in Sublette County wishes to thank the community for all the many years of generous support. That continued support provides 100% of the proceeds to benefit Sublette County residents battling cancer.

---
Looking for Community Ambassadors for Continental Divide Trail (posted 6/22/20)
Pinedale is a Gateway Community for the Continental Divide Trail (CDT), meaning that it has been designated as friendly to trail users and dedicated to the completion and protection of the trail. Each of the CDT Gateway Communities have Community Ambassadors who serve as leaders of stewardship and connection to the Trail.

The Continental Divide Trail Coalition is seeking individuals who would be interested in being a Gateway Community Ambassador for the Pinedale area. Gateway Community Ambassadors teach friends and neighbors about the CDT. As an Ambassador, you will explore the CDT near your home and help others learn about the CDT by hosting at least three events a year.

If you are excited about trails, public lands, community engagement and want to spend more time on the CDT, email gateway@continentaldividetrail.org for more information.

---
Local Services:
Abortion Alternatives
Accounting & CPA
Apartments/Townhomes
Arts & Entertainment
Attorneys & Legal
Auction Services
Automotive
Aviation Services
Banks & Financial
Bars
Beauty Salons
Bed & Breakfasts
Boating
Bookkeeping
Builders & Contractors
Building Material
Business Services
Cabins
Cellular
Child Care
Churches
Cleaning Services
Clothing
Commercial Art
Computer Supplies
Condos
Consultants
Convenience Stores/Fuel
Convention/Meeting
Dentists
Dining
Dry Cleaning
Events
Fabric & Crafts
Fencing
Fishing
Flooring
Food & Drink
Funeral Homes
Furniture
Gifts/Western
Government
Graphic Design
Grocery & Market
Guest Ranches & Lodges
Handyman Services
Hardware & Feed
Heating
Health Care & Medical
Horseback Adventures
Insurance
Interior Design
Internet/Web/Advertising
Landscaping
Laundry
Liquor Stores
Lodging
Log Homes
Marketing
Massage Therapy
Modular Homes
Motels
Mountain Biking
Movie Theaters
Museums
Nails
Newspapers
Office Supplies
Oil Field Services
Optometrists
Organizations
Outdoor Equipment
Outfitters & Guides
Packaging & Shipping
Painters
Pet Stores
Pharmacies
Photography
Plumbing
Professional Services
Radio
Real Estate Agencies
Real Estate-FSBO
Remodeling
Retirement
Retreats
RV Camping
Schools
Scrapbooking
Septic Services
Skiing
Snowmobiling
Snow Plowing
Storage and Storage Units
Tanning
Tattoos & Body Art
Tax Preparation Services
Taxidermy
Transportation/Shuttle
Trash Services
Trucking
Veterinarians
Visitor Services