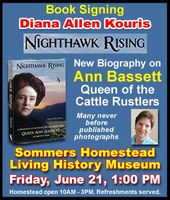 Book signing June 21st at 1:00PM

Book Signing for Diana Allen Kouris at Sommers Homestead June 21 (posted 6/18/19)
Brown's Park native, author Diana Allen Kouris, will be the special guest at the Sommers Homestead Living History Museum on Friday, June 21st at 1:00PM for a book signing.

Her third book, "Nighthawk Rising: A Biography of Accused Cattle Rustler Queen Ann Bassett of Brown's Park" came out in May, 2019. The 416-page book includes many never-before-published photographs.

Kouris has utilized her personal and family connections, along with years of research, to record the fascinating life events of Ann Bassett who lived and ranched in the Brown's Park region of Colorado, Wyoming and Utah in the early 1900s. Bassett was known to associate with outlaws such as Butch Cassidy, and she was accused of cattle rustling, but was never convicted. "Queen Ann, as she was called, lived a life full of adventure and controversy in the Brown's Park region of Colorado, Wyoming, and Utah. She broke bread with Butch Cassidy, had her life turned upside down by notorious range detective Tom Horn, and stood tall against cattle baron Ora Haley." The book is also available on Amazon, Hardcover $35. Paperback $19.95.

Kouris grew up on the historic Brown's Park Livestock Ranch, where in the 1800s Butch Cassidy found sanctuary. She is the author of two other books about Brown's Park: "Riding the Edge of an Era: Growing Up Cowboy on the Outlaw Trail" (2009) and "The Romantic and Notorious History of Brown's Park." (1988)

The Sommers Homestead Living History Museum is operated by the Sublette County Historical Society. Hours are Fridays and Saturdays from 10AM to 3PM through the summer season. It is located 7.3 miles south on the East Green River Road. Maps are available at the Museum of the Mountain Man and the Visitor Center in Pinedale, and on the Sommers Ranch Homestead Facebook page. Admission is by donation. Refreshments will be served.
---
Graveside Service for Bonnie Fay Bingham June 19, 2019 (posted 6/1619)
Covill Funeral Home
Bonnie Fay Bingham, 82, of Pinedale, Wyoming passed away at the Sublette Center June 14, 2019. A graveside service will be held Wednesday, June 19th at 1:30PM at the Pinedale Cemetery.

---
Memorial Service for Niobe 'Goosey' Zarlingo June 21, 2019 (posted 6/16/19)
Covill Funeral Home
Niobe "Goosey" Zarlingo, 91, of Boulder, WY passed away June 12, 2019. A memorial service will be held Friday, June 21st at 11:00 AM at the Wilderness Church in Pinedale. Inurnment will follow the service in the Pinedale Cemetery.

---
Rendezvous Pancake Breakfast July 13 (posted 6/16/19)
Everyone is invited to the Rendezvous Pancake Breakfast on Saturday, July 13th. It will be at the Pinedale Community Church, 113 S Maybell Avenue from 7:00-10:00AM. It will be by free-will donation.

---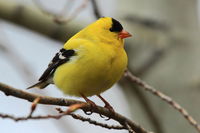 American Goldfinch. Photo by Dave Bell.

Songbird Bonanza (posted 6/18/19)
Photos by Fred Pflughoft
Fred Pflughoft has posted a photo gallery of songbirds that are migrating through Pinedale. He thanks Paul and Tina Rock for sharing their backyard bonanza. Click on this link to see his pictures: Songbird Bonanza
---
Grass Drags July 27 (posted 6/14/19)
Snow Explorers/Altitude Off-Road Inc. will be holding a Grass Drags event in Boulder, Wyoming on Saturday, July 27th. Entries are open to all years of snowmobiles, and side by sides. Grass drags will be in the field across from the Boulder Bar. Start time is 10AM. Food and drink concessions provided. Dry camping available. Call Patrick 307-231-6161 or visit www.pinedalesnowexplorers.com for more information.

---
Sublette County Democratic Party strategy meeting June 21 (posted 6/14/19)
The Sublette County Democratic Party will hold their Second Quarter meeting at 6 pm, Friday, June 21, in the Lovatt Room of the Sublette County Library in Pinedale.

Agenda items include confirming precinct chairs, strategizing fundraising, and discussing the 2020 election cycle.

Any registered Democrat in Sublette County is eligible to become a Precinct Chair. Precinct chairs are currently ballot elected positions that are responsible for being the person on the street that knows how to get people out to vote and canvass for party principles.

For more information contact Tessa Miller, (406) 690-5870, sublette.wyodems@gmail.com.

---
Memorial for Paul Crittenden June 22 (posted 6/13/19)
A Memorial for Paul Crittenden will be held on Saturday, June 22, starting at noon at Sleeping Indian Outfitters, 14496 US Highway 191 in Bondurant, Wyoming.

Come celebrate the life of Paul Crittenden. There will be food, drinks, and opportunities to share stories. If anyone has photos, please bring them with a note on the back about when and where the photo was taken. Please bring copies and not the original picture. For those who wish to bring a dish to share, please bring a dessert or a salad (potato salad, pasta salad, etc). They will have beans, Dutch oven potatoes, and will be smoking a hog. BYOB. A late lunch is planned for around 2-3PM.

---
Death Notice: Danner Boone (posted 6/12/19)
Long-time Pinedale resident Danner Boone passed away on Tuesday, June 11, 2019. A Memorial Service will be held at Our Lady of Peace Catholic Church in Pinedale at 10:00AM on Saturday, July 27, 2019.
---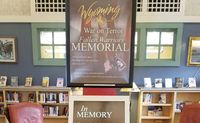 The kiosk contains photographs, biographies, and stories about these fallen heroes and will be on display at the Pinedale Library until the end of June.

Fallen Warrior Memorial Kiosk on display through end of June (posted 5/27/19)
At the Pinedale Library
The Sublette County Libraries, in cooperation with the Wyoming Veterans Commission and Wyoming Military Department, is proud to host a Fallen Warrior Memorial Kiosk. The kiosk honors the men and women of Wyoming who gave their lives during the Global War on Terror. The kiosk contains photographs, biographies, and stories about these fallen heroes and will be on display at the Pinedale Library until the end of June.

Related Links:
www.sublettecountylibrary.org Sublette County Libraries

---
2019 Big Piney Class Reunion July 27th (posted 5/23/19)
There will be a reunion for Big Piney classes 1966 through 1972 on Saturday, July 27th from 3:00PM to 11:00PM at the Southwest Sublette Count Pioneers Senior Center in Marbleton. Cost will be $25.50 for a chicken dinner or $31.50 for prime rib dinner, which includes one trip to a buffet and a beverage. If interested in attending, contact Pam Bowman Norris at pamn528@hotmail.com by July 1st.

---
Local Services:
Abortion Alternatives
Accounting & CPA
Apartments/Townhomes
Arts & Entertainment
Attorneys & Legal
Auction Services
Automotive
Aviation Services
Banks & Financial
Bars
Beauty Salons
Bed & Breakfasts
Boating
Bookkeeping
Builders & Contractors
Building Material
Business Services
Cabins
Cellular
Child Care
Churches
Cleaning Services
Clothing
Commercial Art
Computer Supplies
Condos
Consultants
Convenience Stores/Fuel
Convention/Meeting
Dentists
Dining
Dry Cleaning
Events
Fabric & Crafts
Fencing
Fishing
Flooring
Food & Drink
Funeral Homes
Furniture
Gifts/Western
Government
Graphic Design
Grocery & Market
Guest Ranches & Lodges
Handyman Services
Hardware & Feed
Heating
Health Care & Medical
Horseback Adventures
Insurance
Interior Design
Internet/Web/Advertising
Landscaping
Laundry
Liquor Stores
Lodging
Log Homes
Marketing
Massage Therapy
Modular Homes
Motels
Mountain Biking
Movie Theaters
Museums
Nails
Newspapers
Office Supplies
Oil Field Services
Optometrists
Organizations
Outdoor Equipment
Outfitters & Guides
Packaging & Shipping
Painters
Pet Stores
Pharmacies
Photography
Plumbing
Professional Services
Radio
Real Estate Agencies
Real Estate-FSBO
Remodeling
Retirement
Retreats
RV Camping
Schools
Scrapbooking
Septic Services
Skiing
Snowmobiling
Snow Plowing
Storage and Storage Units
Tanning
Tattoos & Body Art
Tax Preparation Services
Taxidermy
Transportation/Shuttle
Trash Services
Trucking
Veterinarians
Visitor Services