Blood Drives Nov. 4 & 5 (posted 10/17/19)
In Pinedale and Big Piney
There will be a blood drive in Pinedale on Monday, November 4th, and in Big Piney on Tuesday, November 5th. The drives are being sponsored by Vitalant as part of their annual Drive for Life celebration. Blood donors will get a commemorative t-shirt and lapel pin. Visit bloodhero.com to make an appointment. Walk-ins are also welcome.

Monday, Nov. 4, 2019
Pinedale Training Room
635 E. Hennick
Pinedale, WY 82941
1 – 6 p.m.
Register here: https://bloodhero.com/index.cfm?group=op&expand=830975&zc=82941

Tuesday, Nov. 5, 2019
Big Piney Gym
650 Piney Dr
Big Piney, WY 83113
1:30 – 6 p.m.
Register here: https://bloodhero.com/index.cfm?group=op&expand=868838&zc=83113
---
Celebration of Life for LaRae (Murphy) Anderson Oct. 19 (posted 10/15/19)
A Celebration of Life for LaRae (Murphy) Anderson will be held on Saturday, October 19, 2019 at 10:00AM at 609 Sage Avenue in Marbleton, Wyoming (Bill Murphy's house).

---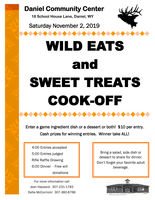 Wild Eats and Sweet Treats Cook-Off Nov. 2, 2019

Wild Eats & Sweet Treats Cook-Off Nov. 2 (posted 10/15/19)
At the Daniel Community Center
The Daniel Community Center will host their annual Wild Eats and Sweet Treats Cook-Off on Saturday, November 2nd at the historic Daniel Schoolhouse. Everyone is invited to enter a game ingredient dish or a dessert or both! There is a $10 per entry fee. Cash prizes for winning entries. Winner takes all! Attendees are asked to bring a salad, side dish, or dessert to share for dinner. Don't forget to bring your favorite adult beverage. Dinner is by free-will donation. The Daniel Community Center is located in the historic Daniel Schoolhouse, 18 School House Lane in Daniel, Wyoming.

Schedule:
4:00PM: Entries accepted
5:00PM: Entries judged
Rifle Raffle drawing
6:00PM: Dinner (by free will donation)

For more information call Jean Hayward: 307-231-1783, or Delta McCormick: 307-360-6766.

---
Funeral Service for Betty Lou McLoughlin Oct. 19 (posted 10/14/19)
Covill Funeral Home
Betty Lou McLoughlin, 83, of Daniel passed away Saturday, October 12th at the Sublette Center. A funeral service will be held Saturday, October 19th at 11:00 AM at the Pinedale Community Church. Interment will follow the service in the Pinedale Cemetery.

Related Links:
Obituary: Betty Lou McLoughlin Covill Funeral Home

---
Winter Farmers' Markets in Pinedale (posted 10/14/19)
Every 3rd Saturday at the Pinedale Library
There will be a Winter Farmers' Market on the 3rd Saturday of the month beginning October 19, 2019 through March 2020 in the Lovatt Room of the Pinedale Library from 8AM to noon. There will be locally made arts and crafts, produce, meat and dairy products, and hand crafted desserts. Vendor space is limited, so vendors are encouraged to get their applications in as soon as possible. Vendor form. More information is available at the Main Street Pinedale website, www.mainstreetpinedale.com or by emailing Ashley Keene at info@mainstreetpinedale.com. The Winter Farmers' Market is presented by the Sublette County Library and High Altitude Market.

---
Bridger-Teton National Forest plans prescribed burns near Big Piney, Wyoming (posted 10/11/19)
Bridger-Teton National Forest
The Bridger-Teton National Forest is planning to conduct a prescribed burn on the Big Piney Ranger District in the next few days.

Fire managers expect to begin ignitions on the Cottonwood II prescribed burn on or about October 17, 2019, if weather and fuel conditions are favorable. This is the last unit in the project and approximately 45-acres will be burned. Earlier this spring, 80-acres of this unit were burned as prescribed. The burn unit is located approximately 20-miles west of Daniel, WY on Sjhoberg Creek on the north side of North Cottonwood Creek drainage.

Objectives include, increase aspen stand regeneration, reduce conifer encroachment, increase forage conditions for wildlife habitat and reduce hazardous fuels build-up while restoring fire-adaptive ecosystems. This vegetation treatment is an interagency cooperative effort with Bureau of Land Management, Wyoming Game & Fish Department, Sublette County Unified Fire and Teton Interagency Fire.

Actual ignitions for these burns will depend on meeting strict parameters for weather and fire behavior conditions. Smoke will be visible in the immediate vicinity and may be seen from Hwy 191/189 during the ignition phase and for a short time after lighting has been completed. No closures are anticipated with this burn.

For more information on this prescribed burn and other fuels projects, visit https://www.fs.usda.gov/main/btnf/home In the center of the page enter your email address and then submit the request. You will then be able to choose what news release topics you wish to receive.

---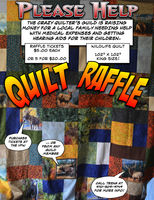 Quilt Raffle Fundraiser

Quilt Raffle Fundraiser (posted 10/11/19)
To help with medical expenses
The Crazy Quilter's Guild is raising money for a local family needing help with medical expenses and getting hearing aids for their children. They are raffling a King Size Wildlife Quilt (102" x 102"). Raffle tickets are $5.00 each or 5 for $20.00. Tickets may be purchased at the VFW in Pinedale or from any Guild member. For more information call Trena at 970-509-9749.

---
WWCC President to visit Big Piney Oct. 21 for Listening Session (posted 10/10/19)
Dr. Kim Dale will visit Western's service areas to meet with community members
Western Wyoming Community College media release
Western Wyoming Community College's new President, Dr. Kim Dale, will be visiting Big Piney on Monday, October 21st, from 5:30-6:30PM in the Big Piney Library.

The Western President Listening Sessions provide community members the opportunity to meet with Dr. Dale and discuss important, relevant matters unique to Big Piney and Sublette County. The goal of the Listening Sessions is to help the College best serve the community.

"I am looking forward to visiting beautiful Big Piney and meeting with community members in Sublette County to find out how the College can best serve their needs. I am excited to hear ideas and suggestions to help Western, and our community partners plan for the future," stated Dr. Dale.

Light snacks and refreshments will be provided by Sublette 9 BOCES.

Dr. Dale strives to build open communication with the people in the communities Western serves. Connect with Dr. Dale through Twitter @WesternPrez or email her at kimberly.dale@westernwyoming.edu.

The event is free and open to the public. To learn more about the Big Piney Western President Listening Session, please contact Angie Clifford at aclifford@westernwyoming.edu.

---
Boulder Community Center Halloween Carnival Oct. 26 (posted 10/5/19)
Boulder Community Center will have a Halloween Carnival on Saturday, October 26th from 3:00PM to 7:00PM. There will be games, prizes, food & drink, costume contest, hay maze, photo booth and much more. Free admission. All kids and families invited. There will be a $50 prize for best kids costume. $50 Boulder Bar- Bar Tab for best adult costume. 25 cent tickets for carnival games, photo booth, and food. Sponsored by Sand Draw LLC with special thanks to the Boulder Bar. Organizers are looking for volunteers to help run the booths. Please call Casey Fairbanks for more information, 307-231-3732.
---
Rendezvous Pointe 16th Annual Holiday & Craft Fair Nov. 1 & 2 (posted 9/27/19)
Rendezvous Pointe Senior Center in Pinedale will be hosting their 16th Annual Holiday & Craft Fair Nov. 1 & 2. This is a fundraiser and community event. There will be over 30 vendors at the Fair. They will also have a silent auction and raffles, food items, and more. The Fair will be from 5-8PM on Friday and 10AM to 3PM on Saturday. For more information call 307-367-2881.

---
Local Services:
Abortion Alternatives
Accounting & CPA
Apartments/Townhomes
Arts & Entertainment
Attorneys & Legal
Auction Services
Automotive
Aviation Services
Banks & Financial
Bars
Beauty Salons
Bed & Breakfasts
Boating
Bookkeeping
Builders & Contractors
Building Material
Business Services
Cabins
Cellular
Child Care
Churches
Cleaning Services
Clothing
Commercial Art
Computer Supplies
Condos
Consultants
Convenience Stores/Fuel
Convention/Meeting
Dentists
Dining
Dry Cleaning
Events
Fabric & Crafts
Fencing
Fishing
Flooring
Food & Drink
Funeral Homes
Furniture
Gifts/Western
Government
Graphic Design
Grocery & Market
Guest Ranches & Lodges
Handyman Services
Hardware & Feed
Heating
Health Care & Medical
Horseback Adventures
Insurance
Interior Design
Internet/Web/Advertising
Landscaping
Laundry
Liquor Stores
Lodging
Log Homes
Marketing
Massage Therapy
Modular Homes
Motels
Mountain Biking
Movie Theaters
Museums
Nails
Newspapers
Office Supplies
Oil Field Services
Optometrists
Organizations
Outdoor Equipment
Outfitters & Guides
Packaging & Shipping
Painters
Pet Stores
Pharmacies
Photography
Plumbing
Professional Services
Radio
Real Estate Agencies
Real Estate-FSBO
Remodeling
Retirement
Retreats
RV Camping
Schools
Scrapbooking
Septic Services
Skiing
Snowmobiling
Snow Plowing
Storage and Storage Units
Tanning
Tattoos & Body Art
Tax Preparation Services
Taxidermy
Transportation/Shuttle
Trash Services
Trucking
Veterinarians
Visitor Services