Sublette County Commissioners meeting Dec. 17 (posted 12/12/19)
Carrie Long, Sublette County Clerk
BOARD OF COUNTY COMMISSIONERS
SUBLETTE COUNTY, WYOMING
AGENDA
COMMISSION CHAMBERS, PINEDALE, WYOMING
SUBLETTE COUNTY COURTHOUSE
TUESDAY, DECEMBER 17, 2019

9:00 A.M. Call to Order
• Pledge of Allegiance – Chairman David Burnett will call the meeting to order, and lead the Pledge of Allegiance.
• Request approval of the agenda
• Request approval of the prior meeting minutes

9:05 A.M. Billy Pape, Road & Bridge – Update on activities
Rio Verde Engineering – Clark Draw Recommendation

9:30 A.M. Mike Oltman, Forest Service – Schedule A projects

9:45 A.M. Matt Gaffney, County Administrator - Update on Activities

10:00 A.M. KC Lehr, Sherriff - Department activities
• Request for addition of flex time to Sublette County Employee Handbook (non-exempt employees)

10:15 A.M. Sarah Cavallaro, Teton Youth & Family Services - request for funding

10:45 A.M. Cooper, Shad, Fire Warden - Award bid for Type 5 engine

11:00 A.M. Dennis Fornstrom, Planning & Zoning
• Resolution #19-100375B – Conditional Use
• Kwak Minor Subdivision

11:30 A.M. Tracey Hoover, Deputy County Clerk
• Public Hearing, Transfer of Funds
• Resolution No. 19-100374B

11:35 A.M. Monthly Reports
• Accounts Payable audited with motion to approve for payment.
• Resolution No. 19-100376B (USFS Lease - Legal Description)
• Skyline Rocks Invoice
• Public Health Officer letter
• Treasurer – Emily Paravicini (Bond Approval)
• Jeness Saxton, Assessor, Notice of Valuation Changes

11:45 A.M. Old Business

12:00 P.M. Lunch

Click on this link for a printable version of this agenda.

Related Links:
www.sublettewyo.com Sublette County website

---
Death Notice: Claudie Meyer (posted 12/12/19)
Covill Funeral Home
Longtime Pinedale resident, Claudie Meyer (89), passed away peacefully Wednesday morning December 11, 2019 at the Sublette Center in Pinedale. A memorial service will be held in the upcoming weeks and the date and time will be posted in the community.

---
Bondurant Elementary School Christmas Program Dec. 13 (posted 12/12/19)
Everyone is invited to the Bondurant Elementary School Christmas Program on Friday, December 13th at 6:30PM at St Hubert the Hunter Church (not the school). This will be the Bondurant Elementary School Christmas Program along with Mr. & Mrs. Klaus. Please bring finger food and cookies for your family and to share. For more details and to make gift arrangements for children ahead of time, contact Stacy Saunders. 307-413-7822 or bondogirl@hotmail.com.
---
Cowboy Country Distilling Tasting at Outfitter Liquor Dec. 13 (posted 12/12/19)
Cowboy Country Distilling will be having a Tasting at Outfitter Liquor on Friday, Dec. 13th from 4-6PM. Outfitter Liquor is located on the east end of Ridley's Market in Pinedale. They will be featuring winter drinks: hot buttered rum, home-made coffee Kahlúa raspberry cordial, cocoa, and a new drink called Tim and Gary. Come by and say hi. The first 12 people that purchase a bottle of CCD spirits will receive a shot glass. Must be over age 21.

Related Links:
www.cowboycountrydistilling.com Cowboy Country Distilling

---
Sublette County Democratic Party meeting Dec. 17 (posted 12/12/19)
The Sublette County Democratic Party will have their final business meeting of 2019 on Tuesday, December 17, 2019 at 5:15PM in the Board Room of the Pinedale Library. Agenda items include a January event, Caucus training, and meeting schedules for 2020. For more information contact Tessa Miller (307)360-3590.

---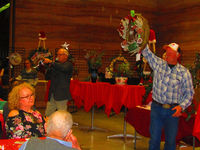 The Museum of the Mountain Wreath Auction.

Wreath Auction Photo Gallery (posted 12/11/19)
Dawn Ballou, Pinedale Online!
The Museum of the Mountain Man held their 26th Annual Wreath and Chocolate Auction on Friday, December 6th in the Lovatt Room of the Pinedale Library. Community members donated 42 beautiful hand-made wreaths and holiday arrangements for the live auction, along with a variety of chocolate delights for the silent auction.

The Fan Favorite People's Choice was a beautiful wreath made by Julie Early. The wreath that brought in the most money was one made by Karen Olsen on behalf of Sam Drucker, a long-time member of the historical society who passed away last month from cancer. That wreath sold for $1,750. Food for the event was generously sponsored by First Bank. All money raised goes to support educational programs at the Museum in 2020.

The Museum is closed for the 2019 regular season, but they will have some special open days for the holidays. They will be open Tuesday, December 10th, Thursday, December 12th, Tuesday, December 17, and Thursday, December 19th for visits to the Museum and the gift shop. Members of the Sublette County Historical Society get in for free. Special visits can also be arranged for other times by appointment by calling 307-367-4101.The online gift shop on their website is open all the time for orders. The Museum is run by the Sublette County Historical Society, a non-profit organization.

Click on this link for more pictures:Wreath Auction Photo Gallery

Thank you to Joy Ufford for additional photos.

Related Links:
www.mmmuseum.com Museum of the Mountain Man

---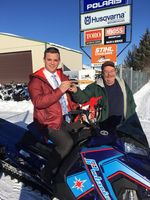 Winner Garret Huie is given the key by Lion Ric Stott. Photo courtesy Pinedale Lions Club.

Virginia man wins Lions Club Snowmobile Raffle (posted 12/11/19)
Pinedale Lions Club
The Pinedale Lions Club held its 30th Annual Snowmobile Raffle Drawing on Saturday, December 7 at Bucky's Outdoors. All 500 tickets were sold and the lucky winner of the 2020 Polaris 800 Pro RMK 155" with the new 850 engine was Garret Huie of Gloucester, VA.

Garret is here in Pinedale on a church mission and was shocked to win. He said that he'd just purchased one ticket to support the Lions Club's good work. Approximately 70 other prizes were awarded during the reverse drawing, featuring items donated by many generous Sublette County businesses. Winners will be called Monday & Tuesday.

The following local merchants supported our 2019 raffle: A Clipping Along Barber Shop, Altitude Drug, Auto Doc, Bank of Sublette County, Belveals Body Shop, Black Mountain Rental, Bomgaars, Boulder Bar, Bucky's Outdoors, Clean Wash Laundry, Coral & Tusk, Country Lane Convenience, Country Lane Liquor, Cowboy Shop, Down River Shuttles, The Garage Gym, Geared Up, Green River Gear, Half Moon Lake Lodge, Hampton Inn & Suites, Heritage Quilts & Fabric Shoppe, High Country Suites, Jak's Salon & Boutique, Lakeside Lodge, Linda Trimmer, Max Lockett, Mousse Salon, Museum of the Mountain Man, Napa Auto Parts, Nested West, Obo's Market & Deli, Office Outlet, Old Stones Smokehouse & Country Pizza, Performance Tech, Pickaroon Timber Products, Pinedale Aquatic Center, Pinedale Arts & Crafts, Pinedale Fine Arts Council, Pinedale Super Center, ReBel Auto Car Quest, Rendezvous Meadows Club House, Ridley's Family Market Pinedale, Rocky Mountain Bank, Rocky Mountain Wash, Rocky Mountain Yeti, Stitchin' Post, Sublette Communications, Tegelers Insurance, The Hair Outfitter & Spa, The Tire Store, Valley Wide Cooperative, Wells Fargo Bank.

The Pinedale Lions Club supports numerous local projects including the Easter Egg Hunt, high school scholarships, grants to early childhood education centers, vision care assistance, free diabetes testing via the Public Health Nurse, and the Leo Club for youth ages 12-18. They also help fund the Allen H. Stewart School for the Visually Impaired in Casper, the Rocky Mountain Lions Eye Bank and contribute to Lions Clubs International's disaster relief efforts. This year, the club has taken an active role in administration of the Roosevelt Fire Disaster Recovery Fund and rebuilding efforts. According to President Max Lockett, "the Pinedale Lions Club's mission is to empower volunteers to serve our communities, meet humanitarian needs, encourage peace and promote international understanding. We greatly appreciate the incredible support of our local businesses, friends and neighbors who help us not only with the snowmobile raffle but throughout the year."

Next up on the Lions busy calendar are the Freshman Basketball Tournament in January, the Winter Carnival in February, and their own Big Fish Winter Derby the first weekend in March.

New members are always welcome – come to one of their meetings the first and third Thursdays of each month at Rendezvous Pointe, 7am!

---
New fat bike single track grooming program begins (posted 12/10/19)
Grooming report for Tuesday, Dec. 10th
Andrew Zook, GEARED UP
After 10 months of planning and cooperation between the Pinedale Cycle and Trail Club, the US Forest Service, and Sublette County, a new fat bike single track grooming program has begun on the Bridger-Teton National Forest.

As of today (Tuesday, December 10th) the single track trails were groomed the morning of December 9th. Trail conditions are medium soft with expected improved surface December 11th. Currently there is 3.5 miles of groomed single track in the Kelly Park multi-use area with sections added weekly. Single track is multi-use which means all users are welcome to enjoy the new trail system.

The Club hopes to have a new map showing the trail system soon. For more information on the single track grooming call Geared Up in Pinedale at 307-399-5539.

This fat tire grooming report is courtesy:
Andrew Zook
GEARED UP
307-399-5539 c. 307-760-1912
432 W Pine
Pinedale Wyoming 82941
www.gearedupbikes.com


---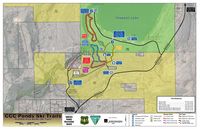 Nordic Ski Trail Map for CCC Pond area.

Nordic ski trail grooming report – December 10, 2019 (posted 12/10/19)
Mike Looney, Groomer, Sublette County Recreation Board
Tuesday, December 10, 8:30AM report:
There is a fresh groomed trail at the Golf Course for both Classic and Skating. The Bike Path at the CCC Ponds is groomed for both Classic and Skating.
This Nordic Ski Trail grooming report is courtesy of the Sublette County Recreation Board.

Related Links:
White Pine-Kelly Park Ski Trail Map - (10.3MB PDF)
CCC Ponds Ski Trail Map - (1.84MB PDF)
Road and Weather links
www.visitpinedale.org Pinedale tourism website (links to lodging, dining, area information)
www.whitepineski.com White Pine Resort, 307-367-6606, (Nearby alpine skiing, food services, restroom)
www.greatoutdoorshop.com The Great Outdoor Shop, 307-367-2440
www.sublettechamber.com Local businesses & services, 307-367-2242
www.golfpinedale.com Rendezvous Meadows Golf Course (Additional Nordic ski trails, food services, restroom)

---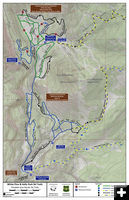 Nordic Ski Trail Map courtesy Sublette County Recreation Board.

Nordic ski trail grooming report – December 9, 2019 (posted 12/9/19)
Mike Looney, Groomer, Sublette County Recreation Board
Monday, December 9, 8:00AM report:
Kelly Park, Upper & Lower Surveyor, Moose Ridge, and Old Road Trail all fresh groomed this morning for both classic and skating. Kelly Tie-in, Half Moon Tie-in and Tree Loop are just flat groomed. Be extremely cautious on Half Moon Tie-in and Kelly Tie-in trails – there are still lots of rocks just under the snow and even some exposed rocks. There is 2" of new snow at the Nordic Equipment Building, 4" new snow at White Pine yesterday. There is a skiff of new snow on the road, which is not plowed yet. The Nordic parking is plowed. There are still lots of wildlife around – please control your dogs. Please pitch the dog poo off the trail. 6F degrees at the Nordic Equipment Building at the time of this report. A little chilly, but not too bad. Looks like the sun is going to shine.

This Nordic Ski Trail grooming report is courtesy of the Sublette County Recreation Board.

Related Links:
White Pine-Kelly Park Ski Trail Map - (10.3MB PDF)
CCC Ponds Ski Trail Map - (1.84MB PDF)
Road and Weather links
www.visitpinedale.org Pinedale tourism website (links to lodging, dining, area information)
www.whitepineski.com White Pine Resort, 307-367-6606, (Nearby alpine skiing, food services, restroom)
www.greatoutdoorshop.com The Great Outdoor Shop, 307-367-2440
www.sublettechamber.com Local businesses & services, 307-367-2242
www.golfpinedale.com Rendezvous Meadows Golf Course (Additional Nordic ski trails, food services, restroom)

---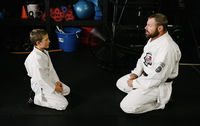 Kenpo Karate classes offered in 2020 at The Garage Gym in Pinedale.

Kenpo Karate offered at The Garage Gym in Pinedale (posted 12/2/19)
Informational meeting on Dec. 13th
The Garage Gym in Pinedale is offering Kenpo Karate classes in 2020. There will be an informational meeting for parents and adults on Friday, December 13th at 5:30 pm. The class is for ages 5 and up. They hope to also offer adult karate classes pending interest. The Garage Gym is located at 230 S. Cole Avenue in Pinedale.

This training course will be held on Fridays starting January 10th 4:00-5:00 pm. Those interested should attend the December 13th informational meeting to order and find out about cost of course, mandatory gear including the Gi, belt and protective equipment (i.e. cups). Class size is limited. The Instructor is Shawn Streeter.

For more information contact The Garage Gym: 307-360-6382

---
2019 Holiday Happenings with the Museum of the Mountain Man (posted 11/20/19)
The Museum of the Mountain Man in Pinedale will be offering special hours during the holidays. Even though they have closed for their regular season, they will be offering special hours for holiday shopping. The Museum's gift shop is filled with gifts for all ages and interests. They've got fur trade and other western history books, maps, cookbooks, jewelry and more for the adults on your list, and stuffed animals, sturdy wooden toys and children's books for the kids.

The Museum galleries will be open for touring during these special holiday hours. Visitations can also be scheduled by appointment during the winter season. Sublette County Historical Society members get in for free. Memberships make great gift ideas too.

2019 Holiday Schedule:

• Friday, November 29: Black Friday at the Museum – open 9am – 5pm
• Saturday, November 30: Small Business Saturday – open 9am-5pm
• Friday, December 6: 26th Annual Wreath & Chocolate Auction – Library – 6-9pm
• Tuesday, December 10: Museum open 9am – 1pm
• Thursday, December 12: Museum open 9am – 1pm
• Tuesday, December 17: Museum open 9am – 1pm
• Thursday, December 19: Museum open 9am – 1pm
• Online shopping is always available at www.museumofthemountainman.com
• Christmas Break & Holiday Season – Have family and friends visiting during the holidays? Call the Museum at 307-367-4101 or email info@mmmuseum.com to arrange a time to tour the Museum and gift shop.

26th Annual Wreath & Chocolate Auction: Each year individuals, organizations and businesses create unique wreaths, swags and chocolate delights and donate them to the Museum for the Wreath & Chocolate Auction. This holiday event, held annually on the first Friday evening of December, is the main fundraiser for the Sublette County Historical Society and the Museum of the Mountain Man. Monies raised help support programs and projects for the following year. The event includes a live auction for wreaths and a silent auction featuring chocolate and gift baskets. Jay Fear, prior SCHS Board President, serves as the auctioneer. The food is generously sponsored by First Bank. Started in 1993, this annual event has become a highlight of the holiday season in Sublette County.

Related Links:
www.mmmuseum.com Museum of the Mountain Man

---
Local Services:
Abortion Alternatives
Accounting & CPA
Apartments/Townhomes
Arts & Entertainment
Attorneys & Legal
Auction Services
Automotive
Aviation Services
Banks & Financial
Bars
Beauty Salons
Bed & Breakfasts
Boating
Bookkeeping
Builders & Contractors
Building Material
Business Services
Cabins
Cellular
Child Care
Churches
Cleaning Services
Clothing
Commercial Art
Computer Supplies
Condos
Consultants
Convenience Stores/Fuel
Convention/Meeting
Dentists
Dining
Dry Cleaning
Events
Fabric & Crafts
Fencing
Fishing
Flooring
Food & Drink
Funeral Homes
Furniture
Gifts/Western
Government
Graphic Design
Grocery & Market
Guest Ranches & Lodges
Handyman Services
Hardware & Feed
Heating
Health Care & Medical
Horseback Adventures
Insurance
Interior Design
Internet/Web/Advertising
Landscaping
Laundry
Liquor Stores
Lodging
Log Homes
Marketing
Massage Therapy
Modular Homes
Motels
Mountain Biking
Movie Theaters
Museums
Nails
Newspapers
Office Supplies
Oil Field Services
Optometrists
Organizations
Outdoor Equipment
Outfitters & Guides
Packaging & Shipping
Painters
Pet Stores
Pharmacies
Photography
Plumbing
Professional Services
Radio
Real Estate Agencies
Real Estate-FSBO
Remodeling
Retirement
Retreats
RV Camping
Schools
Scrapbooking
Septic Services
Skiing
Snowmobiling
Snow Plowing
Storage and Storage Units
Tanning
Tattoos & Body Art
Tax Preparation Services
Taxidermy
Transportation/Shuttle
Trash Services
Trucking
Veterinarians
Visitor Services