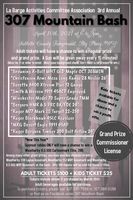 307 Mountain Bash April 10th

3rd Annual 307 Mountain Bash April 10 (posted 2/27/2021)
The 3rd Annual 307 Mountain Bash will be held on Saturday, April 10, 2021 from 6-9PM at the Sublette County Fairgrounds north of Big Piney/Marbleton. This event is sponsored by the LaBarge Activities Committee Association. Grand prize is a Wyoming Game and Fish Commissioner's License. To purchase tickets or sponsor a table, please call 307-390-7666 or 307-388-0198. Adult tickets are $100, youth tickets $25. Every adult ticket will have a chance to win a regular prize (10 things you hunt with) and the grand prize. Purchase of a ticket includes a BBQ dinner. More info on their Facebook page.
---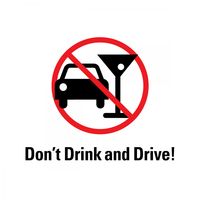 Don't drink and drive

DUIs outpacing last year in Sublette County (posted 2/26/2021)
In 2020, there were 67 DUIs in Sublette County (arrests for Driving Under the Influence of Alcohol). So far in 2021, there have been 19, which is a significant increase from the rate in 2020. The average Blood Alcohol Concentration (BAC) for 2021 has been .18, up from the 2020 average of .14. Law enforcement personnel are encouraging the public to be more aware of the concerns with drinking and driving and to drink responsibly.

Tips for Responsible Drinking
1. Don't drink and drive
2. Plan ahead for transportation. Appoint a designated driver if you are going out to social drink.
3. Know your limit for alcoholic beverages.
4. Eat food before and while you drink.

If alcohol excess is due to stresses or other issues, help is available through local family counseling groups and AA meetings. Contact Our Savior's Lutheran Church, 412 North Tyler Ave in Pinedale, for the current meeting schedule. Melody, 307-371-9414.

---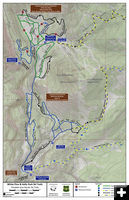 Nordic Ski Trail map

Nordic Ski Trail Grooming Report – Feb. 26, 2021 (posted 2/26/2021)
Mike Looney, Groomer
Friday, 10:15AM: All multi-use trails above groomed this morning except for Looney Lane and Aspen. Also groomed the race course for the Pinedale Stampede which includes Moose Ridge, Flatline, a portion of Upper Surveyor Park, and Tree Loop. About 3 inches of new snow this morning. 19F degrees at the Nordic Equipment Building. Expect soft conditions today. Please, please, please, please pick up after your dogs. Kick their poop off the trails. We have great ski trails in this county and Sublette County spends a lot of money and time keeping them maintained. Please do your part and pick up after your pets.

This Nordic Ski Trail grooming report is courtesy of the Sublette County Recreation Board.

Related Links:
White Pine-Kelly Park Ski Trail Map - (10.3MB PDF)
CCC Ponds Ski Trail Map - (1.84MB PDF)
Road and Weather links
www.visitpinedale.org Pinedale tourism website (links to lodging, dining, area information)
www.whitepineski.com White Pine Resort, 307-367-6606, (Nearby alpine skiing, food services, restroom)
www.greatoutdoorshop.com The Great Outdoor Shop, 307-367-2440
www.sublettechamber.com Local businesses & services, 307-367-2242
www.golfpinedale.com Rendezvous Meadows Golf Course (Additional Nordic ski trails, food services, restroom)

---
Town of Pinedale seeks recreational sign RFP (posted 2/26/2021)
The Town of Pinedale is inviting proposals from qualified contractors to provide signage design for three recreational locations around Fremont Lake: the Upper Boat Dock, Lower Boat Dock and Sandy Beach. The Town is working to update signage at recreational areas around Fremont Lake. This RFP is to select a professional design firm to create engaging and informational signs to assist the recreating public in understanding and protecting the Fremont Lake Watershed. The RFP includes sign design, but not the cost of creating the actual signs. The deadline for submitting proposals is Wednesday, March 3, 2021 by Noon. The project must be completed by April 30, 2021. Please see the Request for Proposals for more information.
---
Sublette Co Commissioners meeting March 2 (posted 2/25/2021)
Carrie Long, Sublette County Clerk
BOARD OF COUNTY COMMISSIONERS
SUBLETTE COUNTY, WYOMING
AGENDA
LOVATT ROOM, SUBLETTE COUNTY LIBRARY
PINEDALE, WYOMING
TUESDAY, MARCH 2, 2021

9:00 a.m. Call to Order
• Pledge of Allegiance
• Request approval of the agenda
• Request approval of the prior meeting minutes (2/16/21).

9:05 a.m. Billy Pape, Road & Bridge, Update on Activities
Rio Verde Engineering – Update on projects

9:30 a.m. Laila Illoway, County Assessor
• Anticipated Assessed Value for Tax Year 2021
• State Assessed Notice of Valuation Changes

9:45 a.m. Dave Doorn, Tonia Hoffman – Hospital District Update

10:00 a.m. Clayton Melinkovich, Deputy County Attorney
• Vanguard Update
• Rocky Mountain Power Contract

10:30 a.m. Todd Hurd, Forsgren – Update on Projects

11:00 a.m. Shad Cooper, Fire Warden
• Type 3 Wildland Fire Truck
• Excess Vehicles

11:30 a.m. Dennis Fornstrom, Planning & Zoning Administrator
• Daniel Community Center and Union Wireless (Conditional Use Permit)
• Monument Ridge Ranch (Rezone & Minor Subdivision)

Monthly Reports:
• Payroll in the amount of $1,032,775.98
• Accounts Payable
• Catering Permits:

Old Business:

ZOOM participation will be available at: ID# 891-3589-2014 with pass code 096299

Click on this link for a printable version of this agenda.

Related Links:
www.sublettewyo.com Sublette County website

---
Final interviews of CAH management partners scheduled (posted 2/24/2021)
There are three FINAL interviews with the possible management partners for the Critical Access Hospital (CAH). The Hospital District will be interviewing the CEO of each organization. The public is invited to listen to the interviews.

Wednesday, Feb. 24, 2021: St. John's (CEO's will be attending remotely), 5-7PM, Marbleton Senior Center

Wednesday, March 3, 2021: Star Valley Health (CEO in person), 5-7PM, Sublette County School District #1 Administration Building Board Meeting Room

Wednesday, March 10, 2021: EIRMC – CEO in person, 5–7PM, Marbleton Senior Center –

Meeting Agenda
Brief opening statement from each organization
Question and Answer session with the Hospital District Board
Members
Question and Answer Session with the General Public

Zoom information can be found at www.sublettehospitaldistrict.org

---
Pinedale Stampede Nordic Ski Race Feb. 27 (posted 2/24/2021)
Registration open until Feb. 25th
The Pinedale Aquatic Center is hosting the 2nd annual Pinedale Stampede Nordic Ski Race on Saturday, February 27, 2021. It will be held at the White Pine Nordic Ski area adjacent to White Pine Ski Resort in Pinedale, Wyoming. Races will all be mass start, freestyle races.

Races:
6k freestyle (rec race)
10k freestyle
20k freestyle
1k youth (11 and under) stampede

Location: The Pinedale Stampede will be held at the Nordic ski area adjacent to White Pine Ski Area. White Pine will be open for alpine skiing and tubing. White Pine lost its lodge in the summer of 2019, but is open with some dining and drink options. Nearby you will also find dog and family friendly Nordic skiing, groomed fat bike trails, and snowshoeing opportunities.

Registration:
For more information and registration:
http://www.pinedaleaquatic.com/stampede.
Register at: https://events.com/r/en_US/registration/pinedale-stampede-2021-pinedale-february-799142
Registration will close on Thursday, February 25. There will be no onsite registration. Registration is required for all races except the 1k Youth Stampede for those 11 and under. Registration includes the event, swag, giveaways, and prizes for top competitors in both Skate and Classic divisions.

Race Check-In and Bib Pick-up: Racers are encouraged to check-in at the Pinedale Aquatic Center (located at 535 North Tyler Avenue in Pinedale) from 5pm - 8pm on Friday, February 26. Paid race registration includes free admission to the Pinedale Aquatic Center on Friday the 26th and Saturday the 27nd (after the race). The Pinedale Aquatic Center features two pools, a hot tub, water slide, climbing wall, and fitness/gymnasium areas. Same day check-in will be at the Nordic warming hut at White Pine Ski Area from 8am to 9am only.

Where to stay: The town of Pinedale is just a 20-minute drive away from White Pine. It has dining and lodging options. For more information, visit www.visitpinedale.org
.

Race Timeline:
FRIDAY, FEBRUARY 26:
Come play and check in at the Pinedale Aquatic Center. Check-in from 5pm to 8pm. PAC is open until 8pm. Course will be set by 2pm for pre-skiing.

SATURDAY, FEBRUARY 27:
8am - 8:45am: Onsite check-in (no onsite registration)
9am - all racers must be off the course
9am - 6k freestyle race mass start (all racers must finish by
10:15am)
10:30am: 20k freestyle race mass start
10:30am: 10k freestyle race mass start
1pm (or when 20k race concludes) - Youth Stampede 1k race
1:30pm: Award ceremony
(all times are tentative)

Grooming is provided by the Sublette County Rec Board.

---
Wyoming Legislature update – Feb. 20, 2021 (posted 2/20/2021)
Albert Sommers, House District #20 Representative
2/20/2021
Hello Sublette County, this is Albert Sommers reporting to you on February 21, on the eve of standing committee meetings the week of February 22. House and Senate committees will start working more than 60 bills prior to the March segment of the 2021 General Session. There are four bills up next week that came out of committees that I chaired in the interim, or for which I am the prime sponsor. All bills being considered in the Legislature can be found at https://www.wyoleg.gov/Legislation/2021.

HB0101, Elk feedground closings-requirements will be before the House Travel, Recreation and Wildlife Committee on Tuesday afternoon. This bill puts in place a process that must be followed if the Wyoming Game and Fish Commission believes an elk feedground should be closed. It would give the Governor the final authority to close an elk feedground, only after recommendations are received from both the Commission and the Wyoming Livestock Board. The bill requires that the Commission and the Livestock Board hold a public meeting in the affected area, with comments compiled from that public meeting submitted to the Governor. I have heard or seen feedback that suggests I support closing elk feedgrounds. I absolutely do NOT support closing elk feedgrounds, and I want to ensure that a robust discussion occurs if closures are contemplated. Elk feedgrounds support large elk populations for outfitters and hunters, and they protect cattle herds by reducing co-mingling during time periods when brucellosis can be easily transmitted from elk to cattle. The Wyoming Game and Fish Department (WGFD) began a discussion last winter about the benefits and challenges of elk feedgrounds, including impacts of Chronic Wasting Disease. My biggest fear is that the new administration in Washington DC will eliminate the special use permits for elk feedgrounds on federal lands. My bill requires the WGFD to develop and submit a contingency plan to the Legislature, if the Feds give notice they are eliminating the authorization for an elk feedground. Despite their challenges, elk feedgrounds have provided western Wyoming robust elk herds, reduced damage to stored crops, and reduced brucellosis transmission from elk to cattle.

HB0039, Optometrist practice act amendments, updates the practice act for Optometrists, and ensures Optometrists can treat patients in rural Wyoming to the full extent of their education and training.

HB0061, School finance recalibration, is the vehicle to debate K12 school finance in Wyoming, and the $300 million annual shortfall that exists in funding K12 education. I have spoken about this extensively in other updates. I believe this is the most important debate we will have in the Legislature this year, whether we fix the problem or kick the can down the road.

SF0076, Broadband development program-amendments, updates a state broadband grant program created in 2018 that proved unusable. In an attempt to make the grant program more user friendly, the bill creates a process to fund middle mile projects, updates speed requirements, allows state agencies to partner on broadband proposals, streamlines the challenge process, eliminates matching requirements, and adjusts the application process.

I can be reached at albert@albertsommers.com. with questions or comments. This is the best email address to reach me at during session, because my legislative email can get super clogged with emails from around the state and nation.

Thanks
Albert Sommers

---
Pinedale Theatre Company postpones Fall 2021 musical theatre production (posted 2/17/2021)
Pinedale Theatre Company
Pinedale Theatre Company's Board of Directors has made the difficult decision to postpone a musical theatre production for the fall of 2021. Artistic Director and Co-Founder, Valerie Lee, said "we've decided to wait for a healthier time when everyone feels safe being together."

Pinedale Theatre Company (PTC) has produced musical theatre shows every couple of years starting with The Sound of Music in 2008 followed by The King and I, Guys and Dolls, Oklahoma, Oliver and most recently Beauty and the Beast in 2019.

According to Jo Crandall, Co-Founder and Development Director, "The board feels the productions grew in size and caliber over the years because PTC was able to offer the talented local participants the opportunity to work and hone their skills with professional directors, musical directors, choreographers, lighting designers and sound engineers. In recent years, artists from Big Piney and Jackson have joined the casts as the reputation for excellence of PTC grew."

The PTC Board wants to thank Sublette County School District #1 for allowing use of the auditorium and help from support staff. None of the productions could have happened without their support. Pinedale Fine Arts Council has served as the fiscal umbrella for PTC, another key to success. The board also wants to acknowledge all the volunteers, families, friends and audience members for their support keeping theatre alive in rural Wyoming.

Take a look at past productions and reminisce in the photo archives at www.pinedaletheatre.com.

---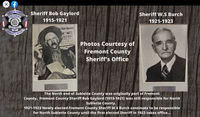 First sheriffs

Sublette County Sheriff's Office timeline (posted 2/16/2021)
Sublette County Centennial – History of the SCSO
Sublette County Sheriff's Office
Happy Birthday Sublette County! February 15th, 1921 we officially became a county. Here is a 100 year timeline review of the Sublette County Sheriff's Office from 1921 to today!
Stay tuned all year as we share our history!
#SCSOCentennial #SCSO

Video available on Facebook and our YouTube channel: https://www.facebook.com/SubletteSheriff/videos/453347882380662


---
Youth Mentoring Programs offered in Pinedale (posted 2/16/2021)
Free Youth Mentoring Programs are being offered at Hope Choice Pregnancy Centers and Mentoring Programs in Pinedale, 209 E. Magnolia St. The free mentoring programs are designed to build character and reinforce positive values.

Squires: for boys 8-12, Mondays, March 1-April 12 from 3:45-5:15pm.
Chosen: for girls 8-12, Tuesdays, March 2-April 13, 3:45-5:15pm.
Pearls: for girls 13-18, Sundays, February 28-May 9 from 2:00-4:00pm.

Bus transportation from the elementary school can be provided, with prior arrangements. To register, please visit www.hopechoice.com/mentoring/.

For more information, please call 307-367-7077.

---
Convention of States Wyoming Town Hall meeting in Pinedale March 2 (posted 2/16/2021)
The Convention of States Wyoming will host a Town Hall Meeting in Pinedale on Tuesday March 2nd, 5 - 7PM in the Lovatt Room of the Sublette County Library, 155 S. Tyler Ave. The public is invited to join this community conversation about the COS initiative to be more informed of the goals of the COS organization and the Article V constitutional procedure. Representatives of COS will be on hand to answer questions. Article V allows We the People, through our State Legislatures, to propose amendments to our constitution. COS proposes a discussion in three areas: Impose Term Limits on Federal Officials Impose Fiscal Restraint on the Federal Government Reduce the Power & Jurisdiction of the Federal Government. The library requests no children, no food & drink, and will be limiting the number to 50 people. For more information: vance.mcgahey@cosaction.com or call (307) 231-5335.
---
Rec Board Budget Request Hearings in March (posted 2/11/2021)
The Sublette County Recreation Board will hear Budget Requests for the fiscal year 2021-2022 in Marbleton and Pinedale March 9th & 10th.

Marbleton
March 9, 2021 at 6:00pm
Marbleton Town Hall

Pinedale
March 10, 2021 at 6:00 pm
Pinedale Library – Lovatt Room

The members of the Rec Board would appreciate your cooperation in meeting the following guidelines when requesting funds:

Grant applications can be obtained by contacting Board Clerk, Betty Cheeney at 307-360-8135, Sublette County's website, www.sublettewyo.com, or go to the Rec Board Facebook page.

A representative of your project/organization must attend one of the budget hearings and provide 11 copies of the completed grant application, list of items requested in order of priority, profit/loss statement and balance sheet. Your request packets should be four pages or less.

Grant applications will not be accepted after March 10, 2021.

Due to COVID-19 restrictions, the board is asking that only one person from your group be present to make your request.

Masks will be required.

Click on this link for the 2021 grant application (PDF).

---
Local Services:
Abortion Alternatives
Accounting & CPA
Apartments/Townhomes
Arts & Entertainment
Attorneys & Legal
Auction Services
Automotive
Aviation Services
Banks & Financial
Bars
Beauty Salons
Bed & Breakfasts
Boating
Bookkeeping
Builders & Contractors
Building Material
Business Services
Cabins
Cellular
Child Care
Churches
Cleaning Services
Clothing
Commercial Art
Computer Supplies
Condos
Consultants
Convenience Stores/Fuel
Convention/Meeting
Dentists
Dining
Dry Cleaning
Events
Fabric & Crafts
Fencing
Fishing
Flooring
Food & Drink
Funeral Homes
Furniture
Gifts/Western
Government
Graphic Design
Grocery & Market
Guest Ranches & Lodges
Handyman Services
Hardware & Feed
Heating
Health Care & Medical
Horseback Adventures
Insurance
Interior Design
Internet/Web/Advertising
Landscaping
Laundry
Liquor Stores
Lodging
Log Homes
Marketing
Massage Therapy
Modular Homes
Motels
Mountain Biking
Movie Theaters
Museums
Nails
Newspapers
Office Supplies
Oil Field Services
Optometrists
Organizations
Outdoor Equipment
Outfitters & Guides
Packaging & Shipping
Painters
Pet Stores
Pharmacies
Photography
Plumbing
Professional Services
Radio
Real Estate Agencies
Real Estate-FSBO
Remodeling
Retirement
Retreats
RV Camping
Schools
Scrapbooking
Septic Services
Skiing
Snowmobiling
Snow Plowing
Storage and Storage Units
Tanning
Tattoos & Body Art
Tax Preparation Services
Taxidermy
Transportation/Shuttle
Trash Services
Trucking
Veterinarians
Visitor Services