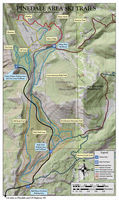 Map courtesy Sublette County Recreation Board

Nordic ski trail grooming report – Dec. 18, 2018 (posted 12/18/18)
Mike Looney, Groomer, Sublette County Recreation Board
Tuesday, December 18, 8:30AM report:
Skating lane groomed on Golf Course and CCC trails. Bike path portion of CCC trail pretty good with Classic track. Rest of CCC trails are brushy, watch out for rocks. 22F degrees, pretty nice. There are still a number of deer at the CCC trails and moving through. Please keep control of your dogs.

This Nordic Ski Trail grooming report is courtesy of the Sublette County Recreation Board.

Related Links:
X-C Ski Trail Map - (356K PDF)
Road and Weather links
www.visitpinedale.org Pinedale tourism website (links to lodging, dining, area information)
www.whitepineski.com White Pine Resort, 307-367-6606, (Nearby alpine skiing, food services, restroom)
www.greatoutdoorshop.com The Great Outdoor Shop, 307-367-2440
www.sublettechamber.com Local businesses & services, 307-367-2242
www.golfpinedale.com Rendezvous Meadows Golf Course (Additional Nordic ski trails, food services, restroom)

---
Sublette County Commissioners meeting Dec. 18 (posted 12/18/18)
Mary Lankford, Sublette County Clerk
BOARD OF COUNTY COMMISSIONERS
SUBLETTE COUNTY, WYOMING
AGENDA
COMMISSIONERS MEETING ROOM
SUBLETTE COUNTY COURTHOUSE
PINEDALE, WYOMING
TUESDAY, DECEMBER 18, 2018

(Tentative Agenda, Subject to Change Up To 9 a.m. the Day of the Meeting)

9:00 a.m. Call to Order
Pledge of Allegiance
• Chairman Nelson will call the meeting to order, lead the Pledge of Allegiance, and request approval of the prior meeting minutes.
Billy Pape, Road & Bridge
• This report will include a review of all present maintenance work being performed, project updates, materials and equipment.

9:30 a.m. Billy Pape, Waste Management
• This report will include a review of the Landfill, Recycling, and the Transfer Station operations.

10:00 a.m. Shad Cooper, County Fire Warden
• Monthly report on SCUF Activities & Harris Project

10:30 a.m. Public Hearing, Transfer of Funds

10:45 a.m. KC Lehr, Sheriff
• Update on Department Activities

11:00 a.m. Jim Mitchell, Emergency Management Coordinator
Update on Roosevelt Fire and Funding Report

11:15 a.m. Old Business
• Commission Members will report on activities since last meeting

Lunch at Wind River Brewery

1:00 p.m. Planning & Zoning
• Application by Pine Cone, LLC and Ross Hocker requesting the Vacation of two Large Tract Lots that were created as part of the New Fork Meadows Large Trace Development, being Tract 1 and Tract 2 of the New Fork Meadows Large Tract Development.
• Application by Michael & Susan LaVoie requesting additional road easement across lands owned by Sublette County, Wyoming, for Lot 4, Orcutt Hill, Unit II Subdivision

1:30 p.m. Matt Gaffney, Deputy County Attorney
• Executive Session Pursuant to W.S. 16-4-405(a)(iii), Litigation, 2 Items
• Executive Session Pursuant to W.S. 16-4-405(a)(ii),
Personnel

2:30 p.m. Roxanna Jensen, County Treasurer
• Certificate of Purchase
Retirement Presentations

2:45 p.m. Mike Henn, Conservation District
• Roosevelt Fire Rehabilitation Project

Click on this link for a printable version of this agenda

Related Links:
www.sublettewyo.com Sublette County website

---
Retirement Open House for Sublette County elected officials Dec. 28 (posted 12/18/18)
There will be a Sublette County Retirement Open House on Friday, December 28, 2018 to honor retiring Sublette County elected officials:
Roxanna Jensen, Treasurer
Mary Lankford, Clerk
Andy Nelson, Commissioner

The event will be held in the Lovatt Room of the Sublette County Library in Pinedale from 3 to 6 PM. Everyone is invited to attend.

Related Links:
www.sublettewyo.com Sublette County website

---
Swearing-In Ceremony of Sublette County's elected officials Jan. 7, 2019 (posted 12/18/18)
Sublette County will hold a Swearing-In Ceremony for elected officials on Monday, January 7, 2019 at 9:00AM in the District Court Room of the Sublette County Courthouse in Pinedale, Wyoming. Judge Marvin Tyler will be officiating.

Being sworn in are:
Joel Bousman, Commissioner
Douglas Vickrey, Commissioner
Curt Covill, Coroner
Mike Crosson, Attorney
KC Lehr, Sheriff
Carrie Long, Clerk
Emily Paravicini, Treasurer
Jeness Saxton, Assessor
Janet Montgomery, Clerk Of District Court

Related Links:
www.sublettewyo.com Sublette County website

---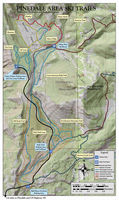 Mike Looney, Groomer, Sublette County Recreation Board

Nordic ski trail grooming report – Dec. 15, 2018 (posted 12/17/18)
Mike Looney, Groomer, Sublette County Recreation Board
Saturday, December 15, 8:20AM report:
Half Moon Tie-In, Kelly Park, Kelly Tie-In, Upper & Lower Surveyor, Tree Loop, Moose Ridge, and Old Road Trail all groomed this morning. 14F degrees. Nice day. Should be exceptional skiing. Headed to pack the CCC trails now.

This Nordic Ski Trail grooming report is courtesy of the Sublette County Recreation Board.

Related Links:
X-C Ski Trail Map - (356K PDF)
Road and Weather links
www.visitpinedale.org Pinedale tourism website (links to lodging, dining, area information)
www.whitepineski.com White Pine Resort, 307-367-6606, (Nearby alpine skiing, food services, restroom)
www.greatoutdoorshop.com The Great Outdoor Shop, 307-367-2440
www.sublettechamber.com Local businesses & services, 307-367-2242
www.golfpinedale.com Rendezvous Meadows Golf Course (Additional Nordic ski trails, food services, restroom)

---
Live Nativity at the Dick Noble Ranch Dec. 24 (posted 12/14/18)
There will be a Live Nativity at the Dick Noble Ranch in Cora at 6:00PM. Please bring a plate of cookies to share. There will be a bonfire and hot chocolate following the Nativity. Turn at the Cora Post Office. For more information call 307-231-2101 or 307-231-3093.

---
Sublette County Rural Health Care District Board meeting Dec. 19 (posted 12/14/18)
Wednesday, December 19, 2018 – 6:00pm
Marbleton Town Hall
Marbleton, Wyoming

Call to order
Pledge of Allegiance
Set agenda

Routine Business
- Finance Report/Lorraine Gatzke
- Operations Report/Amanda Key
- EMS Report/Bill Kluck
- Committee Reports
• • CAH Committee (Wendy Boman/Mike Pompy)
• • Building Committee (Mike Pompy)

New Business
-Motion to approve and sign SCRHCD Trauma Resolution (Vicky Marshall)
-EMS schedule (Bill Johnson)
-24-hour services for the Marbleton Big Piney Clinic (Tonia Hoffman)
-Discussion with outside board representatives (Wendy Boman)
-Fee Schedule (Wendy Boman)

Public Comments

Old Business
- 305.2 Insurance Benefits Cobra Policy, 308.1 Overtime, 313.1 Statutory Benefits Policy, 314.1 Time off to Vote Policy, 319.1 Retiree Health Care Benefits (Amanda Key)
- Approval of Minutes- Regular Meeting November 19, 2018

Routine Business
-Approval of Payroll and Bills

Executive Session
-Personnel

Related Links:
https://sublettehealthcare.com Sublette County Rural Health Care District

---
RFP – Rebuilding Pinedale Airport Storage Building (posted 12/13/18)
Proposals due back to the Town by Dec. 18
Town of Pinedale
Editor's comment: note that the wording of this RFP has been slightly modified from our earlier posting.
PUBLIC NOTICE:
The Pinedale Airport Board requests proposals for development of a building cost estimate for the re-building of a destroyed storage building. This is not a bid for construction, rather a bid to estimate construction cost. This Proposals must include the total fee for the cost estimate and a completion date. Proposals for the development of the cost estimate must be received at the Town Hall, 69 Pinedale South Road, by 12:00 noon on Tuesday, December 18, 2018. Questions should be directed to the airport manager via email at airportmanager@townofpinedale.us.

---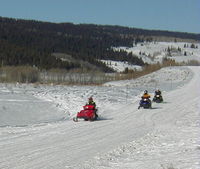 Snowmobiles on the CDT in the Upper Green. Pinedale Online file photo.

Upper Green Snowmobile Trail grooming report (posted 12/13/18)
Thursday, December 13, 6:15AM – Report provided by Jeremy Kunzman
Half of the Upper Green snowmobile trails have been groomed. The trail to GRL and the S Trail to Union Pass. Still not enough snow to groom Moose-Gyp or the CD trail to Pinyon Ridge. Snow coverage is still very low off trail, but trail riding should be very smooth.

Funding for grooming and machinery is paid for by snowmobile sticker sales and the Wyoming State Trails Program. Machine operators are provided by the Pinedale Ranger District of the Bridger-Teton National Forest.

Please no wheeled vehicles on the groomed snowmobile trails.

Snowmobile trail information and maps are available at the Forest Service ranger station offices (Bridger-Teton National Forest https://www.fs.usda.gov/btnf/) and from Bucky's Outdoors and DJ. They can also be downloaded for free off of the Wyoming state trails website. The maps are geo referenced so you can use them on your smart phone even without cell service. Avenza is the phone app that runs these maps. It's also a free download.

They will be putting in the Blind Bull connector trail from Horse Creek as soon as we get a little more snow, hopefully before Christmas.
_______________________________________
_______________________________________

Information below from the Wyoming State Parks Snowmobile page. Downloadable PDFS are available for the trail systems here: http://wyoparks.state.wy.us/index.php/snowmobile/snowmobile-maps-trails

Continental Divide Trail
This trail system is maintained through cooperative efforts of the Wyoming Department of State Parks & Cultural Resources Division of State Parks, Historic Sites and Trails; the U.S. Forest Service; the Bureau of Land Management and local snowmobile clubs.

The Continental Divide Area follows the Wind River Range and includes trail systems in the Lander, Pinedale, Dubois, Togwotee Pass and Gros Ventre areas. The Continental Divide Snowmobile Trail (CDST) runs from Lander (the southeast end) to West Yellowstone (the northwest end). It generally parallels the Continental Divide and actually crosses the divide four times. The variety of terrain, trail, snow and scenery is unequaled anywhere else.

You have two options for travel in this area. One option is to proceed west into Idaho, and then north to West Yellowstone, Montana. This section of the trail is 95 miles, making the total distance between Lander, Wyoming and West Yellowstone, Montana a total of 365 miles. Or, you can proceed north through Yellowstone National Park via Old Faithful and into West Yellowstone. This route is 74 miles.

The Lander area has 75 miles of trails through scenic-forested mountains. Excellent ice fishing can be enjoyed in beautiful mountain lakes along the trails. Average snow depth runs from three to six feet. Complete services and facilities are available in Lander and gas, food and lodging are available in the South Pass area.

The trail between Lander and Pinedale is extremely varied. Expect high mountains with scenic views. Visibility up to 150 miles is possible. Dense forest trails with snow-covered trees take riders from one huge open play area to another with six to eight feet of snow depth. The trail from Irish Canyon Trailhead to Pinedale (approximately 30 miles) is in the highway right-of-way, but even this section is beautiful and fun to ride. Low snow conditions are possible in the Boulder to Pinedale section. It is another 12 miles into Pinedale. The longest stretch between fuel stops is between the Lander trailheads and Boulder (approximately 90 miles). Snowmobiling is allowed in Pinedale with the restriction that you can cross Main Street but cannot ride down the street.

From Pinedale north to the Upper Green River Trailhead, the CDST is in the highway right-of-way again for about 30 miles. The Pinedale area trail system has 135 miles of trail through some of the most scenic country in the West. The snow at the higher elevations can be six to eight feet deep. All services are available in Pinedale and gas, food, lodging, rentals and guides are found close to the Upper Green River Trailhead.

The Dubois area boasts of some of the best and most scenic riding in the world on 150 miles of beautiful trails and thousands of acres of off-trail riding. Snow conditions are good with a snow depth of from one to ten feet and one of the longest seasons. All services can be found in Dubois as well as gas, food, lodging, rentals and guides along the CDST north of Dubois.

The Gros Ventre area has approximately 70 miles of groomed trail and is located just east of the Tetons. This trail system provides easy access to the Togwotee, Dubois and Pinedale areas from Jackson. The parking area at Lower Slide Lake is 20 miles from Jackson. Snowmobiling is restricted to the trail in most places because this is a very sensitive wildlife area. Please note and obey restrictions as posted on the trail. The Gros Ventre Valley is very special with spectacular views of the Tetons and the possibility of seeing elk, moose, deer, mountain sheep, coyotes and bobcats. The lower end of the trail can experience low snow conditions. At higher elevations, it can reach five feet.

Wyoming Range Trails
The Wyoming Range trail system is maintained through cooperative efforts of the Wyoming Department of State Parks and Cultural Resources/Division of State Parks, Historic Sites and Trails, the U.S. Forest Service, the Bureau of Land Management, Lincoln County and local snowmobile clubs.

The Wyoming Range is the area between Alpine and Kemmerer. This area has approximately 337 miles of trails. The main trails are groomed every week and the secondary trails are groomed every other week or as needed. Snowmobiling is allowed in Alpine, Afton and Kemmerer, Pinedale, Big Piney and LaBarge all offer access to trailheads on the east side of the range. This area offers deep snow, beautiful scenery and fantastic off-trail riding. Rentals are available in Pinedale, Alpine and Thayne. Snow depths run from 3 feet to 12 feet.
Elevations: 6,000 feet to 10,000 feet

Season: December 15 through March 15: WEATHER PERMITTING
Season temperatures: +30 degrees F to -30 degrees F

Related Links:
Wyoming State Snowmobile Trail program
Snow Depth info NRCS SNOTEL website with interactive map
www.visitpinedale.org Visitor information for Pinedale area

---
Taking applications for Soroptomists Live Your Dream Award (posted 12/11/18)
Applications due by Dec. 31, 2018
Soroptomists are taking applications now until December 31, 2018 for the Live Your Dream Award. Get some help with your educational dreams. This is for a female head of household that is actively pursuing further education or career skill development. The Award is $1000.00. Paper applications are at BOCES, Pinedale High School, Big Piney High School, the Discovery Center, and Big Piney Rec Center. If you would like an application emailed to you, contact Jasmine Allison jazz.allison@yahoo.com. Funds will be awarded Jan. 5th.

---
New shuttle bus to White Pine Ski Area (posted 12/9/18)
The non-profit organization, The White Pine Foundation, has received a generous donation in the form of a shuttle bus from Echo Transportation in Big Piney. A shuttle to the ski area is now being offered for youth 18 and under. It is a small shuttle, so reservations are required. The shuttle is free to any youth who is a White Pine Junior Snowsports Club member. To all others, the shuttle is a $2 round-trip fee.

Click on this link for the schedule: White Pine Shuttle Schedule

Related Links:
www.whitepineski.com White Pine Ski Area

---
Request For Proposal - Grant Writing (posted 12/9/18)
Sublette County
Sublette County, Wyoming is requesting proposals for grant writing services for the submission of a HMPG grant application in cooperation with the Sublette County Commission and Hoback Ranches Service and Improvement District. The HMPG grant has a value of $425,000, and is due on April 1, 2019.

Proposals for this service will be evaluated on:
* Resume of the person/firm providing the requested services.
* List of previously produced successful applications with amounts funded.
* References.
* Fees for services.

Deadline for submission of completed proposals is 5 p.m. on December 31, 2018 to the Sublette County Clerk, P.O. Box 250, 21 South Tyler, Pinedale, WY 82941 or mary.lankford@sublettewyo.com. Sublette County is an Equal Opportunity Employer.

---
Local Services:
Abortion Alternatives
Accounting & CPA
Apartments/Townhomes
Arts & Entertainment
Attorneys & Legal
Auction Services
Automotive
Aviation Services
Banks & Financial
Bars
Beauty Salons
Bed & Breakfasts
Boating
Bookkeeping
Builders & Contractors
Building Material
Business Services
Cabins
Cellular
Child Care
Churches
Cleaning Services
Clothing
Commercial Art
Computer Supplies
Condos
Consultants
Convenience Stores/Fuel
Convention/Meeting
Dentists
Dining
Dry Cleaning
Events
Fabric & Crafts
Fencing
Fishing
Flooring
Food & Drink
Funeral Homes
Furniture
Gifts/Western
Government
Graphic Design
Grocery & Market
Guest Ranches & Lodges
Handyman Services
Hardware & Feed
Heating
Health Care & Medical
Horseback Adventures
Insurance
Interior Design
Internet/Web/Advertising
Landscaping
Laundry
Liquor Stores
Lodging
Log Homes
Marketing
Massage Therapy
Modular Homes
Motels
Mountain Biking
Movie Theaters
Museums
Nails
Newspapers
Office Supplies
Oil Field Services
Optometrists
Organizations
Outdoor Equipment
Outfitters & Guides
Packaging & Shipping
Painters
Pet Stores
Pharmacies
Photography
Plumbing
Professional Services
Radio
Real Estate Agencies
Real Estate-FSBO
Remodeling
Retirement
Retreats
RV Camping
Schools
Scrapbooking
Septic Services
Skiing
Snowmobiling
Snow Plowing
Storage and Storage Units
Tanning
Tattoos & Body Art
Tax Preparation Services
Taxidermy
Transportation/Shuttle
Trash Services
Trucking
Veterinarians
Visitor Services