Sublette County Rural Health Care District Board Meeting Aug. 21 (posted 8/20/19)
Sublette County Rural Health Care District
August 21, 2019 - 5pm
Marbleton Town Hall
Marbleton, Wyoming

Call to order

Pledge of Allegiance

Set agenda

Executive Session: 5PM
-Legal - Wyo. Stat. 16-4-405(a)(iii)
-Personnel - Wyo. Stat. 16-4-405(a)(ii) / Wyo. Stat. 16-4-405(a)(x)

Routine Business
- Administrative and Finance Report/Dave Doorn
- EMS Report/Bill Kluck
- Committee Reports
• CAH Committee (Bill Johnson/Mike Pompy)
- Sublette Center Merger
- Ball Field Purchase
• Building Committee (Mike Pompy)
-Eide Bailey Financial Forecast proposal
-Davis Partnership PAR proposal
• Compensation Committee (Marty Siepp)

New Business

Public Comments

Old Business
- Approval of Minutes - Regular Meeting June 19th, 2019

Routine Business
-Approval of Payroll and Bills

Related Links:
www.sublettehealthcare.com Sublette County Rural Health Care District

---
Sublette Board of Equalization meeting August 28 & 29 (posted 8/19/19)
To hear Official Appeals of Assessments
Carrie Long, Sublette County Clerk
The Board of County Commissioners will convene as the County Board of Equalization on Tuesday, August 27, 2019 at 9:00 AM and Wednesday, August 28, 2019 at 9:00 AM. The purpose of which is to hear Official Appeals of Assessments from taxpayers regarding their 2019 Notice of Assessments.

The hearings will take place in the Commissioners' Meeting Room located in the Sublette County Courthouse, 21 S. Tyler Avenue, Pinedale Wyoming 82941. The hearings are open to the public.

Related Links:
www.sublettewyo.com Sublette County website

---
Sublette Commissioners agenda for August 20, 2019 (posted 8/19/19)
Carrie Long, Sublette County Clerk
BOARD OF COUNTY COMMISSIONERS
SUBLETTE COUNTY, WYOMING
AGENDA
COMMISSION CHAMBERS
SUBLETTE COUNTY COURTHOUSE, PINEDALE, WYOMING
TUESDAY, AUGUST 20, 2019

9:00 A.M. Call to Order
• Pledge of Allegiance – Chairman David Burnett will call the meeting to order, and lead the Pledge of Allegiance.
• Request approval of the agenda
• Request approval of the prior meeting minutes

9:05 A.M. Billy Pape, Road & Bridge / Waste Management – Monthly Report
Rio Verde Engineering – update on Meadowlark & Iroquois paving project

9:30 A.M. Approval of Communication Tower Shelter bids (Luman & Kismet)

9:35 A.M. Joan Mitchell – Big Piney Senior Center – sound system upgrade

9:45 A.M. Executive Session: W.S. 16-4-405(a)(ii), Personnel

11:15 A.M. Monthly Reports
• Accounts Payable audited with motion to approve for payment.
• Catering Permit – Boulder Bar (Sommers Ranch)
• Assessor – Jeness Saxton (State Assessed Notice of Valuation Changes)

11:30 A.M. Old Business

11:45 A.M. Lunch at the Brew Pub

1:00 P.M. Reconvene at Meadowlark entrance to observe paving project.

Click on this link for a printable version of this agenda.

Related Links:
www.sublettewyo.com Sublette County website

---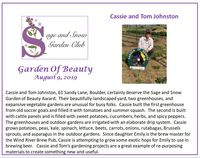 August 9, 2019 Sage & Snow Garden Club Garden of Beauty: Cassie & Tom Johnston

Garden of Beauty – Cassie and Tom Johnston (posted 8/16/19)
Sage & Snow Garden Club
August 9, 2019 – Cassie and Tom Johnston, 61 Sandy Lane, Boulder, certainly deserve the Sage and Snow Garden of Beauty Award. Their beautifully landscaped yard, two greenhouses, and expansive vegetable gardens are unusual for busy folks. Cassie built the first greenhouse from old soccer goals and filled it with tomatoes and summer squash. The second is built with cattle panels and is filled with sweet potatoes, cucumbers, herbs, and spicy peppers. The greenhouses and outdoor gardens are irrigated with an elaborate drip system. Cassie grows potatoes, peas, kale, spinach, lettuce, beets, carrots, onions, rutabagas, Brussels sprouts, and asparagus in the outdoor gardens. Since daughter Emily is the brew master for the Wind River Brew Pub, Cassie is attempting to grow some exotic hops for Emily to use in brewing beer. Cassie and Tom's gardening projects are a great example of re-purposing materials to create something new and useful.

Related Links:
July/August 2019 Gardens of Beauty Barb & Dave Harper and Kathy Sandmeier
July 19, 2019 Garden of Beauty Bettina & Rollie Sparrowe
Facebook page Sage & Snow Garden Club
Website Sage & Snow Garden Club

---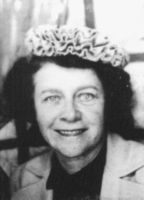 Marie Meyer. Photo courtesy Sublette County Artists' Guild.

TO A WILD CANARY (posted 8/15/19)
Sublette County Artists' Guild
The Sublette County Artists' Guild, originally called the Writer's Club, was organized in 1928 by six ranch women in Sublette County, Wyoming, who had a common desire for self-expression and good company. The only requirement was that each member must present something original at each meeting. The women reached their meetings at homes and ranches in the area by slow travel on very poor roads, necessitating a long tradition of convening only in the summer. Some members created original drawings and paintings, while others wrote poetry, short stories, histories, and reminiscences, producing a trove of imaginative work and first-hand accounts of early Sublette County life. This latest presentation is by Marie Meyer. See the link below for more contributions.

TO A WILD CANARY
By Marie Meyer

One morning when my heart felt sore
I rose to a daily grind
And coming to my kitchen door,
I looked to see what I could find
To strengthen me and keep me sweet
Until my work I could complete.
Upon my listening ears there burst
A song of melody so sweet
My heart stood still
Then fast and faster did beat.
High in a willow-bush I spied
A wild canary so endeared
To me that sweet song
My heart could not be sore for long;
And turning to my work once more
The daily grind had ceased to be
A grind for me.

Sublette County Artists' Guild (1969). A Pouch of Possibles (First ed.). Cheyenne, WY: Flintlock. 12

Related Links:
Sublette County Artists' Guild

---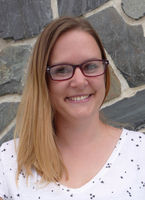 Andrea Lewis is the new Curator at the Museum of the Mountain Man.

New Curator at Museum of the Mountain Man (posted 8/12/19)
Andrea Lewis has deep family roots in Pinedale
Sublette County Historical Society
The Sublette County Historical Society (SCHS) and Museum of the Mountain Man (MMM) are excited to announce our new curator, Andrea Lewis. She was selected after a nationwide search including 32 applicants from 19 states.

Starting at our busiest time of the year, Andrea has not hesitated to jump in and is already a critical part of the team. We are lucky to have her expertise and look forward to many new ideas she will bring to the organization.

She comes to us from the Herbert Hoover Presidential Library-Museum in West Branch, Iowa where she worked with collections for the National Archives and Records Administration (NARA).

Andrea previously worked as a museum technician with the National Park Service at Grant-Kohrs National Historic Site in Deer Lodge, Montana and the Ocmulgee Mounds National Historic Park in Macon, Georgia. She has also worked for military museums for the Department of the Navy and has been a volunteer working with collections in Yellowstone National Park.

Born and raised in Laramie, Wyoming, Andrea spent many vacations in Sublette County backpacking, hiking, fishing, and camping with her family. She is the granddaughter of Maurice Faler, and great granddaughter of local pioneers, Vincent & Lillian Faler.
Andrea is a graduate of the University of Wyoming holding a Bachelor of Arts degrees in both Humanities and History with a minor in Museum Studies concentrating on Historic Preservation. She also holds an Associates of Arts in music from Cottey College in Nevada, Missouri. Andrea is an Army veteran.

The mission of SCHS/MMM is to preserve and interpret the history of Sublette County and the Rocky Mountain fur trade. Interpretation is the most visible to the public through exhibits, programs and publications. However, preservation is the behind-the-scenes work that makes interpretation possible.

More than 20,000 artifacts in the permanent collection have to be documented, handled, stored and cared for according to the highest standards, ethics, and museum best practices to preserve our heritage for future generations.

With such a large collection, a full-time professional curator is vital and would not be possible without the support of Sublette County, Sublette County Museum Board and community support.

Related Links:
www.mmmuseum.com Museum of the Mountain Man
Museum Facebook page Museum of the Mountain Man

---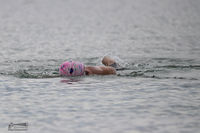 David Rule swam the length of Fremont Lake on Thursday, August 8th.

David Rule swims Fremont Lake for 4th time (posted 8/9/19)
David Rule swam the length of Fremont Lake on Thursday, August 8th. This is the fourth consecutive year he has done this nine mile swim. This year he did it in just under seven hours. Click on this link for more photos: Swimming Fremont Lake

---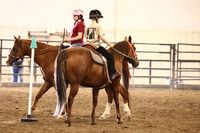 Caitlin O'Connor and Dalton Meikle during their performance.

MESA Annual Horse Show (posted 8/9/19)
MESA Therapeutic Horsemanship hosted their Annual Horse Show on Friday, August 2nd at the Sublette County Fairgrounds in Big Piney. The event started with MESA riders performing drill team exercises to the songs from the movie, The Greatest Showman.

Special guest speaker was Garrett Bazany who suffered a spinal cord injury at age fifteen from a trampoline accident that paralyzed him from the chest down and caused him to lose some function of his arms. Despite being diagnosed a quadriplegic, he recovered full use of his arms, most of the sensation in his legs, and the ability to walk short distances with a walker.

Semper Smoking and the MESA Board of Directors hosted a fantastic dinner after the show. Over 130 people attended the event.

Click on this link for more photos: MESA Horse Show

Related Links:
www.mesarides.org MESA Therapeutic Horsemanship

---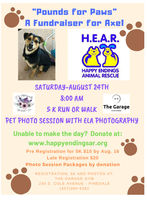 Pounds for Paws August 24

'Pounds for Paws' Aug. 24 (posted 7/29/19)
A fundraiser for Axel
Happy Endings Animal Rescue is partnering with The Garage and Ela Photography to do a 5K Run/Walk and a pet photo session on Saturday, August 24th. Axel is a rescue dog that got hit by a car and injured in late June. He underwent surgery and has intensive recovery to help heal his underside and loss of his tail. Preregister for the 5K by August 16th, $15. Late registration $20. The registration, 5K and photos will be at The Garage Gym, 230 S Cole Ave in Pinedale. The 5K starts at 8AM. The Pet Photo Session is with Ela Photography - photo session packages are by donation. If you are unable to make the day, donations can be made at www.happyendingsar.org. For more information call 307-360-6382.

---
Local Services:
Abortion Alternatives
Accounting & CPA
Apartments/Townhomes
Arts & Entertainment
Attorneys & Legal
Auction Services
Automotive
Aviation Services
Banks & Financial
Bars
Beauty Salons
Bed & Breakfasts
Boating
Bookkeeping
Builders & Contractors
Building Material
Business Services
Cabins
Cellular
Child Care
Churches
Cleaning Services
Clothing
Commercial Art
Computer Supplies
Condos
Consultants
Convenience Stores/Fuel
Convention/Meeting
Dentists
Dining
Dry Cleaning
Events
Fabric & Crafts
Fencing
Fishing
Flooring
Food & Drink
Funeral Homes
Furniture
Gifts/Western
Government
Graphic Design
Grocery & Market
Guest Ranches & Lodges
Handyman Services
Hardware & Feed
Heating
Health Care & Medical
Horseback Adventures
Insurance
Interior Design
Internet/Web/Advertising
Landscaping
Laundry
Liquor Stores
Lodging
Log Homes
Marketing
Massage Therapy
Modular Homes
Motels
Mountain Biking
Movie Theaters
Museums
Nails
Newspapers
Office Supplies
Oil Field Services
Optometrists
Organizations
Outdoor Equipment
Outfitters & Guides
Packaging & Shipping
Painters
Pet Stores
Pharmacies
Photography
Plumbing
Professional Services
Radio
Real Estate Agencies
Real Estate-FSBO
Remodeling
Retirement
Retreats
RV Camping
Schools
Scrapbooking
Septic Services
Skiing
Snowmobiling
Snow Plowing
Storage and Storage Units
Tanning
Tattoos & Body Art
Tax Preparation Services
Taxidermy
Transportation/Shuttle
Trash Services
Trucking
Veterinarians
Visitor Services