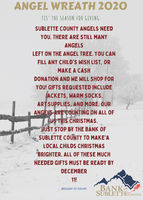 Angel Wreath

Sublette County Angels need you (posted 11/25/2020)
There are still many Angels left on the Angel Wreaths. You can fill any child's wish list, or make a cash donation and we will shop for you. Gifts requested include jackets, warm socks, art supplies, and more. Pick an angel off the wreath and help someone in need. Angel Wreaths are located at all local area banks, 307 Mercantile, Altitude Drug, Sublette County Library, Nested West, Family Dollar, Great Outdoor Shop, and VFW in Pinedale. Bring wrapped gifts with the Angel's tag back to the Bank of Sublette County, 807 Pine Street, no later than December 11th. Sponsored by the VFW Post 4801.
---
1st Annual Pinedale Early Childhood Sublette Center Christmas Tree Project (posted 11/25/2020)
Ornament decorating class on Dec. 2
Pinedale Early Childhood
All young children are welcome to come and decorate ornaments for Christmas trees for the residents of the Sublette Center in Pinedale on Wednesday, December 2 at Sublette BOCES.

Times:
10:15-11:00 AM
1:00-1:45 PM
2:15-3:00 PM

Children must be registered on our website: www.pinedaleearlychildhood.org.

All supplies will be provided.
COVID-19 precautions will be enforced.

If you would prefer your children to make their ornament at home, they are more than welcome to do so. We just need the ornament delivered to Tamara Currah with SCSD#1, inside BOCES by 12:00 on December 3.

Thank you, St. Andrew's in the Pines Episcopal Church for donating the Christmas trees.

For more information, contact Tamara Currah, Pinedale Early Childhood Liaison, SCSD#1, tcurrah@sub1.org, (307) 367-5412.

---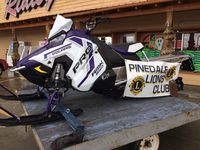 Snowmobile raffle drawing Dec. 5th

Lions Club Snowmobile Raffle drawing Dec. 5th (posted 11/25/2020)
Will be live-streamed on Facebook
Pinedale Lions Club
The Pinedale Lions Club will hold their raffle drawing for the 2021 Polaris 850 Pro RMK snowmobile on Saturday, December 5, 2020 at Bucky's Outdoors, beginning at 12 noon. All 500 tickets were sold weeks ahead of the drawing, a first in the 31 years of the fundraiser. Attendance at the reverse drawing will be extremely limited due to Covid restrictions, so the Lions will be livestreaming the action. Please check their Facebook page for a link to the live video. As always, prize winners will be called after the drawing.

Because the Pinedale Lions are very aware that local businesses have been impacted by Covid, they will not be soliciting for raffle prizes this year. If you already had them on your donation list and would like to contribute a prize, please call Lion Max at 307-371-2654 and he will pick it up. Otherwise, they hope you have a successful winter season and will see you next year!

The Pinedale Lions Club supports numerous local projects including the Easter Egg Hunt, high school scholarships, grants to early childhood education centers, vision care assistance, free diabetes testing via the Public Health Nurse, and the Leo Club for youth ages 12-18. They also help fund the Allen H. Stewart School for the Visually Impaired in Casper, the Rocky Mountain Lions Eye Bank and contribute to Lions Clubs International's disaster relief efforts. This year, they participated in the Covid Response Team as volunteer coordinators and have administered funds for the Masketeer mask making efforts. According to President Max Lockett, "the Pinedale Lions Club's mission is to assist our community however possible. We greatly appreciate the incredible support of our local businesses, friends and neighbors who help us not only with the snowmobile raffle but throughout the year."

Next up on the Lions busy calendar are sponsorship of the Freshman Basketball Tournament in January, parking duties for the Winter Carnival in February and their own Big Fish Winter Derby the first weekend in March. New members are always welcome – contact Membership Chair Randy Belton at ReBel Auto Parts for details on upcoming meetings.

---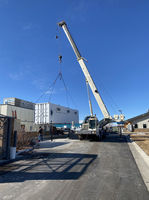 Isolation Units

Covid-19 Isolation Unit installed in Marbleton/Big Piney (posted 11/20/2020)
Sublette County Rural Health Care District
With the spike in COVID cases throughout the nation, the possibility of surrounding facilities being unable to accept any out of state or out of county patients has become more of a reality. Today November 20th, 2020 the Sublette County Rural Health Care District received their first of two containers specially fabricated in Pinedale, WY by Enviremedial Services, Inc. These containers are essential to operations of the clinic and will be used to test, monitor, and treat (and if needed house) any COVID-19 positive, or possible COVID-19 positive patients. These containers are fully insulated, can house up to 3 patients in separate isolated rooms, all with their own negative pressure system, running water, and electricity.

Funding for these containers came from the State of Wyoming CARES Act. The first container has been installed at the Marbleton/Big Piney Clinic and should be ready for patient use before Thanksgiving weekend. The second container is expected to be installed at the Pinedale location before the new year.

---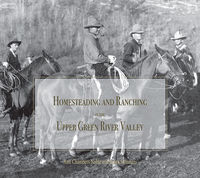 New book: Homesteading and Ranching in the Upper Green

New book: Homesteading and Ranching in the Upper Green River Valley (posted 11/20/2020)
Available by Christmas 2020
Two local historians and authors are announcing the release of "Homesteading and Ranching in the Upper Green River Valley" by Ann Chambers Noble and Jonita Sommers.

This new book is an extensive history of homesteads and ranches on the many drainages near the headwaters of the Green River in western Wyoming. The book is due in Pinedale on December 16, 2020 – just in time for Christmas.

Accompanying the lengthy history are hundreds of historic photos, many published for the first time. Interspersed throughout the book is beautiful photography of the Upper Green River Valley, mostly from local photographers. The book begins in the Kendall Valley on the upper Green River and continues all the way south to the Big Sandy area.

Both Ann Chambers Noble and Jonita Sommers are from long-time cattle ranching families who homesteaded in the Upper Green River Valley of western Wyoming.

The book is published by Laguna Wilderness Press and will retail for $55.00. Unfortunately, holiday book signings and readings are being delayed due to COVID-19 health concerns. Copies of the book will be available in Sublette County at Office Outlet, Obo's, Cowboy Shop, and Just Imagine; and in Jackson at Jackson Hole Book Trader and Valley Book Store. Copies can also be purchased at LagunaWildernessPress.com.
---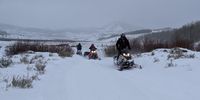 Tip Top Search & Rescue

Tip Top Search & Rescue assist stranded motorist on Union Pass (posted 11/20/2020)
Law enforcement sent out an alert regarding a man who was reported missing for several days. Wyoming Highway Patrol informed agencies the man had last made contact with his family Friday evening, November 13th. He was stopped behind the closed barrier on HWY 28 and made comments he may find another route around the mountain. His destination was Riverton, Wyoming.

Sublette County Sheriff's Office were notified when a "ping" of his cell phone appeared northwest of Pinedale. With the limit of towers to "ping" off, it was difficult to triangulate the exact location of the man in his vehicle. Tip Top Search & Rescue (TTSAR) was activated Sunday morning, November 15th, with a plan of investigating all possible routes to Riverton, primarily focusing on the Union Pass route north of Pinedale.

Due to the heavy snowfall over the weekend, a snowmachine team of TTSAR members was deployed to ride the Union Pass Road a see if any vehicle tracks could be located. A second team of side-by-sides drove into Green River Lakes to eliminate that possible route. TTSAR Incident Command requested Fremont County's help, asking Dubois SAR to investigate Union Pass until they met up with the Tip Top SAR crew.

At 11:30AM Tip Top SAR located a vehicle matching the description of the vehicle near Raspberry Creek on the Fremont/Sublette County line. The truck had slid off the road and was stuck.

The team was promptly joined by Dubois SAR with all parties noticing a dog and man standing outside the vehicle. Both appeared in good health, considering his situation. The man had an extensive medical history and hadn't had his medication or food since Friday, but had no complaints other than the cold and hunger. He had plenty of fuel left in his vehicle and had planned to stay put until help arrived.

Due to the family awaiting the motorist in Sublette County, Tip Top SAR bundled the man in warm clothing and brought him, his dog, and some personal belongings back down the trail until they met up with the side-by-side teams. The man was then transferred into a warm-cabbed vehicle and all parties returned to the Upper Green parking lot. Family was rendezvoused with the missing motorist at the TTSAR building in Pinedale and he was taken to Fremont County to his awaiting family.

In a one-week time period, Union Pass went from clear roads all the way to Dubois to upwards of three feet of snow, with lots of drifting. TTSAR reminds outdoor recreationists and the general public that winter is here to stay and this is a good reminder to check your routes before traveling, plan extra time for inclement weather, have resources in your vehicle for survival should you become stranded, and always let family and friends know where you are going.

---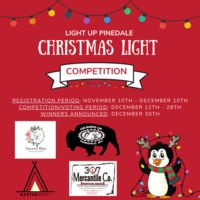 Xmas Light Competition

Christmas Light Competition around Pinedale (posted 11/20/2020)
Everyone is invited to participate in the Pinedale area Christmas Light Competition. Boulder and Barger area residences are also invited to participate. This free competition is for both residences and local area businesses. The event is sponsored by Sacred Rim Event Planning. Registration now until December 10th. The competition and voting period will be December 12-28th. Winners will be announced on December 30th. Click here to register: www.sacredrimeventplanning.com/upcomingevents
---
Marbleton Senior Center goes back to curbside & home delivered meals (posted 11/20/2020)
Due to the increase in COVID-19 infections in Sublette County, the Southwest Sublette County Pioneers Senior Center is transitioning back to curbside and home-delivered meals. Thanksgiving meal will be served on Wednesday, November 25th and will be available for home delivery or curbside pickup this year. Thanksgiving meals are free and provided by a donation from Bank of Sublette County. Call 307-276-3249 in advance to reserve your meal and they can get a count for meal preparation.
---
JIO and PAPO Boards of Directors virtual meeting December 10th (posted 11/19/2020)
Bureau of Land Management
The Jonah Interagency Office (JIO) and Pinedale Anticline Project Office (PAPO) Boards of Directors will meet via Zoom on December 10, 2020. Both meetings are open to the public and are being held virtually. Visit https://blm.zoomgov.com/webinar/register/WN_kNvHiZRBRgKm1u4X-HQR_Q to register for the meeting.

The PAPO Board meeting will take place from 9:00 to approximately 11 a.m. The JIO Board will meet immediately after the PAPO meeting and is expected to conclude by noon.

Each board will review proposed budgets for 2020 and receive updates on active projects. The PAPO Board will also receive updates on Greater sage-grouse and mule deer populations and projects.

Agendas for the JIO and PAPO Board meetings can be found at https://www.blm.gov/wyoming/jio-papo.

For more information, please contact Kellie Roadifer at 307-367-5309 or kroadife@blm.gov.

---
Pinedale Turkey Trot 5000 is on! (posted 11/16/2020)
Nov. 26 - Thanksgiving Day fun walk/run
With the blessing of Craig and Ellen Sheppard, the Pinedale Aquatic Center will be hosting the Thanksgiving Day Turkey Trot this year. The race will start at 10am in the PAC parking lot to allow for social distancing. Festive attire and masks are encouraged!
---
Wyoming Community Foundation accepting grant applications (posted 11/16/2020)
The Wyoming Community Foundation is now accepting grant applications to their competitive process. The WYCF connects donors with non-profit charitable causes. Nonprofits working to improve their Wyoming community are invited to apply. Application deadline date is December 15th. The WYCF is overseen by a volunteer board who ensure funds are being used to support Wyoming. To learn more visit, https://wycf.org/available-grants/
---
SCUF responds to multiple fire calls in the same day (posted 11/16/2020)
Sublette County Unified Fire
On Friday 11/13/20, Sublette County Unified Fire was dispatched to the multiple consecutive incidents. A possible electrical fire in a business with a living area in Pinedale on N. Franklin Street, a smoke report at a shop on Crear Lane in Pinedale and then a chimney fire on a shop in Boulder. There were no injuries reported at any of the incidents.

The Franklin Fire had firefighters from Battalions 1, 2, 4 and 5 working the incident. On arrival, fire units discovered a smoldering fire in the attic space of the building. Due to the property owner detecting the fire early, calling 911 and the rapid response from SCUF the fire was kept small and limited to the area of origin. With other buildings in close proximity to this property, the quick discovery and response prevented this from potentially being a much larger incident. With electrical power being shut off until repairs are made, the Red Cross was activated to assist the family who also live and operate a business in the building. The cause of the fire is still under investigation.

The call came in for the smoke report on Crear Lane in Pinedale while fire units were still engaged on the Franklin scene. Fire units from Battalions 1, 2 and 5 responded directly from the first incident. No active fire was found but a malfunctioning electric hot water heater was determined to be the cause of the smoke and hot electrical odor in a shop adjacent to a residence. The breaker was turned off to the hot water heater and the property owner was advised to contact an electrician to inspect the water heater before turning it back on again.

While fire units were cleaning up gear and equipment from the previous two incidents, a chimney fire in Boulder was called in. On arrival SCUF units initiated an attack and extinguished the fire. The structure fire cause and origin was determined to be from a wood burning stove chimney fire. The excessive heat from the fire in the stove pipe ignited the adjacent combustible materials (wood siding on the exterior of the building) where the stove pipe penetrated the building wall, extended to the roof and attic space of a shop with a living area. A neighbor who was spraying water from a garden hose on the exterior of the structure, correct building techniques (fire breaks in the wall) and the timely response from Battalions 1 and 4 and contributed to minimizing the damage from this chimney fire.

Enough can't be said about the Sublette County emergency responders. SCUF, SCEMS, SCSO and WYHP all work together as a team every time the calls go out for help. Each organization specializes in their own areas but each have their part in the wellbeing of our citizens.

Professional responses do not happen by accident either. It requires dedication and commitment with many hours of training and sometimes just plain work. Personnel get tired, resources can be stretched thin and all the things we thought we would do that day don't get done. One thing is for sure, our community is worth the effort. If you would like to volunteer or want to be a part of the Sublette County Emergency Response Family let us know.

Click on this link for more photos

Authority
Shad Cooper
Sublette County Unified Fire Chief

---
Sublette BOCES offers Winter 2021 Semester Enrichment Classes (posted 11/16/2020)
January through March 2021
Sublette BOCES
Sublette BOCES is offering a great selection of Winter 2021 Semester Enrichment classes. Sign up by going to www.subletteboces.com
. Classes fill quickly, so register today. For more information call 307-367-6873 or email sboces@sub1.org.

ONLINE COURSES
ServSafe Food Handler Certificate
Anytime
$15.00 (upon completion, students may apply for reimbursement from BOCES for this class)

Ed2Go Classes
https://careertraining.ed2go.com/pinedale/
https://www.ed2go.com/pinedale/
Cost/Dates/Time vary

Driver's Ed Certificate
Students are required to complete the on-line learning portion ($24.95) Then schedule drive times with BOCES instructor ($150) Online portion, open anytime

Certified Nurses Assistant - NURS 1510 & 1511 PNT
Online Learning with in-person labs & clinicals
Labs: Mondays, Jan., 25, Feb. 1, 8, March 1, 22 and April 5,
2021. 4 pm - 8 pm
Clinicals: April 15 & 16, 2021. 6 am - 2 pm
This is a Western Wyoming Community College class.
Information for the class may be found at https://www.westernwyoming. edu/academics/major-programs/nursing/classschedule.php
April Rogers
$400

CREATIVE CLASSES
Etching
Saturday, February 20 10:00 am - 4:00pm
$50
Debi Morley

Introduction to Small Sculpture
Thursdays, February, 4, 11, 18 & 25 5:30 - 7:30 pm
Richard Burke
$70

Manmade Macrame Art
Thursdays, January 21 & 28 5:00 - 7:30 pm
Mandy Cantu
$40

Metalsmithing, Daytime Open Lab
Tuesdays & Thursdays, February, 16 - March, 9 1:00 - 4:00 pm
Debi Morley
$70 (copper included brass and silver must be purchased separately)

Metalsmithing, Thursday Evening Open Lab
Thursdays, February, 11- March, 11 5:30 - 7:30 pm
Debi Morley
$70 (copper included brass and silver must be purchased separately)

Pottery, Tuesday Evening
Tuesday, January, 5 - February, 23 5:30 - 7:30 pm
Jody Hamilton
$70/adults, $40/students

Pottery, Friday afternoon
Friday, January, 8 - March, 5 2:00 - 4:00 pm
Jody Hamilton
$70/adults, $40/students

PMC Class (Precious Metal Clay)
Saturday, January, 16 10:00 am - 4:00 pm
Debi Morley
$50 + market price of silver clay

Up-Cycle Crafting Series (Section 1)
Saturday, February, 6 10:00 am - 4:00 pm
Cyd Alfrey
$20

Up-Cycle Crafting Series (Section 2)
Saturday, February, 20 10:00 am - 4:00 pm
Cyd Alfrey
$20

CULINARY CLASSES
Authentic Indian (Goan) Cooking
Saturday, January, 16 10:00 am - 1:00 pm
Tillie Dibben
$20

Immune Building Natural Tonics
Thursday, February, 11 6:00 - 7:30 pm
Tillie Dibben
$15

OTHER CLASSES
Babysitting 101 (youth ages 12 - 18)
(Babysitting certificate, CPR & First Aid certification)
May 21 2:00 - 5:00 pm
Tamarah Currah
$15

Conversational Spanish
Tuesdays & Thursdays
February, 2 - March, 9 5:00 - 7:00 pm
Julia Cook
$50

Visit: www.SubletteBoces.com/Classes for more information & to sign up
REGISTER TODAY: CLASSES FILL QUICKLY!

---
Local Services:
Abortion Alternatives
Accounting & CPA
Apartments/Townhomes
Arts & Entertainment
Attorneys & Legal
Auction Services
Automotive
Aviation Services
Banks & Financial
Bars
Beauty Salons
Bed & Breakfasts
Boating
Bookkeeping
Builders & Contractors
Building Material
Business Services
Cabins
Cellular
Child Care
Churches
Cleaning Services
Clothing
Commercial Art
Computer Supplies
Condos
Consultants
Convenience Stores/Fuel
Convention/Meeting
Dentists
Dining
Dry Cleaning
Events
Fabric & Crafts
Fencing
Fishing
Flooring
Food & Drink
Funeral Homes
Furniture
Gifts/Western
Government
Graphic Design
Grocery & Market
Guest Ranches & Lodges
Handyman Services
Hardware & Feed
Heating
Health Care & Medical
Horseback Adventures
Insurance
Interior Design
Internet/Web/Advertising
Landscaping
Laundry
Liquor Stores
Lodging
Log Homes
Marketing
Massage Therapy
Modular Homes
Motels
Mountain Biking
Movie Theaters
Museums
Nails
Newspapers
Office Supplies
Oil Field Services
Optometrists
Organizations
Outdoor Equipment
Outfitters & Guides
Packaging & Shipping
Painters
Pet Stores
Pharmacies
Photography
Plumbing
Professional Services
Radio
Real Estate Agencies
Real Estate-FSBO
Remodeling
Retirement
Retreats
RV Camping
Schools
Scrapbooking
Septic Services
Skiing
Snowmobiling
Snow Plowing
Storage and Storage Units
Tanning
Tattoos & Body Art
Tax Preparation Services
Taxidermy
Transportation/Shuttle
Trash Services
Trucking
Veterinarians
Visitor Services