We strongly recommend newcomers hire a local guide familiar with the area and with mountaineering experience and skill in snow and ice climbing. To make the trip more enjoyable, it is also recommended hiring porters or pack animals to haul gear. Guides and services are available in Pinedale, Jackson Hole and Dubois. Contact the Dubois and Pinedale Ranger District Forest Service offices for a list of legal licensed guides.

Location

Gannet Peak is located in the northern Wind River Mountain Range on the Continental Divide (in both the Fitzpatrick and Bridger Wilderness Areas), in west-central Wyoming (Fremont & Sublette Counties). 25 miles north-northeast of Pinedale. Looking at a map of the Wind River Mountains, locate Green River Lakes and New Fork Lakes north of Pinedale. Split the difference between the two lakes and go east approximately 10 air miles until you hit the Continental Divide and you'll see Gannet Peak. Latitude: 43 degrees 11 minutes N. Longitude: 109 degrees, 39 minutes W. USGS Maps: Gannett Peak, Bridger Lakes, Fayette Lake, Fremont Lake North, Fremont Peak North, Ink Wells, Torrey Lake, Hays Park - 7.5 Minutes

Weather

Summer days are typically warm and dry during the day, (70s-80s) with late-day thunderstorms with rain. Sub-freezing nighttime temperatures are not uncommon. Be prepared for high winds and rapidly changing weather conditions. Mountain snowstorms can occur any day of the year in the Rocky Mountains. Adequate clothing is a must, along with sunscreen, mosquito repellent, and water filtration equipment. Mosquitos can be fierce during the summer, but are usually gone by September. A mosquito headnet is useful. Sleeping bags should be rated to -15 degrees. Be sure to bring lip balm, sunglasses with UV protection, insect repellent, warm socks & hat, gloves, rain gear, adequate shoes, water purification equipment, snack food, camera/film, and fishing gear! Check with the local Forest Service office before heading out to get current trail conditions and advisories for the area.
---
Other Web Information:

Highpointers Club

Bridger-Teton National Forest
Peakware World Mountain Encyclopedia Wind River Range Page
Topographic Maps:
Gannett Peak, Wyo., 7 1/2 minute
Bridger Lakes, Wyo., 7 1/2 minute
Fayette Lake, Wyo., 7 1/2 minute
Fremont Lake North, Wyo., 7 1/2 minute
Fremont Peak North, Wyo., 7 1/2 minute
Ink Wells, Wyo., 7 1/2 minute
Torrey Lake, Wyo., 7 1/2 minute
Hays Park, Wyo., 7 1/2 minute
Other Good Maps:
Eathwalk Press Maps, Wind River Range North & South Trail Maps,
Scale: 1: 48,000; topographic, available in paper or waterproof versions
North map covers Elkhart Park to Union Pass, South covers covers Elkhart Park to Big Sandy.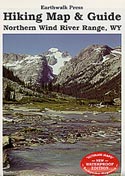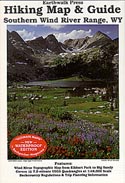 Order Maps Online:
Grand Teton Natural History Association
Books:

Select Peaks of Greater Yellowstone, by Thomas Turiano, Indomitus Books, 2003 (Complete and current guide and history to mountaineering on Gannett Peak and 106 other major peaks in the Greater Yellowstone region. Purchase online at www.SelectPeaks.com)
Wyoming's Wind River Range, by Joe Kelsey, American Geographic Publishing, 1988 (a pictorial treatment of the geology, history and nature of the range, packed with information)
Day Hiking the Wind River Range, by Tom Carter. Soft-cover. 88 pages. This small volume covers 14 day hikes in the Wind River Mountains. Featuring trail descriptions, history, geology and plant and wildlife info. Rates each trail's difficulty and hiking times and provides elevation profile charts. All this in a pocket-sized book. Portions of the book's photos were taken by Dick Du Mais, local Wilson, Wyoming resident.
Climbing and Hiking in the Wind River Mountains, by Joe Kelsey, Sierra Club Books, 1980 (the definitive guide for serious climbers, focuses on specific climbing routes for the major mountains)
Hiking Wyoming's Wind River Range, by Ron Adkison, Falcon Press, 1996 (A modern hiking guide, including fishing information. Includes most of the wilderness trails with elevation charts and difficulty ratings. The cover photo was taken by Pinedale's own Fred Pflughoft.)
Walking the Winds-Hiking and Fishing Guide to Wyoming's Wind River Range, by Rebecca Woods, White Willow Publishing, 1994 (A hiking guide with excellent fishing info, divided into short, medium and backpack trips from each trailhead. With photos and maps.)
Wind River Trails, by Finis Mitchell, Wasatch Publishers, 1975 (The classic Wind River hiking, climbing and fishing pocket guide, written by the famous local master of the Winds. Photos, maps and interesting text. Excellent backpacker's reference, although a bit outdated now.)
The Wind River Range, Field Book by Orrin and Lorraine Bonney
Climbers Comments:
8/99 Lance Anderson: Climbed Gannett in 12 hours (round trip), solo. 65 degrees on top, totally calm, warm, "amazing". A couple of small snowfields on the way to Titcomb Lakes, then 80% snow travel with ice axe and crampons. Lots of snowmelt water coming off everywhere. Lots of people camping in Titcomb Basin. "Was slower and steeper than I expected."
7/97 Gary Jensen: "This was a challenging, awe inspiring hike and climb. We filtered all water from snowmelt and springs, and hung bear bags with religious zeal (never saw a bear)...We heard that the snow bridge across the bergshrund glacier collapsed two weeks later. The unbelayed climber who was on it was seriously injured, and had to be evacuated by horseback. I'll do this hike/climb again in a few years. It was well worth the work." Excerpts from trip diary by Gary Jensen on http://www.americasroof.com/wy.html
1/97 Scott Brumund: "...The lower 1/3 of the trial is mixed snow and rock and the upper 2/3 all steep snow. When we reached the steep section, we put on our crampons. It was a long strenuous 1000' climb to the top of Bonney Pass at 12,850'...Though I felt very good and was thankful for the extra day at altitude the rest of our group did not look so good. My son Ryan in particular was shivering and looked particularly miserable. I was thinking that none of us would make it to the top but kept my mouth shut and hoped for the best. At the top of the pass there were several tent sites surrounded by stone walls to protect them from high winds. If I took this route again, I would plan to camp at the top of the pass and not in the basin...Our bottles were filled from water running directly off the glacier, the best water of the trip...I remember thinking as I looked down on the Mirror glacier "what am I doing here" when we reached the top all such thoughts left my mind. We had a view of five active glaciers we could see the Teton range to the northwest and the Bighorn range to the north. We were surrounded by peaks and ranges which we could not identify... The highlight of the decent was a steep 200' down climb followed by crossing a berchsrung (a type of crevasse) on a snow bridge and a glissade (sit on you butt and slide) down to the basin below. Now we were faced with the hardest part of the trip the climb back up to Bonney pass and the descent to our camp in the Titcomb basin. It was 11:30 p.m. before we regained the pass. We descended the pass in darkness with headlamps and reached camp at 1:00 a.m. The climb of Gannet peak took 20 hours, we ascended 5,050 vertical feet over 2 ½ horizontal miles, crossing two active glaciers mostly on snow and ice roped together in teams of two and three." Excerpts from trip diary by Scott Brumund http://vagor.resnet.mtu.edu/high/gannet.htm
Do you have comments about climbing Gannett? E-mail us! support@pinedaleonline.com