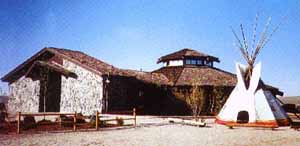 Museum of the Mountain Man
The Museum of the Mountain Man, located on a hill overlooking Pinedale, houses a wonderful collection of artifacts of the Western Fur trade, including Jim Bridger's rifle. The 15,000 square feet of exhibit area is housed in a rotunda built of wood to evoke the spirit of a lodge. A visual and interpretive experience of the romantic era of the Mountain Man, the museum houses exhibits on the fur trade, western exploration, Plains Indians and the early settlement of Western Wyoming. The Museum, and the Sublette County Historical Society, sponsor the Rendezvous Pageant held during the Green River Rendezvous every year in July. Visit the Museum today and relive the legacy of the Mountain Man!

IPSSSDR Sled Dog Race - Pinedale Stage Stop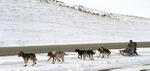 This long name stands for the International Pedigree Stage Stop Sled Dog Race. Since 1996, world renowned sled dog racers have come to western Wyoming in late January to compete in the two-week long race for the $100,000 purse offered by the International Pedigree Stage Stop Sled Dog Race. Each day the teams race to a different town (there are ten stage stops in all) where they are welcomed as honored guests by the host community. Like the Iditarod Sled Dog Race, which commemorates the heroism of dog teams relaying diphtheria antitoxins to Nome, Alaska in 1925, the IPSSSDR also carries a public health message. Its slogan, Wyoming Pulling Together: The Race to Immunize, creates public awareness of the need for children, especially those under the age of two, to be vaccinated against preventable diseases. Check out the IPSSSDR official webpage here: www.WyomingStageStop.org
Rendezvous Meadows Golf
18 hole designed 9 hole course. Pro shop, lounge, practice green, and driving range. Located on the west end of Pinedale. Open May - September. Let's go golfing!
Mountain Biking
Sublette Country offers many miles of riding for the mountain biking enthusiast! Check out our page written by a local mountain biking enthusiast!
Pinedale Fine Arts Council
The Pinedale Fine Arts Council provides the community with live performances, art shows, artists in residence, school performances and workshops. Event of the season is our Black Tie & Blues fundraiser with dining, dancing, door prizes, auctions, and generous prizes to fund our first-class cultural events.

Pinedale Snow Explorers Snowmobile Club
Join us for lots of snowmobiling fun!
Pinedale Boat Club
Love boating? So do we! Visit our web page for a schedule of events.
Outdoor Recreation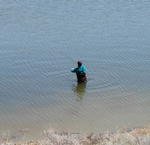 If you love the great outdoors, you have to love Wyoming! This area offers hiking, fishing, camping, mountain biking, rock climbing, horseback riding, hunting, and much much more! What's better, you can enjoy it without a bunch of other people around! You can go for days without seeing anyone else up in the Wilderness. Just you, the gorgeous mountains, singing birds, and a million stars in the sky...Visit our Outdoor Recreation page for more detailed information!

The Bridger Wilderness
The 428,169-acre Bridger Wilderness is located along the Continental Divide on the west slope of the Wind River Range in Wyoming, in the heart of the Rocky Mountains. Look here for information about wilderness regulations, registration and permits, camping guidelines, campfire regulations, trail ettiquette, safety and more.

Campground Guide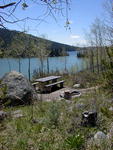 Check out these pages for specific campground information: location, services, miles from nearest town, day limit, number of units, fees, wilderness access, availability of drinking water, public corrals, fishing & hunting, boat landings, swimming, access to trailheads and more!
Trailhead Information
You'll find information about all the major trailheads into the Bridger Wilderness here. Miles from Pinedale, elevation, potable water, public corrals and other useful information. (We're still adding info to this page, so check back.)
Regional Attractions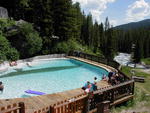 This page will give you points of interest from Rock Springs to Yellowstone to help you plan your trip to Pinedale. There's more than sagebrush out here! Find out about the Killpecker Sanddunes, the largest active dunes in North America (and how they got that interesting name!). You'll find links to information about historic South Pass and the wagon trail routes, the Seedskadee National Wildlife Refuge, Yellowstone and Grand Teton National Parks, and much more in the western Wyoming area.
White Pine Ski Area
White Pine Ski Area and Resort is located 10 miles from Pinedale, Wyoming in northern Sublette County, 88 miles south of Jackson Hole. The mountain holds about 29 trails of differing challenge for skiing and snowboarding. Of the trails, 8 beginner, 9 intermediate and 12 of the trails are advanced. Two lifts service groomed downhill runs and the small terrain park offers jumps and slides. A third lift services a fun tubing hill. Fortification Mountain rises to an elevation of 9,600 feet and offers spectacular views of the Continental Divide, Wind River Mountains, the Bridger-Teton National Forest, Fremont Lake, as well as the nearby Wyoming Mountain Range. Year-round recreation at White Pine includes downhill & Nordic skiing, snowboarding, horseback riding adventures, hiking, camping and backcountry fishing. Additionally, White Pine hosts special events such as weddings, retirement parties, birthday parties, outdoor retreats and company parties. For more information go to www.whitepinewyoming.com or call 307-367-6606. Click here for the ski hill trail map.