Bridger-Teton National Forest website
Bridger-Teton National Forest Maps | Order Maps online (Grand Teton Natural History Assn)
Bridger-Teton National Forest Recreation
Horse Riding and Camping (Bridger-Teton National Forest)
VisitPinedale.org - Horseback Riding
Editor's Note, July 15, 2021: After the strong wind storm in September 2020, many trails in the Wind River Mountains are still nearly impassable due to large blown down trees. Visitors are strongly advised to check with the Bridger-Teton National Forest Pinedale Ranger District (307-367-4326) for their route before venturing into the backcountry. The Great Outdoor Shop in Pinedale has a current condition blog on their website that also has additional information, www.greatoutdoorshop.com.
___________________________________________
Sublette County has hundreds of miles of hiking and backpacking trails available. Backcountry trails offer access to the Wind River Mountain Range and Jim Bridger Wilderness, the Gros Ventre Wilderness Area, and in the Wyoming Range. Trailheads are often located near campgrounds; some are very remote. The major trailheads into the Jim Bridger Wilderness area of the Windn River Mountains have corrals and parking areas for horses and trailers
The high country typically opens up around mid-July and remains open through mid-September. Most trailheads start at about 9,000 feet and access each year depends on the weather conditions. Snow can occur at any time, so visitors should be prepared for the possibility of subfreezing temperatures even in the summer. Typical daytime summer temperatures in the high country reach the 70s-80s with nighttime lows averaging in the 30s. Afternoon thunderstorms are common in the summer bringing lightning and rain showers, so hikers should be prepared for all kinds of weather conditions on any given day.
The Bridger Wilderness of the Wind River Range receives very high use, although most visitors don't realize it. In any given summer thousands of hikers venture into the wilderness area. On main access trails, hikers can expect to share the trail with other backpackers, stock and pack trains. The Gros Ventre and Wyoming Range receive much less use than the Winds. Visitors may enjoy long hikes, or even days, without seeing another hiker on the trail with them.
A wide variety of hiking opportunities are available. Inexperienced hikers can enjoy many short, easy day hikes. More experienced hikers have many miles of trails for extended backpacking trips into the remote backcountry. Local Outfitters & Guides provide guided hiking expeditions into the backcountry or horseback riding trips for those who prefer not to walk the trip themselves. Llama rentals are available or those who would prefer not to pack their own gear into the backcountry. Several local companies provide shuttle transportation to trailheads and pickup services by prior arrangement.
Major trailheads into the Wind River Mountains are located at Green River Lakes, New Fork Lakes, Elkhart Park and Big Sandy. Other trailheads include Spring Creek Park, Boulder Lake and Scab Creek. In addition, there are lower use trailheads at Burnt Lake, Meadow Lake, Half Moon Lake, Union Pass, Sweetwater Gap and Little Sandy. All roads to trailheads are on gravel or dirt roads. Only Elkhart Park road is paved. Passenger cars and sedans can make it to all except the most remote trailheads, although a higher-clearance truck is better suited for most areas
In many places trails may not well marked or may be unmaintained. Be sure to bring a good hiking map and a compass and a good guide book. Check in with the local Forest Service office before setting out to get the latest conditions, advisories and any fire danger or bear activity reports.
Names of licensed outfitters and guides who offer summer pack trips, hiking, backpacking, llama tours and full service hunting trips to remote areas can be obtained from the local Forest Service district offices.
1. Green River Lakes - High use
2. New Fork Lakes - Medium use
3. Willow Creek Guard Station - No public road access
4. Spring Creek Park - Low use
5. Elkhart Park - High use
6. Half Moon Lake - Low use
7. Burnt Lake - Low use
8. Boulder Lake - High use
9. Scab Creek - Medium use
10. Big Sandy - High use
11. Little Sandy - Low use
12. Sweetwater - Low use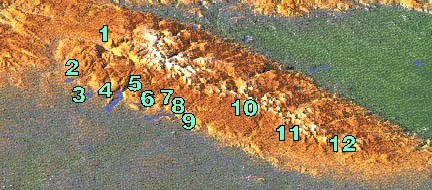 Modified from a digital relief map by Chalk Butte
Bridger-Teton National Forest
Bridger Wilderness
Permit Info
Wilderness Regulations