The information below is compiled from an article by guest contributor and avid mountain biker, Dale Hill of Pinedale. Mary Thompson, of White Pine Ski Area, also contributed information to this article.
"When the Good Lord was whittling and a wacken things out back a piece, he thought that man would eventually get around to discovering mountain biking. And when man did find this marvelous sport, God thought man would need a beautiful place to do it in. And God made Sublette County. There are 3,104,640 acres of land, 17% or 527,790 acres of this is private ownership. 428,169 acres are Bridger Wilderness designation under the U.S. Forestry Service and 23,040 are Gros Ventre Wilderness. This leaves approximately 2,125,600 acres of public land for what else but mountain biking. There's states smaller than that!
Sublette County is an alpine area. Hard frost is possible almost every night of the year. Snow the same. Most of the trails are good for biking four to five months out of the year. Some only three to four. A lot of the trails described below are remote and not used frequently by anyone. Be prepared!!!! Carry maps, water, food, tools and extra clothing. Lost, cold and/or hungry are all possibilities on some trails. And carrying a bike five miles somehow diminishes the excitement of mountain biking. Remember, too, there's no biking allowed in the wilderness.
If you're looking for superb mountain biking, explore Sublette County here in Wyoming! Miles and miles of trails to challenge any skill level! Stop by and visit me at our new A to Z Hardware store here on the west end of Pinedale if you're looking for suggestions or advice on great places to ride!" - Dale Hill
Below are suggestions for areas to ride.
Southeast Sublette County
Starting in the southeast corner there is Prospect Mountain and Little Prospect Mountain. These are pleasant little used areas set off by Mother Nature from the main part of the Wind River Mountains to the east. Actually one of the Continental Divides is on Prospect Mountain. Yes, you trivia freaks, there are two Continental Divides in Wyoming. Aggressive trails are the norm and more pictures to be taken than can be held in a 35 hole film.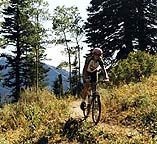 To the north of Little Prospect Mountain, across the county road, are Big Sandy Opening and Muddy Ridge. Big Sandy Opening offers a multitude of long and short rides. Lamreaux Meadows, Twin Lakes and Boulder Lake are a few of the destinations. The trails are moderate and may have to be shared with ATV riders (one of the missing links between Neanderthal Man and Modern Man). Muddy Ridge is less used and offers more exploring possibilities and harder
Boulder Area
17 miles east of Boulder, WY, there is a left turn that takes you up some sage brush hills (it's not necessary to have a 4-wheel drive vehicle for this trip, but at least something called a truck would make this journey less worrisome), through a little forested area to a sage meadow with a lot of willows and a creek to the left. Unload the bikes, this is Irish Canyon. It's time to ride! Considerable old logging roads around this meadow are there to explore for family rides. For those riders with the larger quads, they need to ride east through the meadow on the two track, through the trees, the gate, hang a left across the creek and then a right. This two track trail leads up Irish Canyon for about three miles. At the end of Irish Canyon there is a trail leading right across the creek and up through the timber (steeply) to Lamreaux Meadows. Same Lamreaux Meadows as mentioned earlier. If you came this far and you were designated camera bearer and forgot it! Hope that fresh cow patties are not in season.
Also at the end of Irish Canyon there is a small and often dry creek coming in from the left or north. This is for those large quaded riders who occasionally like to bike/hike the trail (this term trail is used loosely here) leads to Beaver Lake, Twin Lakes and Boulder Lake. This is a hard trail to follow and care needs to be taken in finding one's way!!
Pinedale Area
Near Pinedale there are numerous trails to explore. The climb to Half Moon Mountain is for those who enjoy the feeling of not having enough oxygen in the brain. For the people who also enjoy other feelings, a bike/hike can be made up the mountain. The view from the south ridge is worth the climb. The ridge can be ridden almost the total length and below the ridge is a sagebrush park that also runs the full length of the mountain. This parkland has many trails to ride. Wildlife is a real possibility. Cows and elk are noticeably different. One needs to know this or you will be a little embarrassed explaining why you shot some pictures of cows and calling them elk. Access to this ride is off the Pole Creek Road.
Across from Half Moon is the Sweeney Creek and the Grouse Mountain Trails. Pure mountain biking pleasure for the short rides. The trail head for these are off Skyline Drive and just beyond the Half Moon overlook. The trail forks 3/4 of a mile in. The trail on the right is the Grouse Mountain trail, and the left is Sweeney Creek. The Grouse Mountain trail is steeper, but offers beautiful overlooks of Half Moon Lake. Also in this area is Kelly Park, Fortification Mountain, and the old Skyline Drive. A cute (if I didn't use cute here, nobody would ride it) little loop begins at Kelly Park Ski trailhead, meanders (use lowest gears or walk) up to Kelly Park, then through the Park. Just a little more altitude adjustment at the end of the Park, and then down the face of a short ski hill.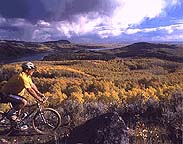 One would think that they would take some of those granite rocks out of here. Follow the trail to the old Ski Lodge, then the road for a 1/4 mile and then down the creek back to the car.
The Soda Lake and Spring Creek Park have a bunch of inter-connecting trails that wind through the sage brush, aspen groves, and coniferous forest. Views include Soda Lake, Fremont Lake, Willow Lake and Little Soda. This is near the top of the list for rides. The climb from Soda Lake to Spring Creek Park has a couple of places that oxygen deprivation can happen, but all in all is a pleasant ride for everybody. The views are great along the whole climb. The descent is unadjectiveable. A single track through heavy forest, an occasional small meadow. Plain unadulterated brake grabbing bliss. The possibility of hitting a cow, an elk, some down timber, or some standing timber is real!
A side trip up to the Glimpse Lake Trail to the Wilderness boundary (NO bikes in the Wilderness!) has a dramatic view of Fremont Lake and Long Lake. The boldness of the granite in the Wind River Mountains is magnificently displayed along this trail.
Upper Green River Valley
Further north there is Boulder Basin in the Upper Green River Valley. A moderate climb to Boulder Basin, hang a right, and enjoy. Great family outing and seldom used.
The Upper Green River Valley! Might as well stay the week. More trails than one can shake a stick at. Boulder Basin as mentioned, Gypsum Creek, Roaring Forks, Tosi Creek, Tepee Creek. Old logging roads galore. The jewel is Elk Ridge. A steady two track climb from the river west to the base of the ridge. (Chain stretch is very probable on this ride) Now that you are completely out of gas, carry the bike to the top of the ridge. Sit down and consume the scenery. The Wind River Mountains to the east, the Wyoming Range to the southwest, the Gros Ventre Range immediately to the west, the Absorkas to the north, and just a touch of the Tetons through a break in the Gros Ventres.
Then above the Green River Valley (might as well get that stick a shaken again) is Union Pass, Lake of the Woods, Fish Creek, Seven Lakes, etc.
Bondurant and the Hoback Rim Area
A neat hike is to Water Dog Lakes. Heading north towards Bondurant, just before the Rim, hang a left. Take this road a few miles to where the sign says "No motorized traffic beyond this point. (A good place to stop and unload.)

Right across the creek, over the hills, and through the woods to... the Twin Creek Valley we go. You paid for all them low gears, might as well use them here. Nice steady climb through a sage brush valley rimmed with forest leads to Water Dog Lake located at the base of a large sandstone cliff. A bottle of gatorade and a camera (and as long as one is bringing, the fishing pole and fishing license) would make this a nice afternoon.
The Bondurant area.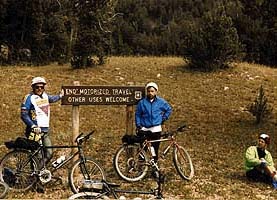 A good many Creek drainages to ride, but the destination here is the Upper Hoback, west of Bondurant at the Post Office. A lot of old logging roads to ride, then there is the Upper Hoback Canyon. A test of man and stead. A few river crossings. A bike carry or two. But at the end there is the Upper Meadow and Roosevelt Meadows and Hoback Peak. Hope you didn't break the camera or get it wet.
The Wyoming Range
The west side of Sublette County is the Wyoming Range. If apple pie is American, then the Wyoming Range is mountain biking! West of the town of Merna (the word town is used to mean a few mail boxes on a post) is a creek called Horse Creek. Drive to the end of the road and YOWSER!! A single track following north Horse Creek to the top of the drainage to a large (I mean large) open meadow and at the ridge on the west, a look into the Grays River Valley. The trail leads back down. No road sign there, but if there was it would say, "Please check brakes before descending". Excellent afternoon.
If you know your directions (real important!!) and have a shuttle, the trail can lead north to the Upper Hoback Canyon for a scenic narrow stream crossing descent. The North Horse Creek trail is a good afternoon ride, up and down. The connection with the Hoback is a long day ride, and you need to know your directions as it can easily become a two or three day ride with directions provided by the Search and Rescue Squad.
The South Fork of North Horse Creek is an excellent ride starting right at the fork between the creeks. It follows an old logging road and then an intense uphill to single track and up the ridge to a stupendous view of everything and it ends at Gunsight Gap. Pack the tent, Ma, and don't forget the ice chest. We're going to Cottonwood Creek. More riding than one can do in a week! The area was timbered for railroad ties starting back in the 1800's and lasting until the 1930's. Old timber roads, miles and miles of spectacular alpine meadows, thousand foot cliffs.
The best family ride is the North Fork of the South Cottonwood. And nice afternoon ride as far as one wants to ride and enjoy. Open forest to enjoy, great photos to be taken. The North Fork of the South Fork of Cottonwood is a nice afternoon ride. A ride to Kleinstick Mine or up Shoberg Creek are great moderate rides in North Cottonwood.
The North Fork of the South Cottonwood can be ridden and hiked until the pass into Sheep Creek is achieved. Check the helmet strap, put a turn or three on the brake adjusting screws, we're going down hill! On this descent one may ponder the possibility of dismounting and walking a few steps. If this thought occurs, it is probably too late. You and the bike are about to change relationship as to top thing and bottom thing. When the trail levels to a condition not requiring arse aft of the cushion, Sheep Creek Falls will be on the left for your private viewing. A shuttle from South Cottonwood to just over McDougal Gap is required.
Piney Creeks west of Big Piney. More of the best mountain biking. The cream of them, North Piney Creek. More scenery and single track than can be tolerated in one day. If the ride from the top of North Piney Meadows to the bottom is consumed in one sitting with no breaks, the brain and the bike will suffer meltdown. Don't forget Menace Falls at the top of North Piney Meadows, heading into the drainage north. A truly all day ride if one has the stamina.
North Piney Lake, Middle Piney, Snyder Basin. Will it never end? Somewhere near LaBarge the county ends, but the Wyoming Range continues.
BLM land and the Mesa
In between the Wind River Range and the Wyoming Range exist some sage brush covered hills of public land managed by the Bureau of Land Management. This entails 900,000 acres of every kind of riding and terrain imaginable with ridges, glacial moraines and deposits, and badlands. Names like Chapel Canyon, Stewards Point, Squaw Nipple, Blue Rim and the Mesa. So many draws and gulches they ran out of names to use. There was so many places to name when they were drawing up the maps for Sublette County, they had to import a couple of hundred people just so they had some different names to use.
Ride the roads over easy, rolling hills and enjoy a 360 degree view that includes the complete Wind River Range skyline, the Gros Ventre Mountains, the Tetons, the Wyoming Range, and the Big Piney plateau. At one time the Mesa mountain biking trail was planned through here by the BLM, but never completed or marked.
Got a question about mountain biking in our area?
Ask local mountain biking enthusiast Dale Hill!
E:mail: a2zhardware@centurytel.net
Many thanks to Dale Hill for the information provided on this page. When he's not out mountain biking, Dale can be found at the Pinedale A to Z Hardwaree store, which he owns and operates with his wife, Ardell. Dale stocks mountain bikes and accessories. Stop by and see him if you're interested in good information and advice on mountain biking in Sublette County! Credits: All photos copyright Dale Hill, 1998-2007. May not be used without permission.
---
Continental Divide Mountain Biking Trail:
The Continental Divide Mountain Biking Trail, CDMBT, goes from the top of Union Pass through the upper Green River Valley and through Pinedale. Pinedale is the place to replenish supplies and get maps and directions. The trail south of Pinedale is remote, not well marked, and bikers are on their own as they travel through the sagebrush hills of the Mesa to Boulder, and on to South Pass.
Season and Services
The riding season typically lasts from late June through September in the Upper Green River Valley. The high mountain country often doesn't free up from snow until the end of July. Approximately 80% of the county is public land, so there are many acres of land and trails to explore. Riding areas include two-track back roads, mountain trails and the open sagebrush high desert. The area offers a wide variety of scenery and biking opportunities for almost any skill level.
Many of our trails and riding areas are remote and infrequently used, so bikers are strongly urged to come prepared with everything needed for a self-sufficient trip. Riders often must rely on their own resources to get out of trouble or back to civilization. Cell phone reception is spotty in many areas. Carry maps, water, food, tools and extra clothing. Many trails are not well marked, so it is important that riders come with detailed maps and directions for where they wish to ride.
Mountain biking rules & tips:
1. No biking allowed in the wilderness areas. This includes the Bridger and Gros Ventre Wilderness areas
2. Respect private property. Know where you are riding and get permission before crossing private land.
3. Leave any gates you encounter the way you found them. If you go through a closed gate, close it again once you're through. If the gate was open when you found it, leave it that way.
4. Always assume natural water should be treated before drinking or using for cooking. The water may look pure, but all natural waters contain organisms such as Giardia that can make you extremely ill.
5. Sublette County is Bear Country for Grizzly and black bears. Always keep a clean camp and follow recommended food storage precautions . Carry a couple of easily accessible, new cans of top strength pepper spray and be alert for bears when riding back-country trails.
6. Pinedale is Sublette County's biggest full-services town. Bike supplies such as tubes, patch kits and bike pumps are available in town. All other towns in the county are much smaller and offer minimal lspecialized bike equipment. Plan ahead and anticipate emergency and repair needs. Carry extras of what you need in case of emergencies or breakdowns.
For more area information:
Bridger-Teton National Forest
Pinedale Ranger District
29 E Fremont Lake Road,
PO Box 220,
Pinedale, WY, 82941
307-367-4326
Big Piney Ranger District
PO Box 218,
Big Piney, WY, 83113
307-276-3375 or 276-5800/5200
Sublette County Visitor's Center/Sublette Chamber of Commerce
P.O. Box 176
Pinedale, WY 82941
1-888-285-7282, 307-367-2242
Email:info@visitpinedale.org