What is the Green River Rendezvous?
The Green River Rendezvous is held each year on the second FULL weekend in July in Pinedale. It relives the early Mountain Man history of the area. During Rendezvous, the town of Pinedale comes alive with activities and events surrounding the Mountain Man theme. We have no restrictions due to COVID-19 this year. We strongly recommend visitors make their lodging reservations as early as possible because our lodging does fill up during that week and weekend.
Fur Trade lectures, demonstrations & tours
American Mountain Men encampment
Bad Hand, Native American Historian
Children's programs
Parade, Trader's Row, Craft Fair, Art Show
Rendezvous Pageant
Rendezvous Rodeos
The Green River Rendezvous was an annual event in the 1830s. Mountain Men, Trappers, Travelers and Indians all gathered in a valley "below the Green" river and bartered, traded, sold, and swapped various items such as skins, pelts, guns, jewelry and whatever else they needed. All knew the place where Horse Creek flowed into the Green in the Upper Green River Valley, the site of six Rendezvous. The Rendezvous lasted anywhere from a few days to several months and was a time for getting new supplies, renewing acquaintenances with old friends, story swapping, drinking and general rowdiness.
VENDORS: Contact Main Street Pinedale for information about the parade and vendor booths: 307-360-MAIN (6846), www.mainstreetpinedale.com/rendezvous Note that there are only 20 slots open for vendor spaces this year.
Join us in July for the Green River Rendezvous!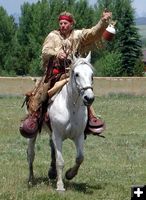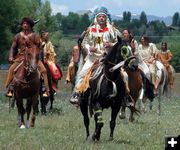 More info:
Main Street Pinedale
307-360-MAIN (6246)
www.mainstreetpinedale.com/rendezvous

Sublette County Chamber of Commerce:
www.sublettechamber.com
307-367-2242
Pinedale Tourism Board website:
www.visitpinedale.org