6. Some safety tips . . .
Keep your survival gear with you at all times, even if you are just planning a short day hike away from your camp.
If you do get lost of separated from your group, don't wander around or leave the marked trail. Find a spot on the trail and stay there. Preferably find a place in the open to stay so that you can be more easily spotted by a search plane.
Conserve your energy and make plans for how to spend the night so you can stay warm and out of the elements.
If weather conditions turn ugly (ie. approach of a lightening storm or cold, snowy weather), think twice before continuing on your trip. It may be wiser and safer to return to your camp and try again the next day when the weather improves.
Don't attempt crossing mountain passes during hail and lightening storms.
Tell family members your plans, where you are going, and where you are going to park your vehicle.
7. Respect the power of the elements.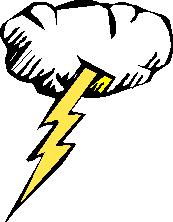 Many of the outdoor activities in western Wyoming take place in remote areas far from other people, and help, if you need it. Be aware of the following possible conditions:
Sudden snow storms (possible any day of the year!)
Hail, heavy rain downpours, thunder and lightening storms
Strong winds
Sudden extreme cold temperatures
High elevation impacts on your physical condition.
8. Know your limitations and when to quit.
If you don't have knowledge of the area you are planning to visit, or the technical expertise to do the activity you have planned, either don't attempt it or hire someone who has the expertise to help you on your trip. Many qualified local outfitters & guides know this area well and offer their services for hire.
9. Don't necessarily believe the Guide Books.
There are many books offering proposed hiking trip route information and rock climbing route suggestions for the Wind River Mountains and Bridger Wilderness area. Some of these books rate certain routes as "easy", "not difficult", "expert", etc. Keep in mind, however, that these books contain varying degrees in the idea of what is "simple". Recently, several visitors have become lost, and deaths have occurred, because they based their trip planning around information obtained from "guide books" that described conditions to be easier than they really were.
If you are new to the area, be sure to check with the local Forest Service District Office before your trip. Ask about your proposed route to find out about any conditions of which you may not be aware.