Funeral Service for Linda Meeks July 9 (posted 6/30/2022)
Covill Funeral Home
Linda Meeks, 69, of Pinedale passed away Wednesday, June 29, 2022. A funeral service will be held Sat. July 9th at 12:30PM at the Daniel Schoolhouse. Friends and family will gather for a reception following the services at the schoolhouse.

Related Links:
Obituary – Linda Meeks Covill Funeral Home

---
Sublette County Hospital District now offering Urgent Care (posted 6/26/2022)
Sublette County Hospital District
Starting July 5, 2022, the Sublette County Hospital District
will now be offering Urgent Care. This will be open at the
Pinedale Medical Clinic from 7am to 7pm, Monday thru Friday.

Administrator Dave Doorn notes, "When we administered our
Community Health Needs Assessment survey, one of the top
requests was for more access to patient care. By adding an
Urgent Care and expanding hours, we are able to better meet
the needs of the community."

Urgent Care consists of non-life-threatening acute needs,
such as lacerations, minor fractures, fevers, animal bites,
sprains or asthma.

Public Relations Director Kari DeWitt notes, "I am thrilled
we are able to offer Urgent Care, especially for the parents
in our community who might have a sick child after hours. It
will be such a time saver not to have to drive out of the
County for care."

Patients may either call 307-367-4133 or walk in to schedule
an Urgent Care appointment.

Routine Care will continue at both the Pinedale Clinic and
Marbleton/Big Piney Clinic from 8am to 5pm Monday thru
Friday. Routine Care is preventative maintenance,
prescription refills, physicals, WYDOT physicals, going over
test results and other routine healthcare visits.

Kari DeWitt notes, "We do ask if you have a routine concern,
that you make a regular appointment. That will leave the
Urgent Care free to deal with truly urgent matters."

Lab and Radiology visits will also remain on the Monday
through Friday 8am to 5pm schedule. If you need blood draws,
lab work, CT scans, ultrasounds, or other routine lab and
radiology services, please plan on coming during normal
business hours.

Of course, the Emergency Room is available 24/7 for true
emergencies. The SCHD operates full 24/7 EMS service in both
Pinedale and Marbleton/Big Piney, so someone can always call
911 for a true emergency. If it's not necessary to call 911,
a patient can call 307-367-4133 to speak with our answering
service which can connect you with the ER provider on call if
necessary.

Dave Doorn notes, "We couldn't expand services like this
without the buy in from our staff. We would like to thank
them for going above and beyond and figuring out how to
expand access to care in Sublette County and better serve our
community."

---
Sublette County Public Health Update: June 23, 2022 (posted 6/26/2022)
Sublette County Public Health
COVID Update
Sublette County Public Health has received notification of 44 new positive COVID-19 cases in Sublette County since our last update on June 10th. The Wyoming Department of Health is currently issuing new case count reports on Tuesdays only. From the WDH report on Tuesday, June 21st – our current numbers include 1,965 recoveries and 27 deaths, for a total of 1,992 cases since the pandemic began.

Sublette County, along with most of the rest of the state, moved to the medium community transmission level according to the CDC's website (https://www.cdc.gov/coronavirus/2019-ncov/science/community-levels.html)

COVID-19 Vaccines
As of June 20, 2022 – 3,534 people, 35.95% of our population, have been fully vaccinated in Sublette County.

This week, the CDC approved COVID-19 vaccines for younger children ages 6 months through 5 years. Parents and caregivers can now get their younger children vaccinated in Sublette County–please call 367-2157 to schedule your appointment. SCPH will start offering Pediatric Moderna (ages 6months–5 yrs) at our Thursday, June 30th clinic.
Detailed information about COVID-19 vaccines for children, including questions and answers for parents about safety and potential side effects, is available from the CDC at https://www.cdc.gov/coronavirus/2019-ncov/vaccines/vaccines-children-teens.html

Sublette County Public Health offers weekly COVID vaccine clinics for ages 6+ months. Walk-ins are welcome on our scheduled clinic days or call 367-2157 to schedule an appointment (appointments for PEDS Moderna required at this time). Pfizer, Peds Pfizer (ages 5-11yrs), Moderna, and Peds Moderna (ages 6months–5yrs) are offered at our weekly clinics.

Tuesdays at the Public Health Office in the Marbleton Senior Center
• 1 to 3:30 pm for COVID vaccinations/boosters
• Appointments recommended. Walk-ins welcome.

Thursdays at the Public Health Office in Pinedale
• 1 to 4 pm for COVID vaccinations/boosters.
• Appointments recommended. Walk-ins welcome.

Please bring your COVID vaccine card and completed vaccine consent form with you. We ask that you wear a mask in our offices for your appointment.

COVID-19 Testing
Please see our website for information: https://www.sublettewycovid.com/testing

---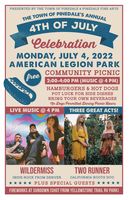 Town of Pinedale 4th of July Celebration (posted 6/22/2022)
The Town of Pinedale will hold their annual 4th of July free community picnic at the American Legion Park from 2-4PM. They will have hamburgers, hotdogs. Potluck for side dishes, bring your own beverages. No dogs allowed during picnic hours. The celebration is being co-hosted with the Pinedale Fine Arts Council who is bringing live music to the event. Music starts at 4PM. Bands are Wildermiss, Two Runner, and special guests. There will be fireworks at dusk (shot from Yellowstone Trails RV park on the west end of town). Everyone invited to come join the fun!
---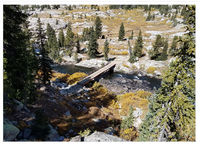 Fremont trail bridge. USFS photo.

USFS to reconstruct Fremont Crossing Trail Bridge (posted 6/17/2022)
Expect interruptions during construction
Bridger-Teton National Forest
The Pinedale Ranger District of the Bridger-Teton National Forest is advising visitors of temporary interruptions during the period of August 3rd though September 2nd while reconstructing the Fremont Crossing Trail Bridge.

The Fremont Crossing Trail Bridge is in the 428,169-acre Bridger Wilderness and lies on the Continental Divide National Scenic Trail (CDT), which overlays the Highline Trail #7094. The bridge sits at an elevation of 10,500-feet and is located roughly 13 miles north of the Pole Creek Trailhead. The existing 80-foot structure spans Fremont Creek and consists of a prefabricated steel truss trail bridge with two precast concrete grade beams and one center concrete pier within Fremont Creek. The new bridge is a steel truss bridge, without a pier in the creek, and will have wood decking.

During this reconstruction project, the Forest Service has awarded the contract to a company who will make every attempt to keep crossing access over Fremont Creek during the project by implementing a temporary bridge during the construction period. However, stock users will have to ford the creek due to limitations of the temporary bridge.

Visitors may see delivery of bridge materials via helicopter and may also see mechanized motorized tools that have been analyzed and preapproved by the Bridger-Teton National Forest. The Forest Service asks that visitors remain vigilant if they see construction going on in the area, and to exercise a heightened level of caution while in the area.

This project is expected to last for 31 days, and we appreciate visitors' patience during this period.

This project was funded as part of the Great American Outdoor Act.

For questions or concerns about this improvement project, please contact Jay Sammer, Pinedale District Wilderness and Recreation Program Manager, at jason.sammer@usda.gov

---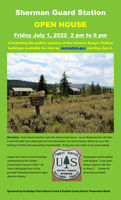 Sherman Guard Station Open House July 1st

Sherman Guard Station to celebrate re-opening (posted 6/16/2022)
Public invited to the Open House on July 1
Bridger-Teton National Forest
The Big Piney Ranger District of the Bridger-Teton National Forest has re-modeled the Sherman Guard Station in preparation for a public grand re-opening celebration to be held July 1st from 2-6pm. Hosted by the Big Piney Ranger District and the Sublette County Historic Preservation Board, this open house day will include light refreshments (hamburgers, until gone) and interpretive signs for a self-guided walking tour of the buildings and grounds. Beginning July 2nd, the Sherman Guard Station will transition into two rental cabins available to the public through a reservation system on recreation.gov.

Recent Forest Service re-modeling work on the rentals includes painting the interiors and installing wood stoves for winter heating. Historic photographs and old maps were framed and now decorate the walls, courtesy of the Sublette County Historic Preservation Board. Work is continuing on the fences which surround the Guard Station compound.

Located 18-miles west of Daniel on the Horse Creek Road, the Sherman Ranger Station site was one of the half-dozen original Ranger Stations on the Wyoming National Forest, established in 1908 by President Theodore Roosevelt. Usually located at or near the forest boundary, the early ranger stations were generally spaced "a day's ride by horseback" from each other.

From Sherman, the nearest other stations were Hoback to the northwest and Snider Basin to the south, both of which are also on the Big Piney Ranger District and seasonally available for rent.

The stations were built for the early Forest Service district rangers to live in and work out of. Over the years, ranger station building complexes were upgraded and replaced, so the very earliest buildings are gone. At Sherman, in 1933 and 1934, the Civilian Conservation Corps constructed a small office/dwelling building and a garage/workshop. These are the two buildings to be made available for rent. From 1912 to 1930, Sherman served as the year-long headquarters for the Sherman Ranger District. From 1930-1937 it was used as a seasonal/summer headquarters for the district ranger. After that, the station was used less and was called a guard station, only intermittently occupied by seasonal workers. Notably, in 2002 it was the staging area for fire crews fighting the 3600-acre Mule Fire.

For more information, please contact the Big Piney Ranger District at 307-276-5800, visit https://www.fs.usda.gov/btnf, follow the Bridger-Teton National Forest on Facebook @BridgerTetonNF or on Twitter @BridgerTetonNF.

---
PAC 3-on-3 Basketball Tournament in Pinedale July 8 (posted 6/12/2022)
The Pinedale Aquatic Center will host their 12th annual 3-on-3 Basketball Tournament in Pinedale on Friday, July 8th. Registration is open now. There are six divisions which are capped at 8 teams. Regular rates are until June 14th, then late registration fees apply.

Divisions:
5/6 Boys and Girls* (if not enough girls teams, option to play in 5/6 boys or 7/8 girls division)
7/8 Boys and Girls
9/10 Boys and Girls
11/12 Boys and Girls
Men's
Women's

Program Details
• Registration Status: Open
• Regular Registration: Friday, April 22, 2022 - Monday, June 13, 2022
• Late Registration: Monday, June 13, 2022 - Sunday, June 26, 2022
• Program Duration: Friday, July 8, 2022
• Regular Registration Cost: $100.00 - $120.00
• Late Registration Cost: $120.00 - $140.00

Sponsors:
A to Z Hardware
Peter Scherbel - State Farm Insurance
Rio Verde Engineering
Farm Bureau Financial Services - Joni Pennock
Jonah Energy
M & M Disposal
NAPA - Pinedale Auto Supply
Four Pines Physical Therapy

See the Pinedale Aquatic Center for more details: www.pinedaleaquatic.com

---
Local Services:
Abortion Alternatives
Accounting & CPA
Apartments/Townhomes
Arts & Entertainment
Attorneys & Legal
Auction Services
Automotive
Aviation Services
Banks & Financial
Bars
Beauty Salons
Bed & Breakfasts
Boating
Bookkeeping
Builders & Contractors
Building Material
Business Services
Cabins
Cellular
Child Care
Churches
Cleaning Services
Clothing
Commercial Art
Computer Supplies
Condos
Consultants
Convenience Stores/Fuel
Convention/Meeting
Dentists
Dining
Dry Cleaning
Events
Fabric & Crafts
Fencing
Fishing
Flooring
Food & Drink
Funeral Homes
Furniture
Gifts/Western
Government
Graphic Design
Grocery & Market
Guest Ranches & Lodges
Handyman Services
Hardware & Feed
Heating
Health Care & Medical
Horseback Adventures
Insurance
Interior Design
Internet/Web/Advertising
Landscaping
Laundry
Liquor Stores
Lodging
Log Homes
Marketing
Massage Therapy
Modular Homes
Motels
Mountain Biking
Movie Theaters
Museums
Nails
Newspapers
Office Supplies
Oil Field Services
Optometrists
Organizations
Outdoor Equipment
Outfitters & Guides
Packaging & Shipping
Painters
Pet Stores
Pharmacies
Photography
Plumbing
Professional Services
Radio
Real Estate Agencies
Real Estate-FSBO
Remodeling
Retirement
Retreats
RV Camping
Schools
Scrapbooking
Septic Services
Skiing
Snowmobiling
Snow Plowing
Storage and Storage Units
Tanning
Tattoos & Body Art
Tax Preparation Services
Taxidermy
Transportation/Shuttle
Trash Services
Trucking
Veterinarians
Visitor Services
Wagon Rides
Well Drilling