Soda Lake is located approximately 6 miles north of Pinedale, Wyoming, between Willow and Fremont Lakes. Opening day each year is May 1st.
It contains populations of brook and brown trout and is a very popular fishing location for many. While some wives may debate the scenic beauty of this particular lake, since there is not a tree to be found around it, many fishermen eagerly await opening day each May. Many like this lake for the close access to town and they can catch big fish. What more could a fisherman ask for?
A wildlife habitat management area is located near the lake that attracts many species of wetland birds, ducks, herons, raptors and mammals. Birdwatchers will appreciate the wildlife viewing blind located nearby giving excellent viewing of the wetland area without disturbing the wildlife.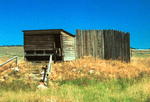 The lake is unique in that it has no inlet or outlet. Due to the high alkalinity of the lake natural fish reproduction is largely unsuccessful in the lake and the Wyoming Game & Fish Department actively stocks it each year. In addition to stocking, Game & Fish biologists take advantage of the annual fish spawning to spawn brown trout and gather fertilized eggs from the lake each fall. Biologists also gather brook trout eggs and take them to fish hatcheries around the state to be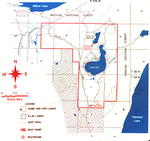 used to stock other lakes. After spawning, the fish are returned to the lake unharmed. Every year, several thousand brown and brook trout are stocked back into the 312-acre lake. The Soda Lake brown trout are very sought after because the population is one of the few disease-free stocks in the country.
Fishermen should be aware that the lake is closed to the use of internal combustion motors until May 31st. Electric motors, canoes, row boats, etc are allowed. After May 31st, internal combustion motors are permitted. Personal watercraft are prohibited on this lake (ie. jet-skis) throughout the season. There is no boat dock on this lake, but there is dirt road access the entire length around it.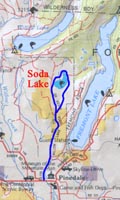 To get to Soda Lake, take the Willow Lake-Soda Creek Road north from Hwy 191 on the west end of Pinedale. Camping is allowed around the lake with a limit of 14 days. Public restrooms are available. This is also a great area for 4-wheeling and mountain biking with many miles of dirt roads to explore throughout the area.
Willow Lake is also located a few miles down the road from Soda Lake and has dispersed camping locations with picnic tables (and trees), and restrooms. This area also has miles of dirt & gravel roads for 4-wheeling and mountain biking, and the littlest children will enjoy the natural sandy beaches at Willow Lake for building sandcastles.
For more area information:
Wyoming Game & Fish
https://wgfd.wyo.gov/web2011/home.asp
Pinedale Field Office - 307-367-4352
Sportsmans Info: 1-800-452-9107
Bridger-Teton National Forest
Pinedale Ranger District
29 E Fremont Lake Road,
PO Box 220,
Pinedale, WY, 82941
307-367-4326
http://www.fs.usda.gov/btnf/
Sublette County Visitor Center
Sublette Chamber of Commerce
P.O. Box 176
Pinedale, WY 82941
307-367-2242
Email: info@visitsublettecounty.com
www.visitpinedale.org
www.sublettechamber.com