Wolf News Roundup 2/19/2019 (posted 2/19/19)
Cat Urbigkit, Pinedale Online!
Wolf Illegally Killed in Grand Teton
Park rangers at Grand Teton National Park recently conducted an investigation into an illegal take of a gray wolf within the park boundary that resulted in a conviction. Two individuals from Wyoming, a male 56 years of age and a female 55 years of age, were charged with illegal take of wildlife within the park. Both recently appeared in Federal court. The male plead guilty and received a $5,040 financial penalty, one year of unsupervised probation and one year loss of wolf hunting privileges. The female individual's charge was dismissed as part of the resolution of the case.

Grand Teton National Park Chief Ranger Michael Nash said, "The individuals were very cooperative during the investigation, and we believe there was no conscious intent to hunt within the national park." Nash commented that Grand Teton National Park employees take the responsibility to protect park resources, including wildlife, seriously.

On January 1, park rangers identified evidence to suggest illegal hunting activity within the park near Spread Creek and the eastern boundary of the park. Park rangers identified a blood trail and followed it to a location that was later determined to be the site of an illegal wolf kill within the park. Rangers followed up with a thorough investigation and determined that the individuals from Wyoming were involved.

Nash said, "I commend our park rangers on their professional and timely investigation. Their work to protect park resources, even during the shutdown, was outstanding as limited park rangers were available to respond to emergencies, protect property and provide basic visitor services during this time."

The wolf killed was an uncollared young female.

All park visitors and hunters on adjacent lands outside the park are reminded that it is their responsibility to have a clear understanding of land ownership and respective rules and regulations.

Wolf Left Isle Royale
Immediately following the end of the government shutdown, National Park Service (NPS) personnel went to Isle Royale to prepare for a potential translocation of wolves from Canada and the 61st annual wolf/moose population monitoring. The extreme cold and weather conditions prevented any successful translocation of wolves from Ontario last week.

Mark Romanski, Isle Royale National Park's Division Chief for Natural Resources and project lead for the wolf reintroduction efforts, had been monitoring GPS data from each of the translocated wolves in preparation for the Canadian wolves. He noted the wolves had been moving about the southwestern end of the park. However, no locations were reported for nearly 5 days, between Jan 27th and Feb 2nd. This can happen when a wolf is hunkered down in dense forest cover and there is no clear view for the collar to transmit data up to the satellites. Blinded by the poor satellite transmissions, the park needed aerial observations to help locate the translocated wolves.

Michigan Technological University (MTU) researchers arrived on Saturday and within hours of landing, Rolf Peterson, principal investigator for MTU, and his contracted pilot, Don Murray of UpNorth Aerials, were in the air radio-tracking the translocated wolves. After confirming the presence of two of the three collared wolves, the team directed their attention to a very static filled signal radiating from off Isle Royale's north shore towards Canada. "We followed the signal toward the north shore of the island and finally out over the open water of Lake Superior," stated Rolf Peterson. "A lead a half mile wide had opened a few hours before, as the ice bridge was dislodged by a strong northeast wind. We flew out across the open lead and out over the ice pack then determined that the wolf's signal was still to the north, straight to the mainland. We gave up further search because the weather was deteriorating and evening was approaching." Immediately prior to twilight, the plane returned to Windigo with Peterson suspecting a wolf had departed the island.

Peterson reported his findings to Romanski, and later on the same day, satellite GPS data from the collar confirmed their suspicion. Romanski documented the departure from the island of F003, a female wolf translocated to the park in October 2018. The wolf departed the island on January 31, 2019, headed north and then west to a location just north of the Pigeon River, on the border between Canada and northeastern Minnesota, United States (See Map).

"I was excited to see locations after not seeing anything for five days, but that excitement quickly gave way to disappointment as my eyes followed the track that led away from Isle Royale. I knew this could happen but of course you always hope for the best, " said Romanski. It was understood throughout the planning and implementation processes that there was a strong possibility of emigration, as wolves have been documented to return to their territory after long distance movements, natural or human- induced.

Dave Mech, USGS Wolf Biologist and former member of the Isle Royale research team, has documented such movements in the past. Mech commented, "the early research on wolf translocation indicated that if you moved a wolf less than 80 miles it typically would try to return home, especially if it was a breeding animal. So a Minnesota wolf trying to return is not surprising. However, we also found that if they were held in the release area for three to four weeks they generally stayed in the area. Since all of the new wolves were moved in the fall it will take time to tease out the behaviors related to translocation. The Isle Royale wolf translocation is new territory in understanding wolf behaviors and will be ground –breaking with new information as it unfolds."

Isle Royale Superintendent, Phyllis Green, noted, "Nature and the instincts of wildlife will always prevail in the wilderness of Isle Royale. When we made the decision to restore the predator-prey relationship, we knew we would have to respectfully work with whatever curves nature threw at us, whether it's adverse weather or wolves working out where they choose to fit on the landscape. We're going to continue the project for the next 3 years, a window we feel affords us the opportunity for successful restoration." Green continued that they have not received final funding for the project this year due to continuing budget resolutions, but is optimistic this year's translocation efforts planned for Canada and Michigan can remain on track through partnership efforts by the National Parks of Lake Superior Foundation and funding from the National Park Service.

The NPS continues to work with the Ontario Ministry of Natural Resources and Forestry to move wolves from Canada this winter. The recent polar vortex that created the bridge to the mainland also disrupted translocation efforts and forced the team to adjust their plans. MTU researchers will stay on Isle Royale to complete annual survey efforts until March 4th.

Washington Wolf Preserve
Washington State Representative Joel Kretz, who lives in the northeastern portion of the state (the area inhabited by wolves), has proposed legislation to create a wolf preserve on Bainbridge Island, off the western coast of the state. Kretz proposed the bill after a Bainbridge-Island area representative filed a bill to ban the lethal control of wolves that kill livestock. Northwest Public Broadcasting takes a look at the East-West divide in Washington state.

Killing wolves for caribou
The Northwest Territories government is providing financial incentives for hunters who kill wolves within the North Slave area where barren ground caribou populations are undergoing a sharp decline. According to Canadian news, hunters who bring in wolves from the area can receive up to $1,650 per wolf, provided the carcasses meet certain taxidermy and traditional standards.

Related Links:
Washington wolf bill - Northwest Public Broadcasting
Caribou - CBC News
Wolf Watch - by Cat Urbigkit, Pinedale Online!

---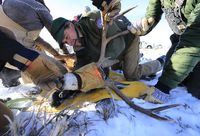 Mule deer buck research. Photo courtesy Wyoming Game & Fish.

WY Range Mule Deer research expanded (posted 2/15/19)
Wyoming Game & Fish
PINEDALE - Game & Fish personnel from both the Jackson and Pinedale regions joined University of Wyoming researchers to recapture Wyoming Range mule deer as part of an ongoing study looking at the relationship between animal body condition and various environmental factors over time. This seminal research was initiated in March, 2013 with the capture and collaring of 70 doe deer and these animals have been recaptured to evaluate body condition, among other things, both pre- and post-winter.

New this year, the study was expanded to include the capture and collaring of some bucks. It has been well-documented that buck deer both behave and utilize the landscape differently than does throughout the year. This research will answer questions as to whether bucks follow the same migration routes, and timing, as the does. Plus, it is no secret that the Wyoming Range is known for its trophy-class bucks and there is great interest in all aspects of their ecology. Given that, researchers and managers decided this new "value-added" information to the study could be captured relatively easily. Stay tuned for the results of this exciting new phase to this landmark research being done.

Related Links:
https://wgfd.wyo.gov Wyoming Game & Fish

---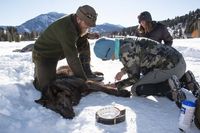 Wolf monitoring. Photo courtesy Wyoming Game & Fish.

Game & Fish continues wolf monitoring effort (posted 2/15/19)
Wyoming Game & Fish
PINEDALE - In April of 2017, following some legal challenges, the Wyoming Game and Fish Department resumed management authority over wolves in Wyoming, outside of Yellowstone National Park and the Wind River Indian Reservation. A large part of management is monitoring wolf numbers, distribution, survival and overall demographics of the population to inform management decisions.

One tool the Wyoming Game and Fish Department's Large Carnivore Section employs in monitoring is the capturing and radio-marking of wolves. Ideally, the objective is to have at least one wolf collared in every known pack, but wolves can be difficult to find and capture, even with a helicopter. In addition, the Department's Large Carnivore biologists also put on boots, skis or snowshoes and follow-up on reported sitings to help gain accurate counts of wolves, as well as assist with aerial captures.

Recently, several wolves were captured by a helicopter capture crew in those areas where the Game and Fish Department is responsible for monitoring and managing the state's wolf population. Most of the captures are handled in the field away from people by a contracted professional wildlife capture crew. The crew will typically net-gun the animals, collect blood and other biological samples, fit it with a GPS collar and release it on-site. The battery life will allow the GPS collar to record the animals' travels for approximately 2-3 years.

The hope is to put out as many as 40 additional radio collars on wolves over the course of the winter to evaluate new packs and changing distributions, and to derive an accurate count for wolves in the trophy game management area.

Related Links:
https://wgfd.wyo.gov Wyoming Game & Fish
Wolf Watch By Cat Urbigkit
---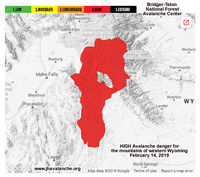 High Avalanche Danger in the mountains of western Wyoming. "If you don't know, don't go."

High Avalanche Danger at all elevations in western Wyoming (posted 2/14/19)
The Bridger-Teton National Forest Avalanche Center has issued a "Stern Wyoming Avalanche Advisory" for the mountains of western Wyoming. 10-14 inches of new snow fell on Wednesday,, February 13th, up to 9 inches on Togwotee Pass, and 7 inches on Blind Bull Summit and Commissary Ridge in the Greys River area of the Wyoming Range. Southwest to west winds at 30 to 50 with gusts from 45 to 75 miles per hour have caused substantial drifting. A slide ran onto the highway south of Jackson around 12:30 PM on Wednesday. One vehicle was hit, however no one was injured. Another slide released on a southeast aspect above Jackson and temporarily blocked the flow of Flat Creek.

Heavy snowfall is forecast to resume on Thursday evening. Forecast snowfall totals for the next 24 hours are 10 to 20 inches in the mountains and 4 to 8 inches in the valleys of western Wyoming. Southwest winds will also continue at speeds of 30 with gusts to 50 miles per hour. Temperatures will be on the increase and will rise into the upper 20s in the mountains and well into the 30s in the valleys.

The Bridger-Teton National Forest Avalanche Center has issued an avalanche warning effective until 5 PM Thursday evening. This warning may be extended or discontinued as conditions warrant. The warning is in effect for all three of our forecast zones and includes the valleys in those areas.

Strong winds, warming temperatures and heavy snowfall have created very dangerous conditions at all elevations. Natural avalanche activity may become widespread, especially during the overnight hours. Large avalanches could impact roadways in the river canyons, on Teton Pass and beneath buttes and steep hillsides. Steep hillsides, steep banks and road cuts have and are likely to slide. Slides are possible on steep slopes that may not normally slide. The general avalanche hazard is high at all elevations. Travel in avalanche terrain is not recommended.

Related Links:
www.jhavalanche.org Bridger-Teton National Forest Avalanche Center

---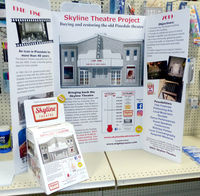 Donation boxes

Skyline Theatre Project fundraising officially launches (posted 2/14/19)
Restoring a Pinedale icon
Pinedale Online!
The fundraising campaign to purchase the building for the historic Skyline Theatre in Pinedale has officially begun.

The theater showed movies in Pinedale for more than forty years, from 1940 into the 1980s. There are great stories of locals playing bit parts in several movies filmed in the area, helping out, and contributing livestock. There are also many great stories of people who used to work in the theater and those who went there to see movies. After it closed, the building was used by Walt's Plumbing & Heating for their business operations.

Some of the old theater equipment and decorations are still around, including the old film projector, film reels, the iconic silhouettes, and the popcorn machine. The building is currently unused and is located in Pinedale's Historic District at 14 N Franklin Avenue.

A group of local citizens is now working to purchase the building and then hope to restore it, and operate it as a non-profit community theater to hold live stage performances, show movies, and host community functions. The group has started a fundraising campaign to raise $170,000 by mid-June, 2019. The initial objective is to raise $160,000 to purchase the property and $10,000 which will be used to write grants for the renovation. The project is working under the umbrella of the non-profit Sublette Group for Community Initiative, a tax-exempt public charity.

Anticipated programming includes:
Second Run Films (the window between when a film is a 1st run and comes out on DVD)
Independent and Foreign Films
Old films (after films have been released on DVD)
Small Performances (small stage, there is no backstage area for large plays)
Live Music
Speakers
Group Gaming
Live Televised Events
Film Festivals
Venue Rental

Support has been received to date from the Wyoming Community Foundation, the Wyoming Arts Council, Wyoming Main Street, Jorgensen Associates, Paul Rock Appraisals, High Mountain Real Estate, Greenwood Law/Bing Law P.C., the Sublette County Historical Society, Pinedale Online, Office Outlet, and property owners Joe and Annie Sondgeroth who have been gracious and patient throughout.

Donation boxes have been placed around Pinedale for the fundraising campaign. Donations can also be made online through a crowdfunding website at https://www.mightycause.com/story/Skylinetheatrewy. Donations can also be made out by check to SGCI: Skyline Theatre and mailed to:
SGCI: Skyline Theatre
P.O. BOX 753
Pinedale, WY 82941

Contributions are tax-deductible. For more information, go to the project website: http://www.skylinetheatrewy.com, on Facebook at Skyline Theatre Project, or email skylinetheaterwy@gmail.com.

Related Links:
Latest history of the Skyline Theatre By Joy Ufford, Pinedale Roundup, Dec. 13, 2018
Skyline Theater project off to a reel-ly good start Nov. 30, 2018
Main Street Pinedale launches Skyline Movie Theater project in Pinedale Pinedale Online, Oct. 17, 2018
Skyline Theater By Katherine Kasckow, Alliance for Historic Wyoming, Dec. 13, 2017

---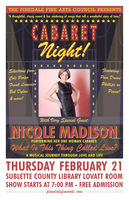 Nicole Madison

PFAC heats things up with Cabaret Night Feb. 21 (posted 2/13/19)
Pinedale Fine Arts Council
The Pinedale Fine Arts Council (PFAC) is proud to present A Night of Cabaret with special guest Nicole Madison on Thursday February 21 at 7:00 p.m. in the Sublette County Library Lovatt Room. The show is free and wine/apps will be served!

What is love? What is loving? The answer to these and related questions will be explored when Jackson Hole's Nicole Madison will premiere her one-woman Cabaret on the subject of love.

Nicole delivers a narrative that explores relationships and loving from a deeply personal point of view. Although personal and intimate, it is a universal message tied together with a carefully curated selection of songs written by such luminaries as Cole Porter, Frank Loesser, and Bob Dylan.

Nicole will be joined by Jackson-based pianist Pam Drews Phillips who will accompany her through the evening of cabaret, which will run 45 minutes.

Cabaret Night is free to the public and PFAC will be providing wine and apps!

Related Links:
www.pinedalefinearts.com Pinedale Fine Arts Council

---
WAC grant writing workshops offered (posted 2/13/19)
Wyoming Arts Council
The Wyoming Arts Council (WAC) is offering grant writing workshops for arts organizations, fiscally sponsored projects, nonprofits, school districts, or government entities that are interested in applying to the Arts Council's Community Support Grant (CSG).

Join the Arts Council at one of the application workshops listed below. Workshops are designed to help applicants prepare their grant applications. During these workshops, participants will learn about, funding, eligibility, program scope, and how to apply for a Community Support Grant.

The Community Support Grant is specifically designed for project and/or operational support for organizations that provide services to their community through the arts. Organizations and fiscally sponsored projects are eligible to receive up to $20,000 in this grant category.

First time applicants and those that did not receive CSG funding last year can submit a draft application by March 1 for review and comments from staff.

Workshop Dates:
Wednesday, Feb. 13, 2pm
Thursday, Feb. 21, 4pm
Monday, Feb. 25, 6pm
Monday, March 11, 6pm

To participate, join from your computer, tablet or smartphone by following this link: https://app.gotomeeting.com/?meetingId=521786637

---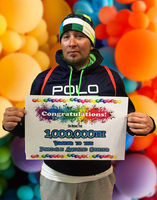 PAC patron Gabriel Becerril is the Pinedale Aquatic Center's One Millionth Visitor

PAC celebrates its One Millionth Visit (posted 2/13/19)
Pinedale Aquatic Center
PAC started the 2019 year off with a milestone achievement -- our ONE MILLIONTH VISITOR! Congratulations to PAC patron Gabriel Becerril for earning the honor!

What does it take to make it to a million visits? A whole lot of visitors, a community dedicated to youth services and an active lifestyle, and a staff with endless creativity, dedication, and passion for recreation.

In the 10 years, 10 months, and 25 days it took to achieve the millionth visitor, PAC provided more than 3,700 days of recreational service to the residents and visitors of Sublette County!

During this time PAC welcomed over 300,000 adult visits, 100,000 senior visits (60+), 160,000 youth visits, and 22,000 out-of-county or guest visits. Additionally, PAC provided services for over 100,000 SCSD#1 student and staff visits including hosting dozens of swim meets, offering facility space and instruction for physical education classes, welcoming award parties, and providing a practice venue for many athletic teams.

The ten plus years also included a wide variety of programs, classes, and special events accommodating over 220,000 participants. From exercise specific classes and adult leagues to toddler programs, youth clubs, outdoor programs, and summer day camp, PAC has aimed to meet the recreational needs of the full community. Since February 2008, PAC has shared the importance of water safety with nearly 4,000 participants in our learn-to-swim lessons and has been proud to introduce over 1,700 young athletes, along with their parents, to the excitement of traditional sports.

This milestone, the visits, the programs, and the events, were all possible because of the support of our community. In fiscal year 2017-2018 alone, PAC's programs were made possible by 192 volunteers who donated 1214 hours to the sharing of fitness and sport, much of which was focused around youth sports. Over the past 10 years, it is estimated that over 1,000 volunteers have been a part of PAC's success, donating over 10,000 hours of service to recreation in the community. Coupled with the commitment for providing access to youth and the adoption of free youth, the community has shown its belief in promoting and living an active lifestyle.

PAC staff are a dedicated crew, with the current staff bringing a combined 204 years of PAC service to the community. It is our honor and privilege to serve Sublette County. We enjoy the creativity of recreation, the positive impacts of being active, the excitement and challenges of introducing new things, and the daily opportunity to inspire others. But more than anything, we enjoy seeing each of our patrons. Thank you to all of our visitors, from one to one-million. Thank you for choosing PAC! We look forward to the next million visits.

Related Links:
www.pinedaleaquatic.com Pinedale Aquatic Center
---
Pinedale Natural Gas rates to increase (posted 2/8/19)
Pinedale Natural Gas
Notice of Rate Change
Wyoming law allows utilities such as Pinedale Natural Gas, Inc. (PNG) to pass through the wholesale cost of a commodity such as natural gas. PNG usually files twice per year for minor changes to the rates through its gas cost balancing account. In December a pipeline event in Canada caused a sudden, dramatic rise in gas costs for southwest Wyoming and the Pacific Northwest. PNG is requesting a more significant, but short-term increase in rates of $2.64 per decatherm in Docket No. 30016-88-GP-19 (Record No. 15190) effective February 15, 2019.

For more information, you may contact PNG at 307-367-4427 or through its website pinedalegas.com, or the Wyoming Public Service Commission at (307) 777-7427.

---
Public Meetings on proposed migration corridors for mule deer and pronghorn (posted 2/7/19)
Meeting in Pinedale Feb. 27
Wyoming Game & Fish
The Wyoming Game and Fish Department invites members of the public to join them in discussions about the management of mule deer and their habitat in the Pinedale and Jackson regions. In addition, local Game and Fish biologists will be presenting information on two new proposed migration corridors, one for the Wyoming Range Deer Herd and the other for the Sublette Pronghorn Herd, including a segment that annually migrates between summer range in Grand Teton National Park and winter range south of Pinedale.

The migration corridors of ungulates like mule deer, pronghorn and elk in Wyoming are some of the longest in North America. Over the past several years, Game and Fish and other researchers have continued studying the migration of big game animals. In 2016, the Wyoming Game and Fish Commission adopted a migration corridor strategy that details the process of migration corridor designations.

The two new proposed corridors for Sublette Pronghorn and Wyoming Range Mule Deer would join the current designated big game migration corridors in Wyoming: the Sublette Mule Deer, Platte Valley Mule Deer and Baggs Mule Deer.

The other portion of the meeting will be dedicated to discussing the Wyoming Range and Sublette Mule Deer Initiatives. As in the past, these public meetings will involve presentations focusing on 1) Habitat Management, 2) Population Management, and 3) Research. Local experts on each topic will present what is currently being done and what is planned for the future. In addition, local Game and Fish personnel responsible for management of the Wyoming Range and Sublette mule deer herds will be recapping the 2018 hunting seasons.

Public meetings will be held:
February 26, 6:00pm, Etna Community Center
February 27, 6:00pm, Pinedale Library, Lovatt Room

The Wyoming Mule Deer Initiative is a statewide framework designed to address declining mule deer populations, particularly over the last two decades. These declines are not unique to Wyoming, but have been seen throughout the West. To learn more about the Wyoming's Mule Deer Initiative and the ongoing work, visit the Game and Fish website and click on the following link: https://wgfd.wyo.gov/Habitat/Statewide-Mule-Deer-Initiatives

The State of Wyoming supports the Americans with Disabilities Act (ADA). Anyone requiring auxiliary aids, regarding this Public Notice, should contact the Jackson Game and Fish Office at 307-733-2321. Every effort will be made for reasonable accommodations.

---
Business Directory
Click here for
Advertising Information