President Trump's 1st Executive Order is to 'Minimize the Economic Burden of the Patient Protection and Affordable Care Act Pending Repeal' (posted 1/21/17)
Below is the full text of President Donald Trump's executive order directing federal agencies to "ease the burden" of ObamaCare:

MINIMIZING THE ECONOMIC BURDEN OF THE PATIENT PROTECTION AND AFFORDABLE CARE ACT PENDING REPEAL

By the authority vested in me as President by the Constitution and the laws of the United States of America, it is hereby ordered as follows:

Section 1. It is the policy of my Administration to seek the prompt repeal of the Patient Protection and Affordable Care Act (Public Law 111-148), as amended (the "Act"). In the meantime, pending such repeal, it is imperative for the executive branch to ensure that the law is being efficiently implemented, take all actions consistent with law to minimize the unwarranted economic and regulatory burdens of the Act, and prepare to afford the States more flexibility and control to create a more free and open healthcare market.

Sec. 2. To the maximum extent permitted by law, the Secretary of Health and Human Services (Secretary) and the heads of all other executive departments and agencies (agencies) with authorities and responsibilities under the Act shall exercise all authority and discretion available to them to waive, defer, grant exemptions from, or delay the implementation of any provision or requirement of the Act that would impose a fiscal burden on any State or a cost, fee, tax, penalty, or regulatory burden on individuals, families, healthcare providers, health insurers, patients, recipients of healthcare services, purchasers of health insurance, or makers of medical devices, products, or medications.

Sec. 3. To the maximum extent permitted by law, the Secretary and the heads of all other executive departments and agencies with authorities and responsibilities under the Act, shall exercise all authority and discretion available to them to provide greater flexibility to States and cooperate with them in implementing healthcare programs.

Sec. 4. To the maximum extent permitted by law, the head of each department or agency with responsibilities relating to healthcare or health insurance shall encourage the development of a free and open market in interstate commerce for the offering of healthcare services and health insurance, with the goal of achieving and preserving maximum options for patients and consumers.

Sec. 5. To the extent that carrying out the directives in this order would require revision of regulations issued through notice-and-comment rulemaking, the heads of agencies shall comply with the Administrative Procedure Act and other applicable statutes in considering or promulgating such regulatory revisions.

Sec. 6. (a) Nothing in this order shall be construed to impair or otherwise affect:

(i) the authority granted by law to an executive department or agency, or the head thereof; or

(ii) the functions of the Director of the Office of Management and Budget relating to budgetary, administrative, or legislative proposals.

(b) This order shall be implemented consistent with applicable law and subject to the availability of appropriations.

(c) This order is not intended to, and does not, create any right or benefit, substantive or procedural, enforceable at law or in equity by any party against the United States, its departments, agencies, or entities, its officers, employees, or agents, or any other person.

DONALD J. TRUMP

THE WHITE HOUSE,
January 20, 2017.

---
Judge orders information destroyed (posted 1/21/17)
Wolf Watch
Cat Urbigkit, Pinedale Online!
U.S. District Court Judge Lynn Winmill of Idaho has ordered the destruction of information gained as the result of placing radio collars on wolves and elk in an Idaho wilderness area. The destruction of data was requested by Wilderness Watch, Friends of the Clearwater, and Western Watersheds Project.

According to the Winmill's order in the case, the Idaho Department of Fish and Game (IDFG) received approval from the Forest Service to use helicopters in the Frank Church Wilderness to tranquilize and collar elk with monitors to trace their movements. Both agencies were concerned about reductions in the elk population in the Wilderness Area, and the project was designed to obtain data that might explain the mortality problem. Ignoring a prior directive of the Court, the Forest Service allowed the project to begin immediately, preventing plaintiff environmental groups from being able to timely seek injunctive relief. Within three days the IDFG project was completed, and 57 elk and 4 wolves were collared.

"The environmental groups filed this lawsuit to prevent the IDFG from using the data and to require that it be destroyed. They complained that the IDFG obtained approval by proposing a small plan that hid the much larger impacts of their long-term plan. In this decision, the Court agrees, and holds that the Forest Service's approval of the project violated the National Environmental Protection Act (NEPA) and the Wilderness Act of 1964. The Court also finds that the IDFG violated the terms of the approval when it collared the wolves.

"The Court will enjoin the Forest Service from considering the data collected, and will enjoin the IDFG from using the data in any way when it seeks future Forest Service approvals. Although the harm of having helicopter landings in the Wilderness Area has passed, there is ongoing harm because the IDFG continues to hold – and plans to use – data that was obtained in violation of federal law. The Court will therefore order the IDFG to destroy that data."

The court noted that "the injury to the plaintiffs' interest in the wilderness character of the Wilderness Area is real and cannot be compensated for by a monetary award. The balance of hardships tips toward plaintiffs because the elk collaring data was gathered in violation of NEPA and the Wilderness Act. The public interest demands that there be consequences for the violations of these laws."

The court continued: "This is the rare or extreme case where a mandatory injunction is required. The IDFG has collected data in violation of federal law and intends to use that data to seek approvals in the future for more helicopter landings in the Wilderness Area. While the helicopter landings represent harm that has passed, the IDFG's possession of the data constitutes an ongoing harm that continues to this day and beyond. The only remedy that will directly address the ongoing harm is an order requiring destruction of the data – no monetary award or other such sanction will alleviate the ongoing harm. Thus, the Court will issue a mandatory injunction ordering the Director to destroy the data received on the elk and wolves collared in this project."

The complete Memorandum Decision of the court is linked below.

Related Links:
Memorandum Decision - U.S. District Court of Idaho
Wolf Watch - by Cat Urbigkit, Pinedale Online!

---
Ozone Action Day issued for Saturday, January 21, 2017 (posted 1/21/17)
Wyoming DEQ
The Air Quality Division (AQD) of Wyoming's Department of Environmental Quality (DEQ) is designating Saturday, January 21, 2017, as an Ozone Action Day for the Upper Green River Basin Ozone Nonattainment Area.

An Ozone Action Day is issued when forecasted weather conditions are favorable for the formation of ozone. Ozone appears to be elevated in the Basin when there is a presence of ozone-forming precursor emissions including oxides of nitrogen and volatile organic compounds coupled with strong temperature inversions, low winds, snow cover, and bright sunlight.

During the Winter Ozone season (January-March), everyone should take actions to reduce ozone precursor emissions and ground-level ozone formation.

Ozone is an air pollutant that can cause respiratory health effects especially to children, the elderly and people with existing respiratory conditions. People in these sensitive groups should limit strenuous or extended outdoor activities, especially in the afternoon and evening. More information on ozone and the health effects of ozone are available at the Wyoming Department of Health website, http://www.health.wyo.gov.

Current information on ozone levels at the Air Quality Division's monitoring stations at Daniel South, Pinedale, Boulder, Big Piney, and Juel Spring can be found at www.wyvisnet.com.

---
22nd annual Pedigree Stage Stop Race set for Jan. 27 – Feb. 4, 2017 (posted 1/20/17)
The 22nd Annual Pedigree Stage Stop Race takes place from Friday, January 27th through Saturday, February 4th, 2017. The 8-day staged race starts in Jackson Hole, Wyoming and travels through eight communities in four states. The winners will claim a portion of a $195,000 prize purse. Each of the host communities hold events when the race comes to their town. Throughout the eight-day event, Pedigree will host a variety of activities along the race to help find home for adoptable dogs.

In addition to the PEDIGREE® Stage Stop Race, 14 additional competitors will be participating in the EUKANUBA™ 8-Dog Classic Race, which is a two day race (January 27 – January 29) that will visit Driggs, Idaho and Alpine, Wyoming.

The Pinedale Stage Stop Musher Banquet will be on Tuesday, Jan. 31st and the Pinedale race will be on Wednesday, February 1st.
Pinedale Stage Stop:
Tuesday, January 31, 2017: Meet the Mushers Dinner 6:00PM Sublette County Library in Pinedale. No charge, donations welcomed. Come meet the mushers and the handlers and get an autograph or two! Sponsored by the Pinedale FFA.
Wednesday, February 1, 2017: Pinedale Race 9:00AM. Loop Race, the Start/Finish are at the Upper Green River Trailhead snowmobile parking lot at the Forest boundary at the end of Cora Hwy 352. The Start/Finish are in the same spot with most teams in by about 2PM. Spectators welcome and encouraged, plenty of parking. Bring your camera, dress warm.

The Big Piney/Marbleton Stage Stop will be on Thursday, February 2, 2017. This 6th leg of the race is a 50-mile loop trail into the scenic Wyoming Range mountains. After the Pinedale race on Wednesday, teams will travel south to get ready for the Big Piney/Marbleton stage.
Big Piney/Marbleton Stage Stop:
Wednesday, February 1, 2017: Meet the Mushers Dinner Starting at 5:30PM at the Southwest Sublette County Pioneers Senior Center in Marbleton. No charge, donations welcomed. Come meet the mushers and the handlers and get an autograph or two!
Thursday, February 2, 2017: Big Piney/Marbleton Stage Stop Starts at 9:00AM from the Middle Piney snowmobile parking lot off Road 350 (20 miles from Big Piney). The Start/Finish are the same spot with teams mostly all in by around 2PM. Spectators encouraged and very welcome, bring your camera, dress warm!

See www.wyomingstagestop.org for more details, schedule of events, and daily race results once the race begins.

---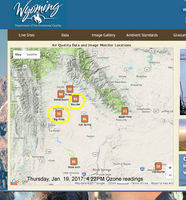 Ozone Action Day issued for January 20, 2017

WYDEQ issues Ozone Action Day for Friday, January 20, 2017 (posted 1/19/17)
The Air Quality Division (AQD) of Wyoming's Department of Environmental Quality (DEQ) is designating Friday, January 20, 2017, as an Ozone Action Day for the Upper Green River Basin, in Sublette County. Current information on ozone levels can be found at www.wyvisnet.com.

New standards for ozone are 70ppb for the 8 hour average. The Big Piney and Boulder monitoring stations have been reading over 70PPB for the 1 Hour Average today (Thursday, January 19, 2017).

The Big Piney monitoring station was reading 73ppb for the 1 Hour Average and 59ppb for the 8 Hour Average at 4:00PM. The Boulder monitoring station read 79ppb for the 1 Hour Average and 59ppb for the 8 Hour Average at 4:00PM.

What is an Ozone Action Day?
The WDEQ-AQD will declare an Ozone Action Day when ground-level ozone concentrations are expected to be above the ozone standard (health based standard) based upon an evaluation of weather forecasts and ozone monitoring data. The declaration of an Action Day indicates the potential for elevated 8-hour ozone levels. The Action Day status will remain in effect for 1 day, but may be reissued on consecutive days.

When is an Ozone Action Day Declared?
During the winter months of January, February, and March, WDEQ-AQD will declare an Ozone Action Day for a 24-hour period if conditions are favorable for ozone formation. WDEQ-AQD may extend the forecasting program beyond the March 28 end date if conditions warrant. The WDEQ-AQD issues the alerts to the media, individuals, local governments, and businesses via a variety of methods including telephone, email, a printed news release, internet (e.g. http://winterozone.org, www.pinedaleonline.com), newspapers, television, and radio. The Wyoming State Emergency Response Commission (SERC) and the Sublette County Local Emergency Planning Committee (LEPC) will assist with notifications. The declaration of an Ozone Action Day will identify a specific locale, such as the Upper Green River Basin.

Control Measures:
Upon notification from the WDEQ of an Ozone Action Day for Sublette County, Wyoming, specific contingency measures will be implemented by oil and gas companies operating in the area according to their approved action plans. Proposed control measures include:

Vehicle Operations:
Keep vehicles tuned up and tires well inflated to increase mileage and reduce the need for refueling.
Do not overfill fuel tanks when re-fueling. Fuel creates ozone-causing vapors as it evaporates.
Tighten fuel caps.

Completions
Between operators, share best management practices for flareless completion techniques in order to reduce emissions.

Other Control Measures
Use environmentally safe paints, cleaning products and other chemicals whenever possible.
Follow manufacturers' recommendations to use and properly seal cleaners, paints, and other chemicals so smog-forming chemicals can't evaporate.
Share best management practices with other operators.

Short Term
During an Ozone Action Day, discretionary activities that could otherwise be rescheduled at a later date with better meteorological conditions will be limited. In addition to standard operating procedures implemented throughout the year, the following activities are suggested in response to the declaration of an Ozone Action Day:

Vehicle Operations:
Reduce idling of vehicles. Shut off all vehicle engines when activities would involve idling time greater than 5 minutes and would not put worker safety at risk.
Establish a traffic minimization program and implement specific activities in the field by delaying trips, combining tasks into one trip, carpooling, or bussing.
Reduce speed limits on the field and lease roads by 5 mph to reduce air pollution.
Postpone/reschedule non-critical vehicle trips to locations by employees and contractors.
Refuel cars and trucks after dusk, when emissions are less likely to produce ozone.

Production Operations:
Suspend and reschedule non-critical maintenance activities that would result in venting of gas.
Postpone/reschedule the blow down of wells that are needed for operational, maintenance or construction purposes where possible.
Turn down heat trace pumps to minimum temperatures with the result of lower VOC emissions during this period. o Increase surveillance of combustors, both in the control room and in the field, to ensure proper operation.
Shut-in uncontrolled facilities (e.g. single well facility with no control on the dehydrators) when environmentally and safely feasible.

Completion Operations:
Postpone initiation of completion activities that lead to VOC or NOx emissions when safely feasible.
Minimize the use of or turn off engines (e.g. water pumps, light plants) during daylight hours.

Drilling Operations:
Limit vehicle and ancillary equipment idle time.
Minimize the use of or turn off engines (e.g. water pumps, light plants) during daylight hours.
Refuel diesel tanks after dusk as possible, when emissions are less likely to produce ozone.

Field Services
Postpone initiation of blow downs.
Delay line pigging.
Suspend site activities that result in venting of gas to atmosphere.

Other Control Measures:
Where possible, perform maintenance activities that generate emissions later in the day when conditions are less favorable for the production of ozone.
Suspend and reschedule use of gasoline or diesel powered maintenance or construction equipment where possible.
Postpone non-essential construction.

Related Links:
Sublette County, Wyoming Ozone Contingency Plan Dec. 2014

---
WYDOT's new 511 map offers more functionality (posted 1/20/17)
Mobile friendly, road conditions, incidents, construction, webcams, truck parking, more
Wyoming Department of Transportation
Travelers looking for Wyoming road information now have access to a new 511 travel map that offers improved functionality and usability.

The Wyoming Department of Transportation revamped its 511 map and launched a new version on Thursday, Jan. 19, making it mobile friendly and providing even more road information, conditions and other travel information. Work on the map started about six months ago.

"The new map has more functionality and has a more modern look and feel," said Vince Garcia, WYDOT's GIS/ITS manager. "There are a lot of new features that will enhance a user's experience and help WYDOT tell its story."

The new map will still show road conditions, incidents, web cameras, weather stations, construction projects, electronic message signs, variable speed limit signs, rest areas and size and weight restrictions.

The new map builds on those features and includes some new ones as well. When people navigate to the new map, they'll see a "helpful tip" box that explains some of the functionality and how to access the information. A help file and video tutorial are also included as additional resources for new users.

One of the new features the map will show is impact to travel based on full road closure, partial closure, high, moderate and low impacts. A graphical display at the top left shows the travel impact and what they mean for quick reference. The road conditions layer is automatically activated when a person navigates to the page.

As with the previous map, people can click on a road section on the new map to see specific road conditions in a particular area.

Other new additions include a search feature, an enhanced legend that gives more information about the map icons and a scroll-through feature that allows a user to click through multiple condition and information windows instead of clicking on each icon individually.

As a way to customize a user's experience, the new map remembers what layers a user activated during their last session, providing they don't have their web browser set to clear their cache and browsing history when they close their web browser.

For example, a user can search for Gillette and activate the web camera, dynamic message signs and other layers. If they navigate away from the page or close their web browser, when they revisit the 511 map website, a message will appear in the lower right corner asking if they want to restore the map to the previous session.

For those who are colorblind, the new map has an option to switch to colors that are more easily viewed.

WYDOT will continue to make enhancements to the new map. In a follow-up release, WYDOT officials anticipate adding a National Weather Service layer that will provide radar images and watches and warnings.

Visit https://map.wyoroad.info/wtimap/index.html to view the new 511 map. A training video is available at https://youtu.be/_MnL7npUFEA.

For more information, contact Vince Garcia, WYDOT's GIS/ITS manager, at (307) 777-4231, or Ali Ragan, GIS/ITS project manager, at (307) 777-2985.

---
Wolf News Roundup 1/18/2017 (posted 1/18/17)
Cat Urbigkit, Pinedale Online!
Wolf Delisting
U.S. Congressional members from the Great Lakes states and Wyoming have teamed up in a bipartisan effort to remove wolves from federal protection in those states, and to prohibit legal challenges to this action.

Wyoming's new U.S. Representative Liz Cheney teamed up with her House colleagues from Minnesota and Wisconsin last week to sponsor a bipartisan bill to remove gray wolves in Wyoming and the Great Lakes states from federal protection.

Wyoming Senators and Mike Enzi John Barrasso teamed with Senate colleagues from both sides of the political aisle to sponsor similar legislation on Tuesday.

New Mexico
The federal Interior Department is asking the Tenth Circuit Court of Appeals to overturn a federal judge's decision barring the U.S. Fish & Wildlife Service from releasing captive-bred Mexican wolves into New Mexico without approval from the state wildlife agency. The federal court battle is the latest spat between state and federal officials over Mexican wolf recovery as federal officials tripled its wolf population targets over state objections and have failed to remove problem wolves.

Washington
The Seattle Times reports that 2016 proved to be a "high-cost, tough year" for Washington wolf management, with the Profanity Peak wolf pack killing or injuring 15 cattle, and in response, seven wolves were killed at a cost of about $135,000.

Italy
Hundreds of illegal wolf-dog hybrids have been seized by officials in Italy, with evidence that nine breeders or farms were involved in producing and selling the animals. The Telegraph reports that one of the investigators indicated that wolves were illegally caught in "the Carpathian Mountains, Scandinavia and North America" to be used in the hybrid breeding program in Italy. The Local reports that the breeders created fake pedigrees for the hybrids, claiming they were Czechoslovakian Wolfdogs. A court has ordered the hybrid animals to be seized.

France
Wolves are taking up residence in the southern portion of Paris, France. Wolf watchers have detected three wolves roaming the suburbs of the city.

For more information on these stories, check out the links below.

Related Links:
Wolf delisting - Journal Sentinel
Mexican wolves - Associated Press
Washington - Seattle Times
Washington control actions - Washington Department of Fish & Wildlife
Italy - The Telegraph
Italy's wolf hybrids - The Local
France - The Local
Wolf Watch - By Cat Urbigkit, Pinedale Online!

---
Record of Decision signed for No Oil & Gas leasing in the Wyoming Range (posted 1/18/17)
Bridger-Teton National Forest
JACKSON, WYOMING, January 17, 2017 – Today (Tuesday, January 17, 2017), the Record of Decision (ROD) for the Forest Service's Final Supplemental Environmental Impact Statement (FSEIS) was signed by Under Secretary Robert Bonnie. The signed ROD selected the "no leasing" alternative for oil and gas leases on 39,490 acres on the eastern slope of the Wyoming Range within the boundary of the Bridger-Teton National Forest in Sublette County, Wyoming. Based upon overwhelming public comment and significant recreation, wildlife and watershed values identified, no leasing was the selected alternative. The FSEIS and the ROD are available on the Bridger-Teton National Forest webpage, http://www.fs.usda.gov/project/?project=48737.

---
Grand Teton National Park sets record in 2016 with over 4.8 million visits (posted 1/18/17)
Exceeds Yellowstone National Park
Grand Teton National Park reports record visitation for the third consecutive year, receiving over 4.8 million visits in 2016. This was a 3.8% increase from the previous record of 4.6 million visits in 2015. The most significant increases came in the months of May, June, and November when total visitation increased 20, 11, and 10 percent, respectively.

The record visitation is part of a longer term upward trend which has seen park visitation increase 23 percent over the past four years. The record is also part of a nationwide trend which has brought record numbers to parks across the country. Visitation numbers are derived from traffic counter data. The numbers recorded by these counters are run through an algorithm to determine an estimated visitation number.

Park managers believe a number of factors contribute to the rising visitation levels including gas prices, overall economic growth, interest generated by the National Park Service Centennial, trends in the tourism industry, and marketing promotions including the Find Your Park campaign. The record year came despite the Berry Fire, the largest wildland fire in park history, which closed portions of U.S. Highway 89/191/287 in the park for 11 days in August and September.

Park managers implemented measures in 2016 to mitigate the impacts of increased visitation on park resources and the visitors' experience. In 2017, park managers will begin implementation of the Moose-Wilson Corridor Comprehensive Management Plan, which will ultimately manage the number of visitors in the area at any one time.

By comparison, nearby Yellowstone National Park reported 4.2+ million visits for 2016.

More info on national park visitation statistics at: https://irma.nps.gov/Stats/Reports/Park
---
Yellowstone Park visitation exceeds 4.2 million in 2016 (posted 1/18/17)
Yellowstone National Park reports that visitation exceeded previous records with a total of 4,257,177 million visitors in 2016. This is a 3.89 percent increase from 4,097,710 visits in 2015 and a 21.17 percent increase over visits in 2014. One of the most notable changes in visitation trends in recent years is the number of commercial tour buses entering Yellowstone's gates. The number of buses entering in 2016 was 12,778 which was a 21.3 percent increase over 2015 entries and a 46.5 percent increase over the number of buses in 2014. Park management is currently considering options for commercial tour bus management.

"During the busiest times of the year, visitation levels in the park have led to long lines, traffic congestion, diminishing visitor experiences, and impacts on park resources," said Superintendent Dan Wenk. "It's our job to recognize the trend, how it's affecting this magnificent park, understand our visitors, and what we may need to do to protect Yellowstone for future generations. All options are on the table." In August 2016, the park conducted social science studies to better understand visitors including their demographics, experiences, opinions, and preferences. The data will help park managers make decisions that reflect the experiences and needs of visitors both in the present and in the future. The results of the study are expected in spring of 2017.

Detailed park visitation information and additional information on how these statistics are calculated is available online at https://irma.nps.gov/Stats/Reports/Park.

---
Amazon to collect tax from Wyoming retail sales beginning March 1, 2017 (posted 1/17/17)
Wyoming Governor Mead announces tax deal with Amazon
Governor Matt Mead news release
CHEYENNE, WYOMING, January 12, 2017 – The largest online retail business in the United States has entered into a voluntary collection agreement with the State of Wyoming. Amazon will begin collecting tax on its sales to Wyoming consumers and businesses beginning March 1st of 2017.

The news comes at a time when Wyoming is facing an historic budget crisis. The additional tax collections will not come close to solving the issues the State faces, but will obviously help.

Amazon has recently moved to collect taxes in Utah, Iowa, Nebraska and most recently in South Dakota. A review of their website identified 34 states and the District of Columbia where Amazon is collecting sales tax.

"Wyoming businesses are at a disadvantage when internet businesses fail to collect tax," said Governor Mead. "This is an important step in the right direction. I encourage the Legislature to continue to work on the remote seller's bill."

The voluntary agreement with Amazon does not provide resolution of Wyoming's long standing effort to require collection of sales tax by remote vendors through ongoing membership in the Streamlined Sales Tax Governing Board. It does, however, indicate that sales taxes can be collected by online vendors from their customers.

The effect on the state revenues is difficult to project. More will be known after the vendor has remitted for a year which will also include seasonal and holiday sales.

Research has been published on the amount of revenue lost to electronic commerce by Wyoming and other states and there are estimates available. From a study conducted by the University of Tennessee in 2009 the estimate of total losses of revenue from E-commerce transactions in Wyoming was 28.6 million in sales taxes for 2012. The Legislature is considering a remote sales bill which would apply to all internet sales.

Source: https://content.govdelivery.com/accounts/WYGOV/bulletins/17ffa8f

---
Business Directory
Click here for
Advertising Information