White Pine Ski Area opens Dec. 3 for the 2015/2016 Winter Season (posted 11/25/15)
White Pine Ski Area has announced Thursday, December 3 as their opening day for the 2015/2016 winter season. They will be open Thursday through Sundays with lifts operating from 9am-4pm. Call 307-367-6606 or go online to www.whitepineski.com for updates and more info.

Related Links:
White Pine Ski Area opening soon - Nov. 22, 2015

---
4th graders can get free 2015 Christmas Tree permits (posted 11/24/15)
Bureau of Land Management
The Bureau of Land Management in Wyoming is excited to announce that all fourth graders are eligible for a free Christmas tree permit through the new White House initiative Every Kid in a Park (Every Kid).

Every Kid is a nationwide call to action to build the next generation of conservationists. All fourth graders are eligible to receive a fourth grade pass that allows free access to federal lands and waters across the country for a full year. The goal is to connect youth and their families to the outdoors. In support of this initiative, the BLM will make available a free holiday tree permit to every interested fourth-grader with a 4th Grade Pass or paper voucher.

In order for 4th grade students to receive a free Christmas tree permit, they must present a valid paper voucher printed from the Every Kid in a Park website at: https://www.everykidinapark.gov/

Visit the website and follow the instructions on the website to obtain the paper voucher. Print out the paper voucher. Bring the paper voucher with you to any BLM office in Wyoming, except Newcastle, to claim the free permit. The Christmas tree permits will be valid through Dec. 24, 2015.

For more information, contact the nearest BLM office or Every Kid Coordinator Lesly Smith at (307) 775-6031.
---
'See ya later refrigerator' program stalls (posted 11/24/15)
Recycling company goes out of business
Rocky Mountain Power
SALT LAKE CITY, UTAH– Rocky Mountain Power's refrigerator recycling program is currently unavailable after the appliance recycler gave notice it is going out of business. The popular "See ya later refrigerator" program picked up old refrigerators and freezers for recycling and offered cash incentives to customers in Utah, Wyoming and Idaho.

Jaco Environmental, the vendor for the recycling program, is closing business and will no longer pick up appliances. The utility does not have another vendor at this time Dbut is looking for other options to continue the service.

Customers who have scheduled a future pickup or have not received their incentive check can call the Rocky Mountain Power Customer Service number at 1-888-221-7070 and provide their information. Incentive checks that have not been cashed will be rejected by any financial institution. Rocky Mountain Power will work with Jaco Environmental to make sure incentives are honored for customers who have had their appliances picked up or if they had to pay a bank fee because the incentive check bounced.

About Rocky Mountain Power
Rocky Mountain Power provides safe and reliable electric service to more than a million customers in Utah, Wyoming and Idaho. The company works to meet customers' growing electricity needs while protecting and enhancing the environment. Rocky Mountain Power is part of PacifiCorp, one of the lowest-cost electricity providers in the United States, with almost 1.8 million customers in six western states. For more information, visit rockymountainpower.net.

---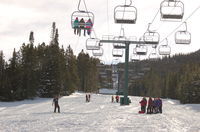 White Pine Ski Area held lift evacuation training for emergency crews recently. Photo courtesy White Pine.

White Pine Ski Area opening soon (posted 11/22/15)
White Pine Ski Resort hopes to open soon, with their tentative opening day on Friday, November 27, the day after Thanksgiving. The final decision will be made on Monday, November 23rd. White Pine's General Manager Tim Scott indicated the storm at the end of last week brought 14" of snowfall and another storm is fast moving in from the Pacific to add to their base. They will begin with running Little Spirit lift. Great Spirit lift will open as soon as they have sufficient snow cover.

Fall mowing and clean up by community volunteers in early November allowed for great snow cover on the lower mountain. Early grooming and packing immediately following the recent storm has provided a solid base ready for the next snowfall. "Another 6 inches and we'll fire up Little Spirit lift," said Scott. The decision on opening the rest of the mountain will be made in conjunction with White Pine lead ski patroller Gary Wilson with safety and adequate snow cover the primary considerations.

White Pine held lift evacuation training over the weekend of Nov. 21 & 22. Over 40 emergency response personnel from EMS, Search and Rescue, Ski Patrol volunteers and employees met at White Pine to attend the annual training/refresher course on how to evacuate skiers caught on the chair lift in the unlikely event of a major power shutdown.

"In the event of a malfunction or breakdown with skiers on both lifts, we would involve all Sublette County emergency response personnel, so it was crucial that they attended the refresher," said Gary Wilson. "White Pine has returning staff and a lot of new faces – everyone would be called upon to assist if there was an emergency – so all employees learn how to belay and perform the rescue. We went through the evacuation numbers of times, so every person had the opportunity to be familiarized with all aspects of the evacuation." Fortunately it has been a number of seasons since anyone needed to be evacuated. Lift evacuation is just one of the many functions that Wilson and his ski patrol team assist guests with on the mountain.

White Pine's new Tubing Hill scheduled to open mid-December. The tubing run is on the west of the Great Spirit on Competition run. The Tubing Hill opening is still awaiting a little more snow to create a safe run out at the base.

White Pine is located 10 miles northeast of Pinedale, Wyoming in the Bridger-Teton National Forest. It has 25 runs for downhill skiing and snowboarding and is adjacent to 35K of looping Nordic ski trails for all skill levels. Two lifts service groomed downhill runs and the terrain park offers jumps and slides. Fortification Mountain rises to an elevation of 9,500 feet and offers spectacular views of the Continental Divide, Wind River Mountains, the Bridger-Teton National Forest, Fremont Lake, as well as the nearby Wyoming Mountain Range.

Once they begin their regular Winter hours, they will be open Thursday through Sunday from 9AM to 4PM. White Pine is open all of Christmas break and most holidays. Adult full day lift tickets are $48/day, half day adult lift ticket is $36/day. Junior/Student/Senior full day lift tickets are $35/day, half day $28. Child (5 and under) lift ticket for full and half day is $6. Discount rates are available for schools and groups. There is no charge to cross-country ski on the nearby Nordic trails.

White Pine offers several large slope-side condo cabins for rent that can accommodate up to six people. The cabins typically have 2 bedrooms and 2 baths (one with a jetted tub), well-equipped kitchens with stainless steel appliances, a large walk-around deck, washer/dryer, living room with fireplace, and a BBQ on the deck. Cabins are non-smoking and pets are not allowed, except for service animals. White Pine Lodge offers food services and a bar.

Additional lodging and dining services are available in nearby Pinedale, a small community with a population around 2,000. Jackson Hole is located 88 miles to the north, and Rock Springs is 110 miles to the south. For more information about Pinedale visit www.visitpinedale.org.

For more information about White Pine Ski Resort call 307-367-6606, or go online to www.whitepineski.com.
---
PAPO seeks public comments on 2015 Pronghorn Annual Report (posted 11/20/15)
Pinedale Anticline Project Office
The Pinedale Anticline Project Office (PAPO) is seeking public comments on the Pinedale Anticline Project Area (PAPA) 2015 "Pronghorn Monitoring in the Pinedale Anticline Project Area – 2015 Annual Report." The report has been posted on the PAPO web page at http://www.wy.blm.gov/jio-papo/index.htm.

This report was prepared in fulfillment of requirements in the Record of Decision (ROD) for the Pinedale Anticline Project Area, which is located just outside of Pinedale, Wyoming.

A key component of the ROD is a Wildlife Monitoring and Mitigation Matrix (Mitigation Matrix) that specifies required mitigation for a variety of species (e.g., pronghorn, mule deer, sage-grouse, pygmy rabbit and white-tailed prairie dog). Under the Mitigation Matrix, requirements are triggered when a species-specific "change requiring mitigation" is reached. For pronghorn (Antilocapra Americana), the Mitigation Matrix specifies that mitigation measures are required if there is a 15 percent decline in pronghorn abundance in the PAPA detected in any year, or a cumulative change over all years beginning in the winter of 2009-2010, relative to changes to a reference area which is the larger Sublette pronghorn herd.

A summary of monitoring results in the report for the winter of 2014-2015 compared to the winter of 2009-2010 indicates an increase in average abundance of pronghorn numbers in the PAPA from 1,533 to 5,347. However, the report also indicates that the proportion of time pronghorn spend on the PAPA has decreased over time. The monitoring methods utilized and other information are described in the report.

Public comments on the report will be accepted until 4:30 p.m. on Dec. 1, 2015. Mail or deliver written comments to: Pinedale Field Office, 1625 W. Pine St., P.O. Box 768, Pinedale, WY 82941. Comments can also be emailed to egdecker@blm.gov or faxed to 307-367-5329. It should be noted that while all public comments will potentially be considered as the basis for inclusion into a revised report, the PAPO will not be responding to individual comments.

Before including your address, phone number, e-mail address, or other personal identifying information in your comment, you should be aware that your entire comment – including your personal identifying information – may be made publicly available at any time. While you can ask us in your comment to withhold your personal identifying information from public review, we cannot guarantee that we will be able to do so.

For more information, please contact PAPO Coordinator Eric Decker at 307-367-5386.

---
BTNF seeks public comment on Middle Piney Dam Project (posted 11/20/15)
Bridger-Teton National Forest
BIG PINEY – The Big Piney Ranger District of the Bridger-Teton National Forest is looking for comments on a proposed Middle Piney dam reconstruction project.

Currently the Middle Piney dam is rated as a high hazard structure and does not meet State and Federal safety standards. The proposed project would bring the existing Middle Piney dam into compliance with Federal and State safety standards and this project would be done in partnership with the Wyoming Water Development Commission. "Right now, the dam isn't holding the full permitted water right and we would all benefit from addressing some of the broader control structures that would be incorporated into a refurbished dam for overall safety of the structure and the protection of downstream infrastructure which includes a road, campground, and summer home area," said Big Piney District Ranger Mike Thom. "Additionally, the recreational benefits this project can bring to the Forest will be a real asset to the community and those who have discovered the opportunities the Middle Piney Reservoir affords," he said. The Middle Piney Reservoir is near the Sacagawea campground, as well as several summer recreational residences on the Forest. "If we don't address the issues with this old dam, there is a potential that the road leading to the campground could be washed out," said Thom.

Part of the proposed work to go along with refurbishing the dam would be to install a new and improved boat ramp for the Middle Piney Lake. "This is the only boat ramp in the Wyoming Range and the improved access will be a great benefit to fisherman and those who paddle this scenic lake," Thom said.

The Forest would have to limit vehicle access on the road to the dam while the construction is occurring and close the day-use area at the lake. "If the project goes forward, we will be able to have the work done on the dam and boat ramp without closing the Sacagawea campground," Thom said. The project would be analyzed through May 2016 and a contract could be awarded as early as the fall of 2016. "The work is expected to take at least two summers and while the area itself would be closed, and that is indeed an inconvenience, the benefits to recreationists would be worth the wait" he said.

Comments should be sent to District Ranger Mike Thom at PO Box 218, Big Piney, WY 83113 or electronically to comments-intermtn-Bridger-teton-big-piney@fs.fed.us. For additional information on this proposed project visit http://www.fs.usda.gov/goto/btnf/projects or contact hydrologist Trevlyn Robertson at 307-886-5317.

---
Christmas Tree permits available from BLM (posted 11/20/15)
Bureau of Land Management
The Bureau of Land Management (BLM) is now offering Christmas tree permits for sale. Permits may be purchased between 7:45 a.m. and 4:30 p.m., Monday - Friday from any BLM Wyoming field office. The cost for a permit ranges from $5 to $25 per tree depending on the location and the size of tree. Up to a maximum of five Christmas trees can be purchased by an individual for personal use on BLM-administered lands.

A BLM permit is valid for trees located on BLM lands only. Permits for trees on U.S. Forest Service-administered land can be obtained at your local Forest Service office and at some BLM offices.

Tree cutters must have a valid permit with them while cutting a tree. Trees may not be cut within a wilderness area, wilderness study area, timber sale area, or administrative sites such as developed campgrounds.

Although the Christmas tree permits are for any tree species, the BLM recommends Engelmann spruce, sub-alpine fir, Douglas fir and lodgepole pine as the best species to cut for your Christmas tree. Christmas trees harvested from aspen stands and riparian areas will contribute to forest health and improve wildlife habitat.

It is the purchaser's responsibility to not trespass on private land and to make sure you're cutting the tree in the correct area. Be prepared for winter weather and high country conditions.

For more information call your local BLM office:
Buffalo Field Office (307) 684-1100
Casper Field Office (307) 261-7600
Cody Field Office (307) 578-5900
Kemmerer Field Office (307) 828-4500
Lander Field Office (307) 332-8400
Newcastle Field Office (307) 746-6600
Pinedale Field Office (307) 367-5300
Rawlins Field Office (307) 328-4200
Rock Springs Field Office (307) 352-0256
Worland Field Office (307) 345-5100
Wyoming State Office (307) 775-6314

---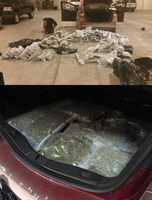 Photo courtesy Wyoming Highway Patrol

I-80 traffic stop nets 130 lbs of marijuana (posted 11/20/15)
Wyoming Highway Patrol
A traffic stop on Tuesday, November 17th west of Cheyenne on Interstate 80 has resulted in 130 pounds of marijuana seized by Wyoming Highway Patrol (WHP) Troopers. The traffic stop occurred on the 17th at 9:50 p.m. on I-80 at mile post 348 eastbound approximately ten miles west of Cheyenne.

Loc T. Nguyen, a 43-year old female resident of Oakland, California was stopped by a WHP Trooper for speeding, lane use and an unsafe lane change. Nguyen was driving a 2014 Ford Fusion at the time of the stop.

Upon making contact with Nguyen, the Trooper could smell a strong odor of marijuana coming from the car prompting a search. In the cab and trunk areas of the Ford, Troopers located the 130 pounds of marijuana.

With the assistance of the Wyoming Division of Criminal Investigation (DCI), Nguyen was arrested and taken to the Laramie County Detention Center in Cheyenne. Nguyen has been charged with possession of a controlled substance and possession of a controlled substance with intent to deliver.

The marijuana is believed to have originated out of Oakland, California with an unknown final destination. The street value of the marijuana is estimated to be well over $500,000. The case has been turned over DCI.
---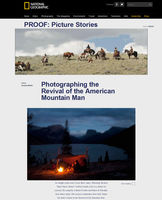 Revival of the American Mountain Man - new video by David Burnett for National Geographic.

Photographing the Revival of the American Mountain Man (posted 11/18/15)
New video featuring the AMM
National Geographic has posted a video documentary by photographer David Burnett which profiles members of the American Mountain Men, a brotherhood of men dedicated to learning, living, and teaching about the lives of the mountaineers who explored, trapped and traded in the American West in the early 1800s. Burnett spent two years among the AMM photographing for his video. Many of the people shown in the video have been coming to the Museum of the Mountain Man in Pinedale for years helping with Living History Days each year in May and giving educational talks and demonstrations during Green River Rendezvous Days in July.

The AMM is a fraternity of men who have a passion for learning the arts and skills of the daily life of the early explorers and fur trappers known today as the "Mountain Men." The AMM members endeavor to learn as historically accurately as possible about the daily lives of these men. Much of their learning is through reliving the experiences of those early adventurers by recreating and wearing the kinds of clothing the Mountain Men wore and using the tools they used in their daily lives as they ventured into untamed country as explorers and business venturers.

Members of the AMM have a deep passion for the fraternal camaraderie and thirst of knowledge to better understand and experience the independence, freedom, strength and courage of these early adventurers, and their ability to survive alone in nature using only what nature has to offer. These early frontiersmen were a uniquely American icon whose exploration and fur-trapping ventures in the early 1800s led the way for the later opening and settling of the American West in the mid- to late 1800s.

"The American Mountain Men (AMM) association strives to preserve 'the traditions and ways of this nation's most fearless pioneers and daring explorers' and 'share the fraternal concept to teach, share, and learn the skills needed and required to survive and live as the great American mountain men did.'"

Click on this link to see the National Geographic video: Photographing the Revival of the American Mountain Man

Related Links:
The American Mountain Men
www.MMMuseum.com Museum of the Mountain Man, Pinedale, Wyoming
Museum of the Mountain Man Facebook page
Rocky Mountain Fur Trade Journal Annual publication of the Museum of the Mountain Man/Sublette County Historical Society
The Revanant Movie about the grizzly bear attack on mountain man Hugh Glass in 1823, coming out January 8, 2016
Revenant movie trailer

---
Beware classified ad scam (posted 11/17/15)
'Kubota Tractor Scam'
Sweetwater County Sheriff's Office
The Sweetwater County Sheriff's Office in Rock Springs issued an alert on Monday (Nov. 16, 2015) about a recent classified advertisement scam.

Detective Dick Blust said the scam has been around for at least five years and is known in many circles as the "Kubota Tractor Scam."

The ad in this instance lists for a sale a "2006 Kubota BX23 with backhoe, loader and mower. 4x4, well maintained (clean). I will deliver it! $2500, call/text, (205) 671-8986 or email: kub4@hotmail.com"

Blust said a concerned citizen contacted the Sheriff's Office about the ad because the 2006 Kubota described, a combination tractor-backhoe-loader, would normally cost at least $10,000.

The Sheriff's Office has so far discovered the following concerning the scam's resurgence:

The ad surfaced recently in about a dozen places across the country, including Mississippi, Pennsylvania, North Carolina, Wyoming, Idaho, Kansas, and Kentucky.

The telephone number listed in the ad is that of a "text mail subscriber" for which no American listing could be identified as of Monday; nor could any American listing or identification be located for the email "kub4@hotmail.com."

Blust said the scam has been the subject of fraud reports on websites such as eBay and Craigslist. "There are variations on how this particular scam is carried out, but they all amount to 'send money' up front for phony fees, taxes, partial payment," etc.," Blust said. "Very often the victims' money winds up overseas and recovery is virtually impossible. Always exercise caution when dealing with offers like this, especially when they seem too good to be true, because they usually are."

---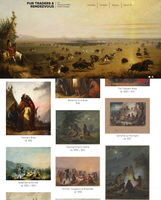 www.alfredjacobmiller.com

Alfred Jacob Miller online art/history catalog website launched (posted 11/15/15)
Features high-resolution images of Miller's paintings from his historic 1837 trip west with William Drummond Stewart to the Rocky Mountains and Green River Rendezvous
Ricketts Art Foundation
As part of its ongoing effort to provide innovative access to the works of important artists, The Ricketts Art Foundation has joined with the Buffalo Bill Center of the West and the Museum of Mountain Man to launch the most extensive online collection to date of the western paintings of the great 19th-century American artist, Alfred Jacob Miller.

Called "Fur Traders and Rendezvous: The Alfred Jacob Miller Online Catalogue," the website features high-resolution images of Miller's paintings from his historic 1837 trip west to the Rocky Mountains, during which he captured on canvas a raw and rugged world now mostly forgotten. Also featured are essays and video vignettes about Miller, his work, and the world he painted. Fur Traders and Rendezvous: The Alfred Jacob Miller Online Catalogue will serve as a resource for those studying Miller, and a point of entry for people who wish to learn more about the world Miller painted.

"Miller is a leading figure in 19th-century American art history whose skills as a painter, historical recorder of the mountain man era, and special sensitivity to native people make him worthy of modern review and enjoyment," said Joe Ricketts, founder of The Ricketts Art Foundation. "It is a privilege to help bring his western work to a wider audience via the Internet."

"We were delighted to co-sponsor the Alfred Jacob Miller Online Catalogue with The Ricketts Art Foundation and the Museum of the Mountain Man," said Peter Hassrick, Director Emeritus and Senior Scholar at the Buffalo Bill Center of the West. "Miller is firmly situated in the canon of American art and commands a place of honor among the many artists of his day who, through fine art, revealed and preserved the West and its complex human saga for us all. Fur Traders and Rendezvous: The Alfred Jacob Miller Online Catalogue blends Miller's wonderful art with essays, vignettes, and videos that will appeal to scholars and casual art lovers alike."

"The Alfred Jacob Miller Online Catalogue is an interaction of art, history and culture depicting the rich and extraordinary encounters of mountain men, Native American cultures and the landscape of the fur trade era," said Laurie Hartwig, Executive Director of the Museum of the Mountain Man. "Miller is the only artist to actually attend and document this historical time-frame with his beautiful, invaluable renditions."

The catalogue can be accessed online by pointing your browser to www.AlfredJacobMiller.com. Works by Miller and related content will be regularly added to the site. People interested in receiving updates about Fur Traders And Rendezvous: The Alfred Jacob Miller Online Catalogue can subscribe on the website or by emailing info@alfredjacobmiller.com.

About The Ricketts Art Foundation
Joe Ricketts founded The Ricketts Art Foundation to enrich people's lives by providing innovative access to the works of important visual, performing, and literary artists, both current and past. The online Miller catalogue is the Foundation's first major project. The Foundation is based in Little Jackson Hole, Wyoming, an area located in the Upper Hoback Basin and referred to as "Little Jackson Hole" or "Jackson's Little Hole" since the early 19th Century.

About the Buffalo Bill Center of the West
Since 1917, the award-winning Buffalo Bill Center of the West in Cody, Wyoming, has devoted itself to sharing the story of the authentic American West. The Center, an affiliate of the Smithsonian Institution, includes five museums and a research library under one roof-the Buffalo Bill Museum, Whitney Western Art Museum, Plains Indian Museum, Cody Firearm Museum, Draper Natural History Museum, and the McCracken Research Library.

About the Museum of the Mountain Man
Situated in the heart of the country that was once the hub of the Rocky Mountain Rendezvous system, The Museum of the Mountain Man presents a visual and interpretative experience into the romantic era of the 1800s mountain man and provides a comprehensive overview of the historical significance of the fur trade in the American West. The museum sponsors the Green River Rendezvous Days every July and publishes The Rocky Mountain Fur Trade Journal, a nationally-recognized, peer-reviewed, academic publication.

---
Business Directory
Click here for
Advertising Information