Huge case spike of COVID-19 in Teton County at the end of December 2021 to mid-January 2022.

Vaccines not stopping the spread of COVID-19 in Teton County, Wyoming (posted 1/16/2022)
Pinedale Online!
In Teton County, Wyoming, which has the highest vaccination rate in the state, COVID-19 cases skyrocketed at the end of December 2021, to numbers many times higher in their county than at any time during the two years of the pandemic. Those high case counts have continued into mid-January 2022.

The Wyoming Department of Health (WDH) insists they believe the bulk of Wyoming's current cases, including Teton County's recent surge in case numbers, are due to the omicron variant. To date, testing numbers have not backed that up. There are currently only 63 tested positive cases lab sequenced as omicron in Wyoming, almost all in the southeast corner of the state, compared to over 7500 delta cases. There have been no verified sequenced omicron cases in Teton County in the month since cases have started to be reported in the state. WDH insists this is only because the lab test variant sequencing data is delayed and has not yet caught up with the real time case number data.

The thing that is curious about Teton County's data is the huge spike in case numbers which started around December 20th, 2021, despite their high population vaccination rate. Teton County is the most vaccinated county population in the state of Wyoming, and they have had the longest lasting health restrictions and mandates of any county in the state. And people there have complied. The latest infection spike was orders of magnitude greater than spikes shown for the same time period in any other county in the state.

Teton County has 86% of their entire population vaccinated. Over 95% of their adult population age 18 and older is vaccinated. 42% of children age 5-11 are vaccinated in Teton County, 86% of their children age 12-18 are vaccinated, and 89% of their seniors age 65+ are vaccinated. (Data from the Wyoming Department of Health)

Teton County Public Health shows that they have given 21,290 1st doses, 19,528 2nd doses and 8,216 3rd doses of Pfizer/Moderna vaccine (county population 23,464). They have had 2,035 new cases of COVID-19 in the past two weeks (as of January 14, 2022). They have done 121,658 COVID tests in the county with a 17.6% positivity rate. 50% of their cases have been deemed through community spread. Their alpha spike high was 54 cases in a day on November 9, 2020. Their delta spike high was 38 cases in a day on September 13, 2021. Their high in the December 2021 (presumed omicron) spike was 214 cases in a day on January 4, 2022 (which may be an artifact of the New Year's holiday delayed data reporting. January 10th high count was 187 cases in a day.)

The bulk of their positive COVID-19 cases are in the 19-39 age range. No one has yet said their explosively high case rate is due to their high vaccination rate, but the question is obvious. Maybe it's omicron, maybe it's still delta or something else - we have to wait for the lab testing sequencing data to definitively answer that. We're a month into their surge with no positive omicron test results in that county to date.

When President Biden issued his Executive Order on September 9, 2021 requiring COVID-19 vaccines for all federal employees he wrote, "The Centers for Disease Control and Prevention (CDC) within the Department of Health and Human Services has determined that the best way to slow the spread of COVID-19 and to prevent infection by the Delta variant or other variants is to be vaccinated." It is quite evident now that vaccines are not working to slow the spread of COVID-19 or preventing infection in Teton County, the most vaccinated county in the state of Wyoming. This is not a pandemic of the unvaccinated there.

Fortunately, Teton County has had no new reported deaths in quite some time (14 total reported deaths in that county to date in two years due to COVID-19) and St. John's Medical Center in Jackson reports just three COVID-19 patients as of January 13, 2022. It is unknown if those patients are there because of COVID-19 or they are there WITH COVID-19. (In other words, they went into the hospital for another reason but tested positive for COVID-19 when they got there, so were counted as a covid case.) This is encouraging data to support the belief that the vaccines are helping reduce the severity of illnesses and reducing the number of people having to be hospitalized due to the virus.

So the bad news is it appears everyone now will probably get some version of COVID-19 eventually, including the multi-vaxxed. The good news is that it appears omicron is much milder than the earlier two strains. To date we could only find one reported death in the U.S. due to omicron, despite the CDC saying 95% of new cases now are due to it. Reports out of Britain are now indicating their omicron cases may have peaked and their daily case counts appear to be declining.

We hope that Wyoming Public Health will make it a priority to do more concerted lab sequence testing of positive COVID samples from Teton County to determine if these new case spikes are omicron or something else, so we have that actual data instead of them speculating. We highly believe their educated guessing is probably right that the new wave is probably omicron, we'd just like to see the lab data to confirm it. Teton County could be a leading indicator of what the rest of the state might be facing in the next couple of weeks, and that lab data is essential to determine what is actually going on.

Click on this link for more charts, graphs and info on this story

Related Links:
Wyoming Department of Health COVID-19 data
Teton County, Wyoming Public Health Department COVID-19 data

---
Sublette County Public Health Update: January 14, 2022 (posted 1/14/2022)
Sublette County Public Health
COVID Update
The Wyoming Department of Health reported 41 new COVID-19 cases in Sublette County this week. There are currently 21 active cases in Sublette County, with 1,543 recoveries and 24 deaths, for a total of 1,588 cases since the pandemic began.

Sublette County moved into the Orange or Moderate-High Transmission Zone for community spread reflecting the increase in case counts in the past two weeks (December 30 -– January 12). Most of the state is in the red.

For this week's local Sublette County COVID video update, please visit our Facebook page (https://fb.watch/axsakXNYhg/). Today's video update link will be posted later this afternoon on the website and our Sublette County Public Health Facebook page.

Sublette County Public Health Offices will be closed on Monday, January 17th in observance of the Martin Luther King Holiday.

Flu & COVID-19 Vaccines
As of January 10, 2022 – 3,349 people, or 34.07% of our population, have been fully vaccinated in Sublette County.

Public Health offers weekly COVID vaccine clinics for ages 5+ years. Flu vaccinations are available at our scheduled clinics or by appointment on other days. Walk-ins are welcome on our scheduled clinic days or call 367-2157 to schedule an appointment. Pfizer, Peds Pfizer, and Moderna are offered at our weekly clinics. You are eligible for a booster 5 months after your last Pfizer or Moderna shot and 2 months after a J&J vaccine.
*Please note, Janssen (J&J) vaccine will no longer be offered at our clinics.

Tuesdays at the Public Health Office in the Marbleton Senior Center
• 1 to 3:30 pm for flu and COVID vaccinations/boosters
• Appointments recommended. Walk-ins welcome.

Thursdays at the Public Health Office in Pinedale
• 1 to 4 pm for flu and COVID vaccinations/boosters.
• Appointments recommended. Walk-ins welcome.

Please bring your COVID vaccine card and completed vaccine consent form with you. We ask that you wear a mask in our offices for your appointment.

COVID-19 Testing
Please see our website for information: https://www.sublettewycovid.com/testing

---
Bridger-Teton announces Elk Feedground Environmental Analysis (posted 1/14/2022)
30-day public comment period open on the project
Bridger-Teton National Forest
January 14, 2022— The Notice of Intent (NOI) for the Bridger-Teton National Forest to prepare an environmental impact statement (EIS) was published in the Federal Register on January, 14, 2022, announcing the start of the public comment period for the Dell Creek and Forest Park Feedgrounds: Long-Term Special Use Permit project EIS. The EIS will analyze the winter elk management activities the Wyoming Game and Fish Commission has proposed for Forest Park Feedground in Linclon County, Wyoming near Afton, and for Dell Creek Feedground in Sublette County, near Bondurant, Wyoming. The Wyoming Game and Fish Commission (WGFC) has applied for continued use of facilities on National Forest System lands to conduct their elk management activities, including providing hay to wintering elk at Dell Creek and Forest Park feedgrounds between mid-November to the end of April. The Forest Service will determine whether to authorize the requested long-term use and if so, under what conditions.

The project area includes:
(1) Dell Creek - 35 acres, which includes two hay storage sheds, 8 foot high woven fence, water well, portable tack shed, elk trap, and a corral (Map 1).
(2) Forest Park - 100 acres, which includes 0.25 miles of road with one culvert, a bridge across Grey's River, a fenced stack yard, two hay sheds, an elk trap, corrals, 24 ft. x 38 ft. cabin (with a propane tank and pole fence to house a winter elk feeder), an outhouse, and a spring collection tank with approximately 900 ft. of open¬ended plastic pipe (Map 2). The project proposes to allow Wyoming Game and Fish Commission to utilize National Forest System land for their winter elk feeding operations in order to maintain population objectives and control elk distribution in an effort to minimize conflicts with human land uses.

"The proposed action will be considered along with an alternative that phases-out feeding," said Tricia O'Connor, Forest Supervisor for the Bridger-Teton National Forest.

The Notice of Intent (NOI) provides a description of the project's purpose and need as well as the actions proposed to address those needs. It also announces the opening of the 30-day public comment period and the methods by which people can provide public comments.

"Hearing from the public during the comment period is crucial to the planning effort," said O'Connor. "The public comments will also be essential for inclusion in relevant design features in the proposed action and alternatives —the next step in the process."

The publishing of the NOI in the Federal Register begins a 30-day comment period in which the public can submit comments on the proposed project. Additional details regarding the proposed project have been posted on the Bridger-Teton National Forest website at https://www.fs.usda.gov/project/?project=60949.

Comments submitted will help to develop alternatives and conduct appropriate analysis. Scoping comments can be submitted electronically through the project webpage or at this link https://cara.ecosystem-management.org/Public//CommentInput?Project=60949. Please identify your comments on the subject line as Elk Feedground EIS. Comments are requested by February 14, 2022.

For more information or to be placed on the mailing list, please contact Anita DeLong at 307-739-5568 or Anita.DeLong@usda.gov Interested individuals or organizational contacts can self-subscribe to this and other desired mailing lists on the Forest's webpage, www.fs.usda.gov/land/btnf/landmanagement under Highlights.

---
Senator Barrasso comments on Supreme Court Ruling for Biden's Vaccine Mandate (posted 1/13/2022)
Senator Barrasso media release
WASHINGTON, D.C. – Today (Thursday, January 13, 2022), U.S. Senator John Barrasso (R-Wyo.) issued the following statement in response to the U.S. Supreme Court's ruling to halt the Biden administration's mandate requiring private employers with over 100 employees to mandate the COVID-19 vaccine or weekly testing.

"Today, the Supreme Court confirmed what we all knew: President Biden's vaccine mandate on employees of private businesses is unconstitutional. This ruling frees millions of Americans from having to choose between their job and their personal health care decisions. Employers will also breathe easier knowing they can focus on growing their business instead of acting as the vaccine police. Stopping this massive government overreach is a victory for all Americans who value the Constitution and their personal freedoms."

BACKGROUND

• On September 8, President Joe Biden announced vaccine mandates that extend to 80 million private sector workers.

• To implement this mandate, OSHA issued an Emergency Temporary Standard (ETS). Employers that fail to comply will be fined $13, 653 for each offense and willful violations will result in a $136,532 penalty. This rule would place unrealistic compliance burdens on employers—especially during a time where business and supply chains are already under duress.

---
Governor Gordon applauds Supreme Court decision halting OSHA Vaccine Mandate (posted 1/13/2022)
Mark Gordon media release
CHEYENNE, WYOMING – Governor Gordon has issued the following statement applauding the U.S. Supreme Court's ruling today (Thursday, January 13, 2022) that halts the OSHA vaccine mandate on private businesses. The Governor also expressed his disappointment at a second ruling by the court upholding a Centers for Medicare and Medicaid Services (CMS) vaccine mandate that applies to most healthcare workers.

"We are delighted that the Supreme Court ruled favorably on our petition regarding OSHA's authority. This is a victory for Wyoming businesses and their workers. The court rightfully recognized this action by the Biden Administration for what it was-- a blatant example of federal overreach. It is disappointing that the Court did not reach a similar conclusion on the CMS vaccine mandate. I continue to maintain that healthcare workers should not be forced to choose between vaccination and termination. We are still in the process of evaluating the impacts of this ruling on Wyoming's healthcare workforce."

---
State Superintendent of Public Instruction Jillian Balow resigns (posted 1/13/2022)
To take a new job as Superintendent of Public Instruction in Virginia
Wyoming State Superintendent of Public Instruction, Jillian Balow, announced on Thursday, January 13, 2022 that she is resigning from the office in order to take a new job as Superintendent of Public Instruction in Virginia. She has served in the position in Wyoming for the past seven years.

Governor Mark Gordon issued a statement thanking Superintendent Jillian Balow for her service to the state. The Superintendent's resignation is effective January 16, 2022. Governor Gordon is informing the Republican Party Central Committee, which will have 15 days to submit three candidates to the Governor for consideration. The Governor will then have five days to appoint a new Superintendent from the names submitted. That individual will serve for the remainder of Balow's term.

---
Yellowstone National Park turns 150 in 2022 (posted 1/12/2022)
National Park Service
MAMMOTH HOT SPRINGS, WYOMING – March 1, 2022, marks the 150th anniversary of the establishment of Yellowstone National Park. Signed into law by President Ulysses S. Grant, America's first national park was set aside to preserve and protect the scenery, cultural heritage, wildlife, geologic and ecological systems and processes in their natural condition for the benefit and enjoyment of present and future generations.

Yellowstone serves as the core of the Greater Yellowstone Ecosystem, one of the last and largest nearly intact natural ecosystems on the planet. Yellowstone has the most active, diverse, and intact collections of combined geothermal features with over 10,000 hydrothermal sites and half the world's active geysers. The park is also rich in cultural and historical resources with 25 sites, landmarks and districts on the National Register of Historic Places.

Based on the park's location at the convergence of the Great Plains, Great Basin, and Columbia Plateau, many Native American Tribes have traditional connections to the land and its resources. For over 10,000 years before Yellowstone became a national park, it was a place where Native Americans hunted, fished, gathered plants, quarried obsidian and used thermal waters for religious and medicinal purposes.

"Yellowstone's 150th anniversary is an important moment in time for the world," said Superintendent Cam Sholly. "It's an opportunity for us to reflect on the lessons of the past while focusing our efforts to strengthen Yellowstone and our many partnerships for the future. I applaud and share the vision of Secretary Haaland and Director Sams on our responsibility to more fully engage with Tribal Nations to honor and learn from their ancestral and modern connections to Yellowstone."

Beginning March 1, the park will host and participate in a wide range of activities to commemorate the 150th. The park has conducted substantial outreach to Native American Tribes, inviting them to participate directly in this anniversary. Multiple Tribal Nations will be present throughout the summer at Old Faithful as part of the Yellowstone Tribal Heritage Center project. Tribes are also coordinating with Yellowstone to install a large teepee village in the park near the Roosevelt Arch in August, where tribal members will interact directly with visitors about their cultures and heritage.

During this anniversary year, Yellowstone will open 40 new employee housing units throughout the park along with groundbreakings on projects totaling more than $125 million funded through the Great American Outdoors Act. These projects include two of the largest historic preservation projects in the country and a range of transportation projects that will address aging infrastructure. This year will also mark the reopening of Tower Fall to Chittenden Road (near Dunraven Pass), a $28 million road improvement project completed over the past two years.

The park will participate in the 15th Biennial Scientific Conference on the Greater Yellowstone Ecosystem hosted by Montana State University, the Wyoming Governor's Hospitality and Tourism Conference, and the University of Wyoming's Yellowstone National Park 150 Anniversary Symposium. The park is also grateful to Wind River (Eastern Shoshone and Northern Arapaho) and other Tribal Nations for planning a multi-tribal gathering on the Wind River Reservation later in the year.

Due to COVID-19, the park does not currently have large events planned; however, this may change as the year progresses.

Visit go.nps.gov/Yellowstone150 and follow #Yellowstone150 frequently in 2022 to stay current on commemoration information.

---
Governor Gordon submits petition to remove Greater-Yellowstone Grizzlies from the Endangered Species List (posted 1/12/2022)
Wyoming Governor Mark Gordon
CHEYENNE, WYOMING – Fulfilling a promise made in September, Governor Mark Gordon has officially petitioned the U.S. Fish and Wildlife Service (FWS) to remove the Greater Yellowstone Ecosystem (GYE) population of grizzly bears from the Endangered Species List. The petition, filed with the support of Idaho and Montana, affirms that grizzly bears, by all measures, have been fully-recovered since 2003.

"This is an extraordinary and monumental success story for species recovery and should be celebrated," Governor Mark Gordon said. "The GYE grizzly bear is ready to join the ranks of the bald eagle, American alligator, peregrine falcon and brown pelican as receiving proper recognition as a thriving, recovered and stable species."

The Governor expressed his appreciation for the cooperative efforts of Montana and Idaho in making the petition possible. The two states, along with Wyoming, separately approved a modified Tri-State Memorandum of Agreement establishing new management targets and discretionary management practices to keep the bear population well-above the minimum recovery level following delisting and affirmed their commitment to the bear's genetic health and diversity.

Governor Gordon reiterated there is no biological or legal reason to keep GYE grizzly listed. The states have applied the best-available population models, and the most current data shows grizzly bear populations have grown beyond the edges of the bear's biological and socially suitable range. With refined population estimates, data shows the population numbers more than 1,000 bears in the GYE, far beyond all scientific requirements for a recovered, viable population.

"Grizzly bears in the GYE are fully recovered and their management is now best entrusted to the experienced and capable institutions of the states. After all, Wyoming has invested more than $52 million and dedicated countless hours of Game and Fish expertise to reach this point," Governor Gordon said. "We're optimistic the Service will view the petition favorably, and we look forward to working with them on delisting."

The FWS has 90 days to review the petition. At that time the petition can be denied or approved for additional review. If that is the case, the FWS can take up to 12 months to further review and analyze the state's request and come to a final decision.

---
Lakeside Lodge to purchase White Pine Ski Resort (posted 1/10/2022)
Joint media release
Audrey and Kyle Odermann, owners of Lakeside Lodge, Pinedale are pleased to announce that they have entered into an Agreement with Robyn and Alan Blackburn, majority owners of White Pine Ski and Summer Resort, also just outside Pinedale. The Agreement is for Lakeside to purchase all the assets of White Pine Resort, subject to certain conditions, the principal one being that a new USFS Permit be issued to Lakeside for operation of White Pine.

Audrey Odermann is currently the Managing Partner at Lakeside Lodge and will take a similar advisory role at White Pine. She stated, "We are excited for the opportunity and privilege to operate such an important recreational destination for the surrounding community. White Pine is an important part of our winter operations and we have enjoyed our partnership with Alan and his team since our first days at Lakeside. The purchase is a natural extension of our business strategy to provide recreational opportunities in the area."

She added, "White Pine is such an amazing location for outdoor activities and adventures and has some wonderful business synergies with Lakeside Lodge. While I am excited about the one-of-a kind business asset we have the opportunity to operate, I'm even more I'm excited about integrating the White Pine team with our staff and leverage best practices across both platforms."

Alan Blackburn has also noticed many potential synergies, adding "Already we have many skiers that stay in the Lakeside Cabins, and we also work together on Summer activities, such as weddings and horse camps, to name but two!"

Blackburn and Katie Lane, White Pine's General Manager, will continue to manage operations through the end of this current ski season and through the process of obtaining United States Forest Service (USFS) approvals associated with the transfer/issuance of necessary permits. "I am thrilled and delighted" said Blackburn, "that Katie will stay on to run White Pine for winter and summer operations. During the past three seasons Katie has taken on more duties from me, and is excited to work with the Lakeside team."

Odermann added, "We are particularly excited to retain Katie as General Manager. From the start of our analysis, it was clear that she would be a key asset in the on-going success of the operations. Katie has a proven track record in managing the ski operations and we look forward to her being a part of our team as we explore ways to grow the summer operations."

Additional summer activity offerings are probable and will be communicated as plans are finalized. Some preliminary plans are already being contemplated, according to Odermann. "Adding larger wedding events and corporate retreats is the most obvious extension of our current business. Most people are aware of the natural beauty of White Pine in the winter. What struck me in our diligence visits was the potential for summer events and activities. We look forward to partnering with the USFS to maximize the opportunities afforded by the current USFS permit to offer additional activities for the communities."

Construction on the Lodge will be completed this spring prior to closing and Blackburn and his team will provide a turn-key business. Audrey added, "Alan and Robyn and his team have built a wonderful business – and persevered through a devasting fire that destroyed much of the operations. It is a labor of love for him and his team as they have rebuilt the operation, remaining open in a very challenging time and continuing to offer an amazing recreational experience for the community. In our brief time here, we have quickly learned how important White Pine is to the surrounding community – and find inspiration in the effort that Alan and his team have made to stay open over the past several seasons."

Finding a buyer that appreciates the importance of White Pine was important in the sales process. Blackburn added, "Over the last several months, we entertained many buyers – but it was our goal to find a partner that would appreciate both the importance of White Pine to the community, but also one with the necessary operational expertise to manage the business. Having watched Audrey operate Lakeside the last few years, I am confident that we found the perfect partner and am excited to see what the future holds for White Pine as she executes her strategic plan."

The transaction is subject to approval by the USFS and is expected to close this summer; terms of the deal were not disclosed.

---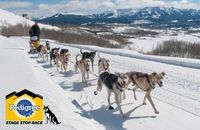 2022 Pedigree Stage Stop Race Jan. 28-Feb. 5, 2022 (posted 1/10/2022)
The 2022 Pedigree Stage Stop Race will take place the week of January 28th through February 5, 2022. Twenty-five teams will compete for a share of the $165,000 purse. Pedigree is the title sponsor of the main sled dog race. They will be donating pet food to animal shelters on the race route.

The Ceremonial Start will be on Friday, January 28th in Jackson, Wyoming. Teams will compete in staged races in the eight participating host towns. There will be a mushers banquet in each host town the evening prior to their stage stop race. The next morning teams will take off from the Starting Line for each stage. Each stage is from 30-35 miles on a loop course. After that stage, teams will travel to the next stage stop town.

2022 Race Dates and Schedule:
Friday, January 28 – Ceremonial Start – Jackson, Wyoming
Saturday, January 29 – Stage One – Teton County, Wyoming
Sunday, January 30 – Stage Two – Lander, Wyoming
Monday, January 31 – Stage Three – Pinedale, Wyoming
Tuesday, February 1 – Stage Four – Big Piney / Marbleton, Wyoming
Wednesday, February 2 – Stage Five – Kemmerer, Wyoming
Thursday, February 3 – Travel Day
Friday, February 4 – Stage Six – Alpine, Wyoming
Saturday, February 5 – Stage Seven & Final Banquet – Driggs, Idaho

Pinedale, Big Piney, and Marbleton are host towns for two of the stage stops in the race. Pinedale's Musher Meet & Greet will be on Sunday, January 30th at the Dudley Key Sports Complex. Food and drinks available. Pinedale Stage 3 Race Day will be Monday, January 31st at the Upper Green snowmobile parking lot at the end of the Cora highway 352 with races starting at 9:00AM. Spectators are always welcome! (Dress warm!) Race course is 34 miles. Estimated race finish is about 2:00PM. For travel information go to www.visitpinedale.org.

From Pinedale, teams travel south for the Big Piney/Marbleton Stage. The Mushers Banquet will be at 6:00PM on Monday, January 31st at the Marbleton Senior Center. Big Piney/Marbleton Stage 4 races will be on Tuesday, February 1st starting at 9AM from the Middle Piney parking lot (20 miles from town). Racers are expected to all be back in by around 2:00PM. From Big Piney/Marbleton, teams will travel to Kemmerer.

The mission of the Pedigree Stage Stop Sled Dog Race is to promote healthy and active lifestyles for people and their pets. By showcasing the strong bond and dedication between human and canine participants, our aim is to inspire people to enjoy the outdoors with their animal companions.

Shelters on the Race
• Jackson Animal Shelter
• Animal Humane Assoc of Star Valley
• Town of Pinedale Animal Shelter
• Lander Pet Connection
• Paws & Claws
• Happy Tails Fur Ever
• Dr Bob Beiermann, Big Piney
• Wind River Veterinary Services

Past Winners
1996 Rick Swenson
1997 Hans Gatt
1998 Hans Gatt
1999 Jeff King
2000 Hans Gatt
2001 Hans Gatt
2002 Melanie Shirilla
2003 Gwen Holdmann
2004 Blayne "Buddy" Streeper
2005 Hernan Maquieira
2006 Melanie Shirilla
2007 Wendy Davis
2008 Melanie Shirilla
2009 Melanie Shirilla
2010 Blayne "Buddy" Streeper
2011 Blayne "Buddy" Streeper
2012 Blayne "Buddy" Streeper
2013 Aaron Peck
2014 Blayne "Buddy" Streeper
2015 Blayne "Buddy" Streeper
2016 Blayne "Buddy" Streeper
2017 Lina Streeper
2018 Lina Streeper
2019 Anny Malo
2020 Anny Malo
2021 Anny Malo

For more information, photos, videos, musher bios, and race updates, go to www.wyomingstagestop.org.

---
WDE seeks public comment on proposed performance standards for math and science (posted 1/10/2022)
Wyoming Department of Education
CHEYENNE, WYOMING - The Wyoming Department of Education seeks public comment on the proposed Chapter 10 Rules, which include the proposed 2021 Science Performance Standards and the proposed 2021 Math Performance Standards. Performance standards are a subset of the content standards that all students are expected to learn and be assessed on, and specify the degree of understanding for that particular standard. Performance standards were first identified for Computer Science in 2021 and are now being identified in the other content areas by the State Board of Education.

Public comment may be submitted online, or via mail, by 11:59 p.m. on February 28, 2022.

The public can attend a virtual Public Comment meeting and provide verbal input. The first 15 minutes will be an informational presentation, and the remainder of the time will be to collect comments. Attendees may enter and exit the Zoom meeting at any time during the block.

Join the Zoom meeting here, or call 346-248-7799 Meeting ID: 942 4096 9257. Passcode: 460994
• 4:30-6 p.m. MST on Monday, February 7, 2022.
• 6:30-8 p.m. MST on Wednesday, February 9, 2022.• 11 a.m.-12:30 p.m. MST on Thursday, February 10,
2022.

The standards documents and proposed Chapter 10 Rules can be found on the WDE Chapter 10 Rules on Standards and at the links below:
• Proposed Chapter 10 Rules
• Proposed 2021 Science Performance Standards
• Proposed 2021 Math Performance Standards

Send written comments to:
Wyoming Department of Education
Attn: Barb Marquer
122 W. 25th Street, Suite E200
Cheyenne, WY 82002

All public comment will be recorded verbatim, including the submitter's name and city of residence, on the Secretary of State website as part of the rules promulgation process.

---
Business Directory
Click here for
Advertising Information